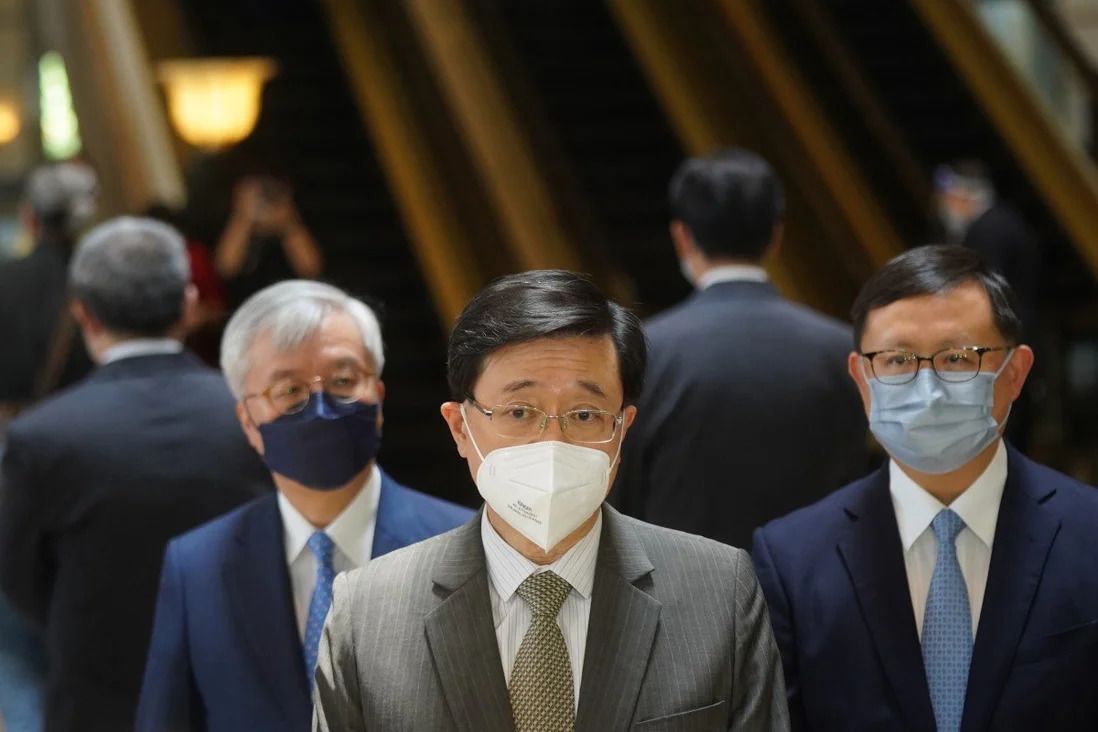 Hong Kong chief executive hopeful calls finance industry double-edged weapon
Candidate John Lee calls financial system 'sharp tool' to be used by or against city during meeting with Election Committee members.
Chief executive hopeful John Lee Ka-chiu has described the financial industry as a "sharp tool" that could be used either by or against Hong Kong, during a meeting in which he also said the city's legal system was "polluted by politics".

Lee made the remarks on Thursday during a virtual meeting with about 50 members of the Election Committee's legal and accountancy subsectors, one day after he submitted his bid for the leadership. The sole contender backed by Beijing, Lee is all but guaranteed to clinch the vote on May 8.

"We must handle finance very carefully because it's too crucial … Finance is a sharp tool, but also [an area where] other people can use sharp tools to attack us, so we must be especially careful in handling it," he said during the 90-minute session.

Lee added that he would carefully assess the city's strengths, weaknesses, as well as possible opportunities and threats, before implementing any plans under his "result-oriented" approach.

During the meeting, 20 representatives from the two subsectors spoke about their expectations for the next administration. Several senior accountants called for the city to further integrate its financial sector with mainland China's and develop industry-related technology to maintain a competitive edge.

Accountant and lawmaker Nelson Lam Chi-yuen said he was glad that the former security minister was aware of the vulnerability of the city's financial market.

"Hong Kong's economy is dependent on the financial industry, which contributes more than 20 per cent of the city's GDP," he said. "But in the Russo-Ukrainian war, we have seen how the West uses financial tools as punitive measures, and it has affected the private properties of Russian oligarchs."

Members of the legal sector also outlined their expectations for the next administration, with Basic Law Committee member Albert Chen Hung-yee calling on Lee to introduce a local national security law, as constitutionally required, to complement the one Beijing imposed two years ago.

Chen said that the Article 23 legislation would help to address issues, such as theft of state secrets, that were not included in Beijing's version, which prohibited acts of secession, subversion, terrorism and collusion with foreign forces.

Basic Law Committee vice-chairwoman Maria Tam Wai-chu also urged Lee to promote China's constitution through measures such as teaching the subject in schools.

Lee, a former security chief, told attendees that he would protect the city's legal system and create a solid foundation for the rule of law.

"The rule of law is very important, but recently it has been polluted by politics, which also created lots of noise. But the rule of law is the foundation of our foundations, so we must firmly safeguard it," he added.

After the meeting, Lee said he was referring to Britain's decision to withdraw two of its jurists from Hong Kong's top court over concerns about the national security law.

"The recent resignations of overseas judges have given people the impression that politics has gotten into the administration of justice, which is bad because we believe justice should be for justice's sake and any other interference is against the rule of law," he added.

Lee also said he would appoint experts to advise him on how to boost the city's competitiveness as an international financial and professional services hub.

"If I am elected, I'd surely ask professionals with rich experience to join various committees to think of our plans … We must draw up our task lists and set our priorities," he said.

Lee also assured residents that there would be no conflict of interest as a result of his sons' positions in the private sector.
His eldest son, Gilbert Lee Man-lung, is head of strategy and planning and chief of staff to the chief executive of Hang Seng Bank. Local media have also reported that his younger son, Lee Man-chun, works in the business sector.

Asked whether his family was helping Lee with the election, he said: "I thank my family for supporting me … but they are not related to my campaign and did not take part."

The chief executive hopeful also said he would need to focus on writing a detailed manifesto with his team, despite continuing to meet people from various sectors.

Campaign director Tam Yiu-chung also revealed that Lee was considering visiting residents of subdivided flats to learn more about their living conditions.

The nomination period closed on Saturday, but the electoral office will be closed for the Easter holiday.