Caritas Family Support Centre has recorded 25.5 scam cases a month on average recently, and says blaming the victims only makes matters worse.
A Hong Kong charity has revealed that one-fifth of more than 150 scam victims who sought emotional support from its staff over the past six months had suicidal thoughts, as it appealed the public not to blame the victims of cons.

The Caritas Family Support Centre on Sunday also echoed earlier police warnings over an increase in the number of scams, saying it had recorded 153 cases between April and September, for an average of 25.5 per cases a month. On average, the charity had received a case a day over the past three months.

Social workers have determined that about 20 per cent of the victims had suicidal thoughts, Caritas said.

The total losses for all cases totalled HK$117.9 million (US$15 million) an average of about HK$900,000 per victim, with one resident cheated out of HK$11 million, the organisation added.

Almost one-third of the 153 cases involved debt restructuring scams, and swindles concerning investment, online dating and job-seeking accounted for 25 per cent, 15 per cent and 10 per cent respectively.

"Putting the amount they lost aside, we also need to focus more on the stress level of those victims. Even a small amount of money can be a lifetime savings for most of them," said Gary Ng Tsz-lok, a senior social work supervisor at Caritas.

"The profound emotional impact may cause relationship deterioration with family and friends, or even suicidal thoughts."

One of the victims the centre assisted, who only gave her name as Li, said she fell for an employment scam posted on Facebook after she lost her job as a customer service representative in the fifth wave of coronavirus infections.

"I was told to handle transactions to buy luxury items for the company," she said. "A man who claimed to be a lawyer called me and told me this was legitimate. I borrowed money from a finance company and transferred it to certain accounts, and I was told I would have a commission."

But Li said the company became unreachable after she put in HK$400,000.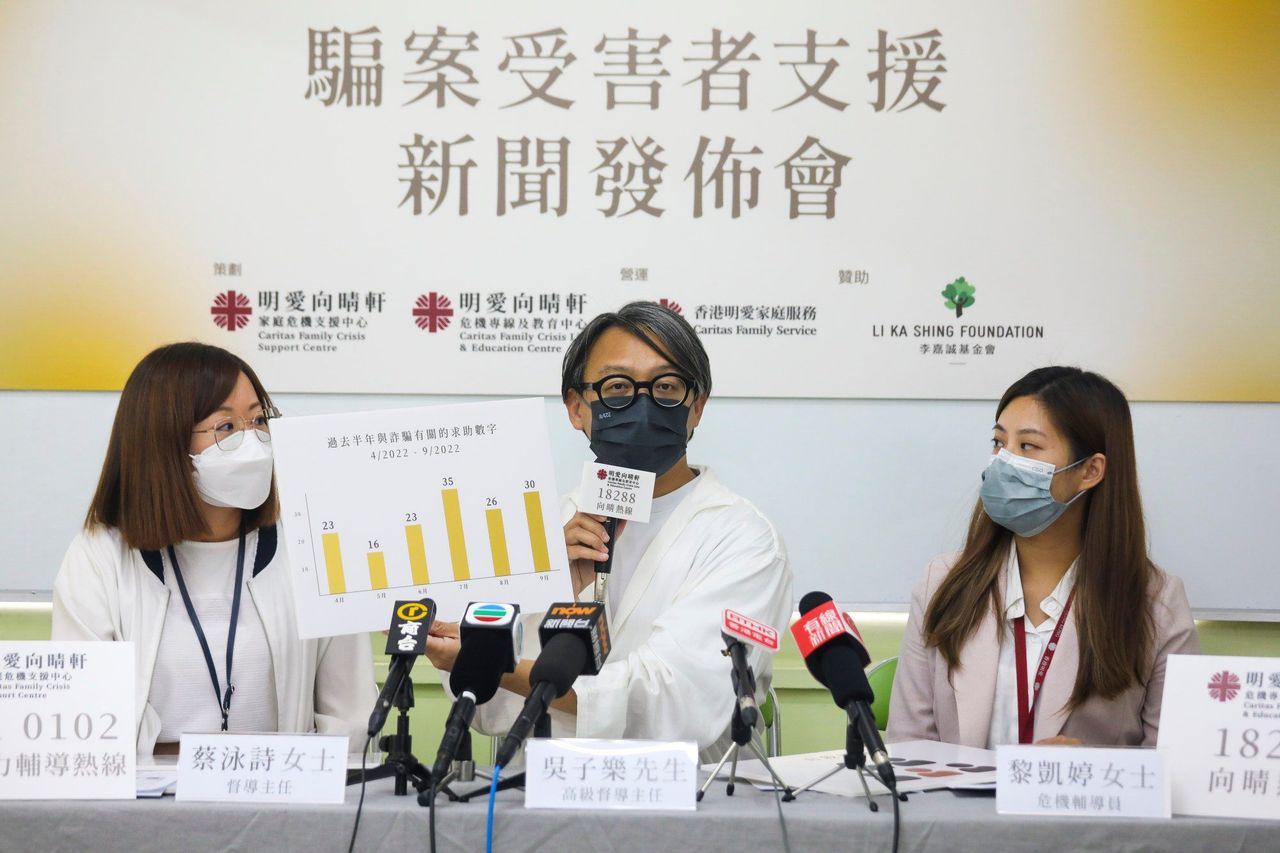 Social workers (from left) Sally Choi, Gary Ng and crisis care worker Lai Hoi-ting at a press conference on deception victims support at the Caritas Service Centre in Kowloon.

She realised what had happened and contacted police, but the criminals had already used her identity details to take out a loan for HK$480,000 in her name.

"I can't sleep or eat well and feel helpless and depressed. I had a hard time telling my family," she said. "When they asked for more details, I threw a tantrum just to hide my guilt and shame. The more they cared, the more isolated I became."

Li said she ended up filing for bankruptcy to deal with the debt, found strength in her family and friends and eventually resumed work in customer service again.

Sally Choi Wing-sze, a social worker supervisor at the centre, said some victims suffered behavioural changes after they were cheated, including self-isolation and obsessive compulsive behaviour.

"They tend to go back and read the conversations with the scammers and frequently check their bank statements to rethink the whole process of being scammed," she said. "It makes them constantly relive the trauma. Some become paranoid whenever they hear their phones ring and feel like the debt collectors will harm them."

The centre suggested scam victims should watch out for changes in their emotional state and ask for help if they had suicidal thoughts. Family members should also avoid blaming the victims to prevent further strain, it said.

"The victims do not need to go through another trauma. The only ones to blame and condemn are the scammers and fraudsters," Ng said.

Police logged 19,444 scam cases in the first three quarters of this year, with victims losing about HK$3.3 billion (US$420 million) in total. The number of cases was up by 39.7 per cent from 13, 920 recorded during the same period last year.