But union chief warns many workers could quit their jobs after new arrangement launches, adding to already urgent personnel shortages.
Hong Kong's care homes will run under a "closed-loop" system that restricts staff movement to curb Covid-19 outbreaks, but operators and carers have warned of an employee exodus amid an already severe personnel shortage.

Chief Executive Carrie Lam Cheng Yuet-ngor announced on Wednesday that the arrangement would be implemented in facilities for the elderly and disabled, with staff given designated hotel accommodation and transport to their workplaces, isolating them from the wider community.

"Although there are not many care homes left without infections, our priority is to strengthen the protection of residents and staff of these homes through the closed-loop arrangement," she said.

But the Social Welfare Department, when asked for further details, only said it "strongly requested" care homes to implement the measures, adding it was looking for proper hotels and transport, as well as contacting operators of care homes, with priority given to facilities without recorded infections.

The highly transmissible Omicron variant has torn through the elderly care homes since early last month, leaving about 19,600 residents infected and 1,405 dead as of Wednesday. About 5,310 staff have also been infected.

Overall, 710 care homes for the elderly have recorded Covid-19 infections.

Meanwhile, 237 care homes for people with disabilities have reported cases, with about 5,420 residents and 2,030 staff infected.

Dr Liang Wannian, the head of a five-member team of mainland Chinese health experts who arrived in Hong Kong last week to help guide the pandemic response, earlier urged care facilities for the elderly to adopt the closed-loop approach.

Dr Leung Chi-chiu, an expert in respiratory disease and public health, said the strategy could indeed prevent cross-infection between care homes and the community.

"With the escalating community outbreaks, simply requiring staff to take rapid antigen tests is no longer enough to prevent them from transmitting the virus from communities to care homes," he said. "The closed-loop approach can enhance the prevention of cross-infection and protect the elderly."

But Leung said an "absolute" closed-loop was difficult to achieve, given people and supplies would continue to enter the facilities, including the drivers of vehicles transporting staff members.

Authorities should reinforce screening of each "link", for instance by requiring care workers to undergo daily rapid tests and providing clear guidance for staff should they need to leave their hotels, he said.

According to sources, the government plans to allocate some of the 25 quarantine hotels for care home employees. But one insider said the authorities were still studying how many rooms would be required and suggested more hotels would be needed.

Previously, more than 40 hotels were reserved for residents who received quarantine orders, but more than 10 were converted into community isolation facilities for patients with mild or no symptoms.

Dr Lam Ching-choi, a member of Lam's de facto cabinet and chairman of the Elderly Commission, estimated the government would need rooms for about 2,000 elderly care workers.

Some care homes for the elderly had already searched for hotels or other facilities for their staff who were worried about transmitting the virus to their families, Lam noted, but added they faced difficulties in securing places as well as designated transport.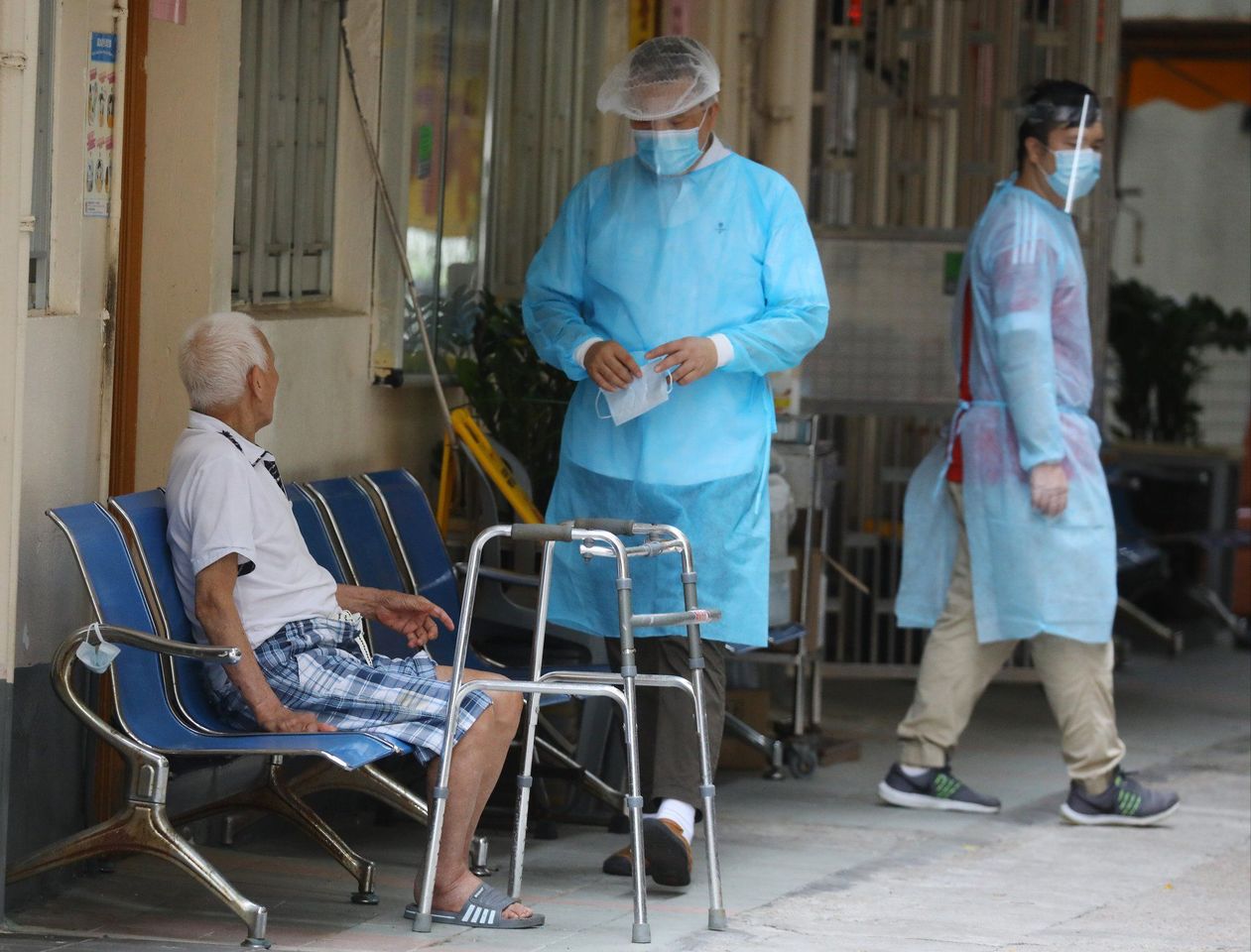 Only about 100 elderly care homes have not yet recorded infections, according to Elderly Services Association chairman Kenneth Chan.

Kenneth Chan Chi-yuk, chairman of the Elderly Services Association of Hong Kong, said about 100 elderly care homes had not yet recorded infections. The challenge for such facilities would be asking employees to stay in hotels and not return home for extended periods, he warned.

"Care homes will face difficulties implementing the closed-loop arrangement," he said, noting they faced limitations such as shortages of accommodation and staff.

Unlike on the mainland, where many hospitals and care homes were large enough to have on-site accommodation for their staff, facilities in Hong Kong were overcrowded with no place for employees to live, he said.

Chan added that the mainland also had stronger executive power to implement anti-epidemic measures and ensure a larger number of care workers.

Cheng Ching-fat, secretary of the Community Care and Nursing Home Workers General Union, warned many care workers might quit after the new arrangement was implemented, which would worsen already severe staff shortages.

He said most care workers in the sector were women, who had a family, including children and elderly people to look after. They would face additional difficulties if they were unable to return home, he argued.

"The new approach does not take into consideration the needs of the carers, who have already been under huge pressure working in the worsening, high-risk environment during the outbreaks," he said.

Cheng said the care workers should be allowed to return home at least once every three days to change clothes and bring other necessities.

He also urged the government to provide additional support for carers, including relieving them from looking after family members, under the closed-loop arrangement.