Hong Kong care homes sound alarm over staff shortages.
Care homes hard hit by the fifth wave of infections are better prepared for a sixth wave – but operators are struggling to hire enough staff, the sector has warned.

There were 11,000 vacancies in care homes in April and a recruitment drive was launched on the mainland, but only 1,000 staff had been recruited so far.

Kenneth Chan Chi-yuk, the chairman of the Elderly Services Association of Hong Kong, said on Monday that care homes had learned from the fifth wave and that is was believed that the risk of infection among elderly people would be lower in future because of an increased vaccination rate.

"During the fifth wave of the pandemic, the vaccination rate for elderly in care homes was only around 20 to 30 per cent," he explained. "But now 92 per cent of them already received their first dose, and 83 per cent are double vaccinated."

At least 787 – or 98 per cent – of the city's care homes recorded cases as of early April. The fifth wave started last December and peaked in March.

A total of 5,028 residents in care homes died, about 55 per cent of the deaths related to Covid-19 in the fifth wave.

Chan highlighted figures from a blog post by former Secretary of Labour and Welfare Law Chi-kwong in April which said there were 11,000 vacancies in the sector.

He said more than 700 care homes applied to employ workers from the mainland and the government had granted a quota of around 3,000 people in May.

Chan also said procedures were streamlined to speed up the hiring process to help cope with demand, but that only around 1,000 mainland care workers had arrived in Hong Kong so far.

Chan explained the hiring process was complicated because recruitment agencies needed time to find suitable applicants who could speak Cantonese.

The association said the government also introduced a new emergency hotline on July 1 to provide support to care of the elderly homes, which it said was an important measure to assist staff.

The hotline can be used to help arrange for infected care home residents to go into isolation or get specialist treatment as soon as possible.

"The care homes really couldn't reach any help in the fifth wave as we were not able to call any government hotlines. Even if we were able to call them, they would ask us to seek help from other departments," said Grace Li Fai, a member of the executive committee of the association.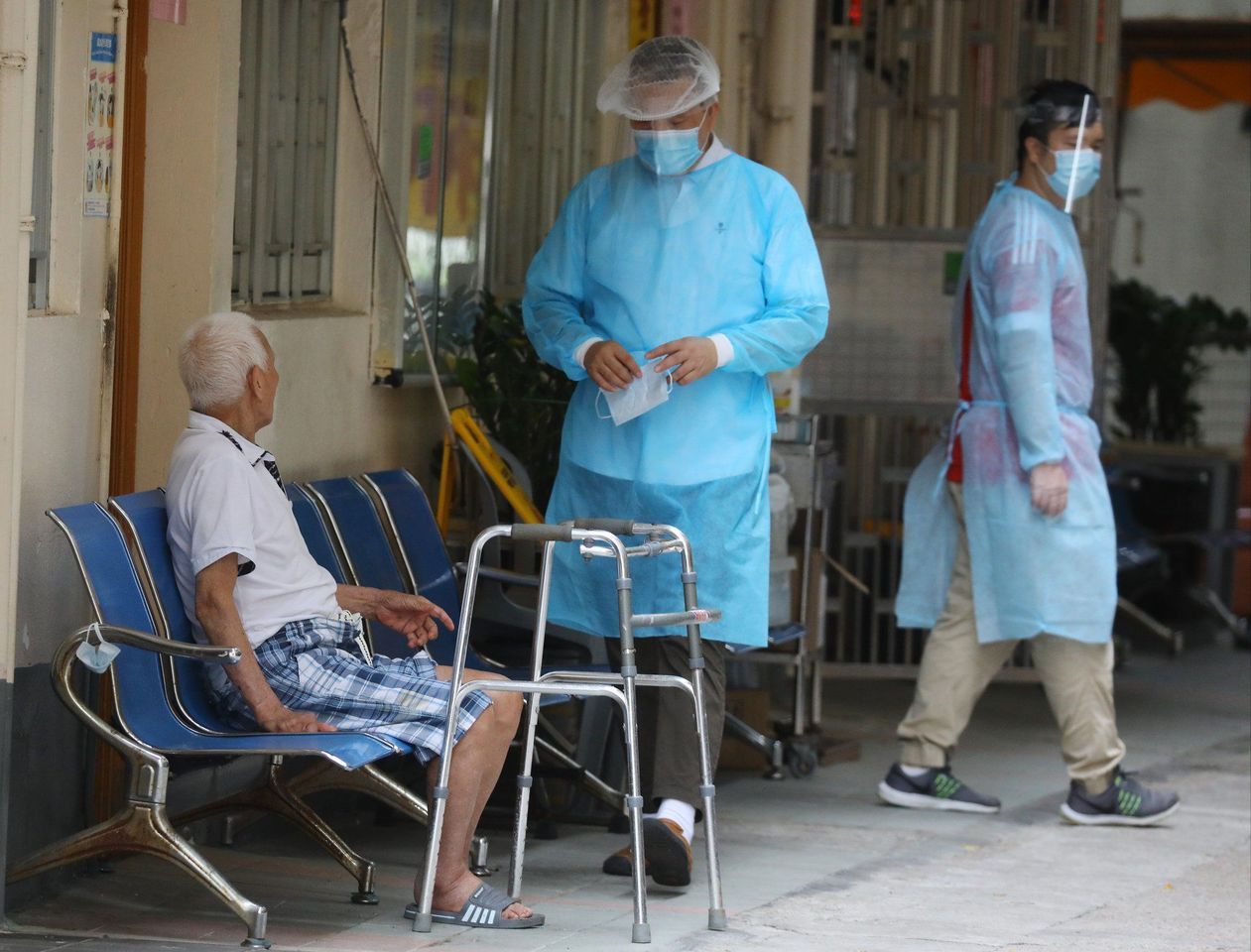 A resident and staff at a Hong Kong care home for the elderly.

"The newly established emergency hotline is an interdepartmental hotline, which involves the Social Welfare Department, Department of Health, Hospital Authority and the Fire Services Department," she said. "We really need these departments to give us clear guidance to cope with any emergencies."

But she explained the lack of staff remained a serious problem and that she hoped the new government led by John Lee Ka-chiu could tackle the problem through the creation of academies to train more care workers.

"The population is ageing and we really need talent to take care of the elderly. If there could be a civil service college to train civil servants, could we also have some colleges to nurture healthcare professionals?" she said.

Edward Leong Che-hung, the honorary chairman of the association and a former Hospital Authority chairman, said the government should come up with measures to help retain care workers.

"The manpower shortage in care homes has been a long-standing problem. The pandemic just makes people realise this is a real issue," he said.

Leong appealed to the government to create more chances for new blood to join the caring professions.

"We need to let the youngsters see a career ladder in the elderly care industry so we can attract more of them to join the industry," he said. "Otherwise, if they could only be a junior care worker, they won't be interested in working in the industry."