John Lee also denies press freedom is under threat and warns that some people who claim to be working for media have political agendas.
Young protesters jailed over the 2019 social unrest should be given opportunities to help them reintegrate into society, Hong Kong's sole chief executive candidate John Lee Ka-chiu has said, while also calling on residents to abide by the law and be tolerant of different views.

Lee, who is expected to win Sunday's vote for the next chief executive, also insisted on Wednesday that Hong Kong enjoyed press freedom, even as foreign governments suggested that civil liberties in the city were under threat after the imposition of the national security law in 2020.

"There are attempts overseas by governments, for political purposes, to bad-mouth Hong Kong, particular when we have the implementation of the Hong Kong national security law in the same way they have in their country," he said after a closed-door meeting with 80 young people at the West Kowloon Cultural District.

"There have [also] been people who try to give the impression that they are doing media work, but in fact, they are pursuing political or personal purposes, which in fact has polluted press freedom in Hong Kong."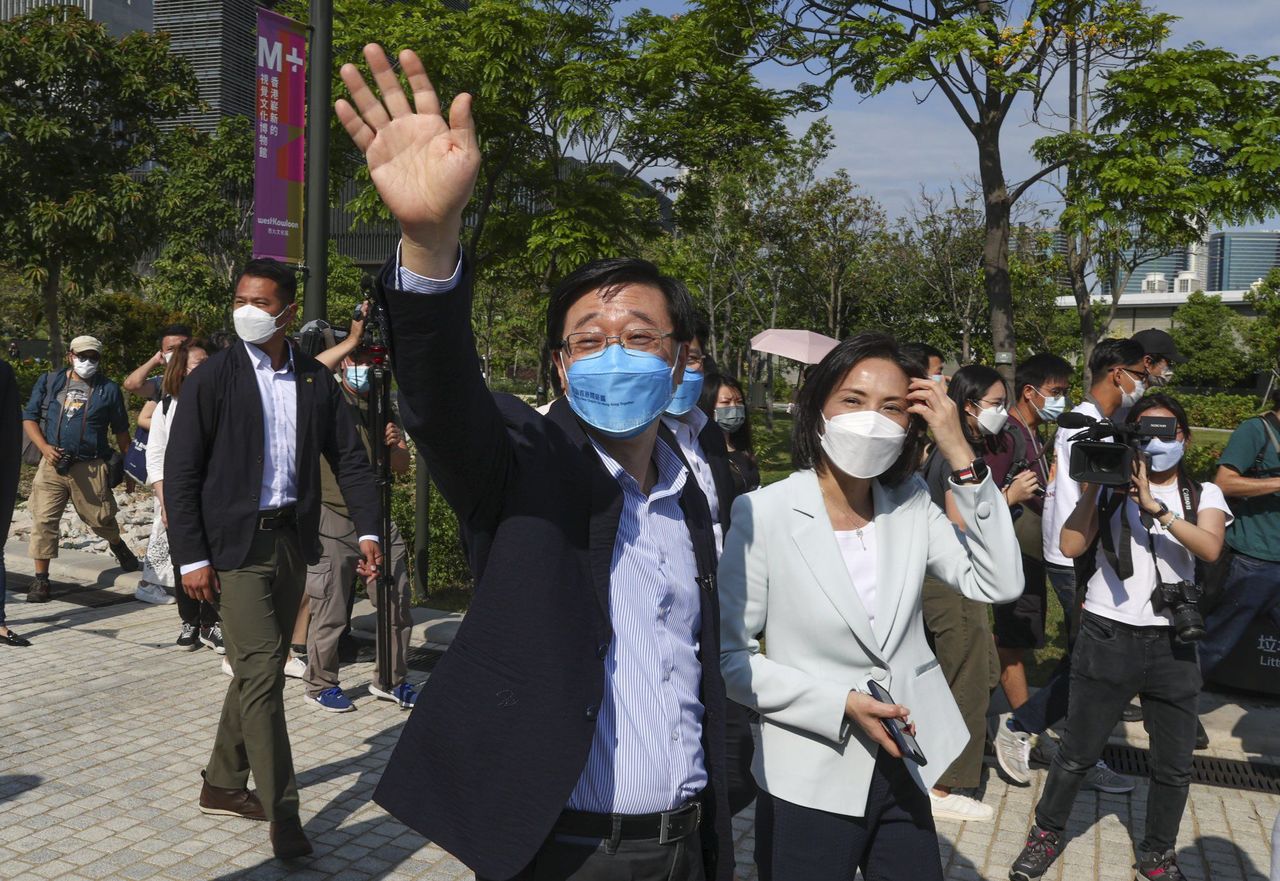 John Lee and Betty Fung, CEO of West Kowloon Cultural District Authority, tour the arts hub.

In a press freedom index released by global media watchdog Reporters Without Borders on Tuesday, Hong Kong ranked 148th out of 180 locations, down more than 60 spots from last year and a record low for the city.

But Lee reiterated that press freedom was a right protected by the Basic Law, Hong Kong's mini-constitution, and said there was no question reporters could "go about their media work" with "maximum freedom".

He told the forum that if he won on Sunday, his administration would seek to improve young people's upward social mobility.

Asked whether that included protesters jailed over the 2019 social unrest, Lee said: "Of course we should give them a chance to reintegrate back into society after serving their sentence. I believe that the government, the public, different organisations, NGO bodies, charities and businesses are happy to offer help.

"There is always a legal way to do anything. We need to respect others and use a peaceful and rational way to solve an issue," he said, adding that he would reach out to more groups in the future.

Lee pointed to the diversity of backgrounds of the participants, noting some were athletes, students, members of ethnic minority groups or entrepreneurs. He said in his opening remarks that he came to "listen and interact".

"I want to understand your thoughts towards society and your dreams," he added.

Lee also urged his audience to grasp opportunities available in the city, overseas and in the Greater Bay Area, which covers Hong Kong, Macau and nine cities in Guangdong province. He pledged to create more opportunities for exchanges and internships if he was elected.

Hong Kong United Youth Association vice-chairman Alex Yeung Ching-loong, 36, who attended the event, said the participants mostly discussed their goals.

Yeung said Lee was "very responsive" to their questions, noting that around 30 participants had the chance to ask the candidate questions. But they did not touch on political topics, such as constitutional reform or universal suffrage, he said.

Before the forum, Betty Fung Ching Suk-yee, chief executive officer of West Kowloon Cultural District Authority, gave Lee a tour of the area.

In Beijing's latest five-year plan, adopted last year, the central government vowed to support Hong Kong in reinforcing its status as a global centre for finance, as well as in becoming an international centre for arts and cultural exchange.

Lee said that he hoped that Hong Kong would again become the host city of many international cultural performances and exhibitions.

The West Kowloon arts hub is home to M+, a global museum for art, design, architecture and the moving image. But the museum became embroiled in controversy last year when its director, Suhanya Raffel, was asked whether curators would show works by Chinese dissident artist Ai Weiwei and others referencing the June 4 Tiananmen Square crackdown. She replied that there would be "no problem".

Asked how M+ should operate under the national security law, Lee said: "Culture and art is a matter of diversity and inclusion. So anything that is available, provided it operates within the confinement of the law, then there is maximum freedom."

The national security law, imposed by Beijing, bans acts of secession, subversion, terrorism and collusion with foreign forces.