Hotel sector fears losses if vaccinated guests who have booked 14-day quarantine stays test positive for antibodies and can leave early.
A plan by Hong Kong's government to further ease Covid-19 restrictions based mostly on vaccination status has received a lukewarm response from hard-hit business operators, with some dismissing the changes as too conservative and too late.

While the commerce sector welcomed another flagship policy on Monday to halve quarantine lengths for fully vaccinated travellers testing positive for antibodies, the hospitality industry voiced worries of losses if guests were allowed to leave isolation early.

With the city on a two-week streak of no local infections, Chief Executive Carrie Lam Cheng Yuet-ngor revealed that a raft of social-distancing measures would be relaxed from Thursday, mostly centred on "vaccine bubble" conditions for two of four operation types for businesses.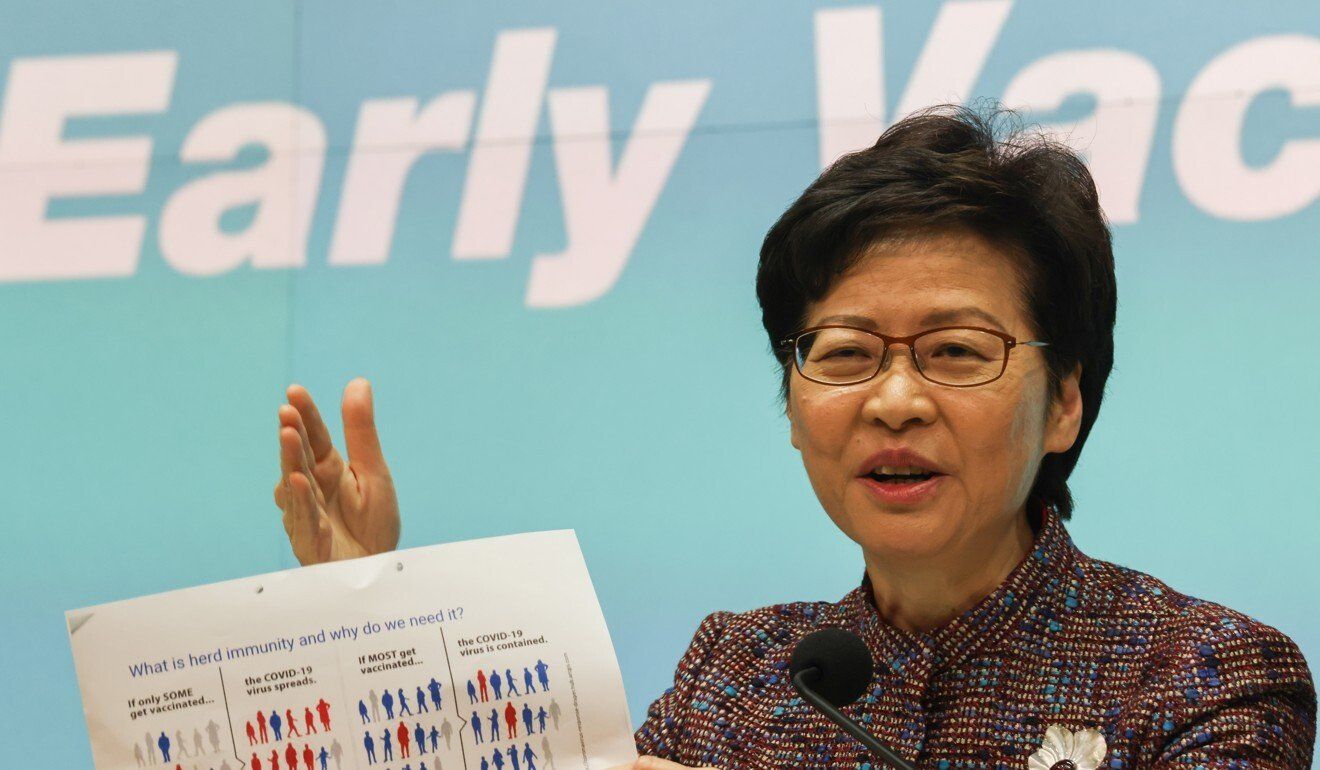 Hong Kong Chief Executive Carrie Lam.

Restaurants currently classified as type C, where staff have received at least one vaccine dose and all customers have to use the government's "Leave Home Safe" risk-exposure app, can operate at 75 per cent seating capacity, up from the current 50 per cent.

There will be no rule relaxation for type A and B operations that do not require vaccination for either staff or customers, with the maximum number of patrons per table still capped at two and four respectively.

Type D restaurants, where staff have been fully vaccinated and customers must have received at least one vaccine dose, can run on full capacity, with diners per table increased from eight to 12, and banquet seating volume bumped up to 180. This was previously capped at 50 for indoor events and 100 for outdoor ones.

For bars and pubs, the number of people per table can go up from two to four, while a maximum of eight guests can occupy each room or table at party establishments or karaoke lounges.

Religious gatherings, wedding ceremonies and business meetings were given an unconditional approval to raise capacities to 50 per cent, with the possibility of returning to full house if at least two thirds of attendees have received their first vaccine jab. Similar relaxations will also be applied to local tours.

"Some people and businesses have said current restrictions are too tight," Lam said. "Today's changes may not satisfy business operators entirely, and some residents may still think they are too strict. But a safe and controlled reopening has to be based on an increase in vaccination rate."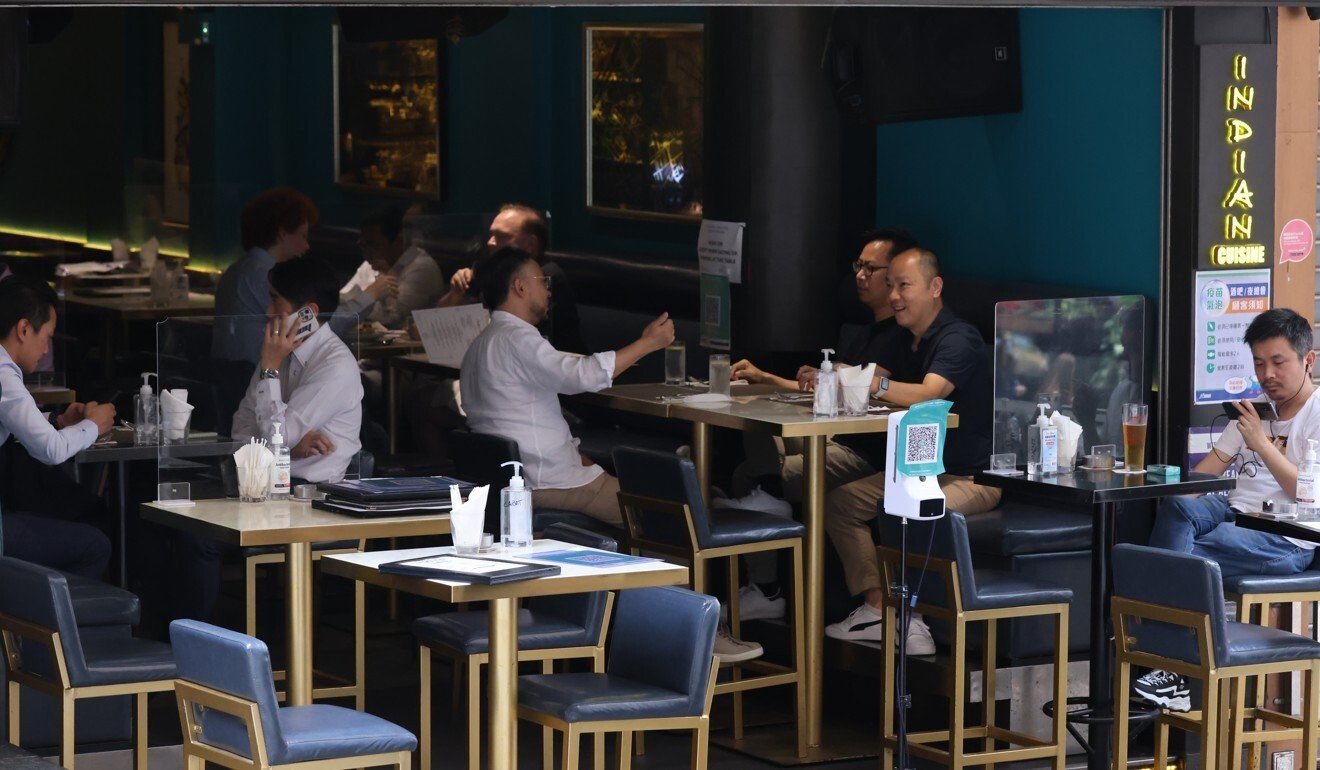 Bars in the city have been hit hard.

Lam said her policy was centred on risk assessments, giving the example that maskless dining at restaurants posed a higher risk of virus transmission than forums and performances. She also pointed to whether there would be an organiser or operator to properly enforce rules, citing the difference between invitations to vaccinated guests, and visitors at open events.

President of the Federation of Restaurants and Related Trades, Simon Wong Ka-wo, called the changes for his sector "conservative", likening it to "squeezing a tube of toothpaste".

He noted there were only 900 restaurants that operate as type C and could benefit from the new rule, a small number given the 16,000 eateries in Hong Kong.

"Of course we wish to switch to type D but we cannot control customers. I do not think a lot of restaurants will become type D," he said. There are fewer than 20 type D restaurants citywide.

He also said operators were getting tired of meeting new requirements that emerged every few weeks.

Chin Chun-wing, chairman of the HK Bar and Club Association, noted that 90 per cent of bars had switched operation mode to restaurants as restrictions bit.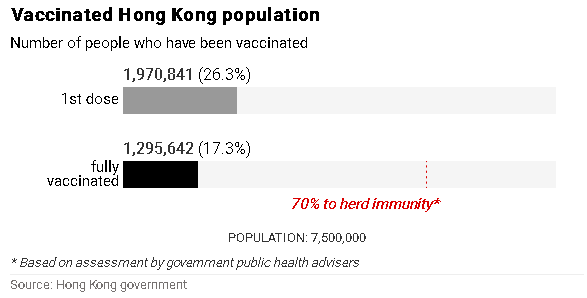 "Bars have been struggling as only customers who have got their jabs are allowed to enter. Bars only have 10 per cent of business with this [vaccine bubble] policy," he said, but added the latest changes could increase the turnover for pubs switching to type C operations by at least 10 to 15 per cent.

For leisure premises, Red MR communication director Joan Law said as customers currently had to get their first vaccine dose before visiting karaoke chains, business was only 30 per cent of pre-pandemic levels.

"We welcome this relaxation of social-distancing rules and thank the business sectors for launching different incentives to encourage the general public to get vaccinated. We certainly hope that raising our seating capacity to eight people can increase the number of customers," she said.

The greatest opposition to Monday's announcements seemingly came from the hotel sector, where Lam said she was seeking cooperation and flexibility from operators so fully vaccinated travellers arriving from medium and low-risk countries could leave quarantine after seven days, compared with the current 14. Lam also asked hotel bosses not to charge for the full 14-day booking.

Inoculated arrivals will still have to book rooms for 14 days at a designated quarantine hotel, and will only know if this can be halved after being tested for antibodies during their stay.

Yiu Si-wing, a lawmaker for the tourism sector, said industry representatives would find the policy hard to swallow, as such hotels could not make up for lost income by accepting new walk-in customers.

He said he expected a discussion with officials on whether public money could be used to compensate for the reduced stay of some travellers.

American Chamber of Commerce president Tara Joseph, meanwhile, welcomed the plans, but added that she hoped home quarantine would be allowed.

"It's terrific news for the international business community. We have all been suffering professionally and personally due to the lack of travel. Now we hope to see the government carry this through for those who are vaccinated, ready to do business overseas and get Hong Kong's economy back on track," she said.