Boosting testing capacity and buying booster shots were among variety of initiatives to be funded with HK$67.5 billion earmarked in city's latest budget.
Ramping up Covid-19 testing capacity and procuring more vaccines for booster shots were among a variety of initiatives that will be funded with HK$67.5 billion earmarked in Hong Kong's latest budget to fight the fifth wave of Covid-19.

But the lawmaker representing the medical and health services sector called on the government to invest more in advanced technology that could help strengthen the city's contact-tracing abilities.

Financial Secretary Paul Chan Mo-po said the government would "mobilise all available manpower and resources to contain and stabilise the epidemic" in his budget speech on Wednesday, when the daily number of Covid-19 cases set another record of 8,674 infections.

Among the new funding allocated to various fronts of the fight, the Food and Health Bureau would be given an additional HK$22 billion to boost testing capacity. A government source said HK$4.3 billion of that would be used to buy rapid antigen test kits, and roughly HK$15 billion would go towards nucleic acid testing services.

The Department of Health would receive HK$6 billion to procure more vaccines as booster doses, as the city pushed ahead with raising the inoculation rate. Around 6 million residents have received their first jab, but only slightly more than 1.5 million of them had received a booster shot.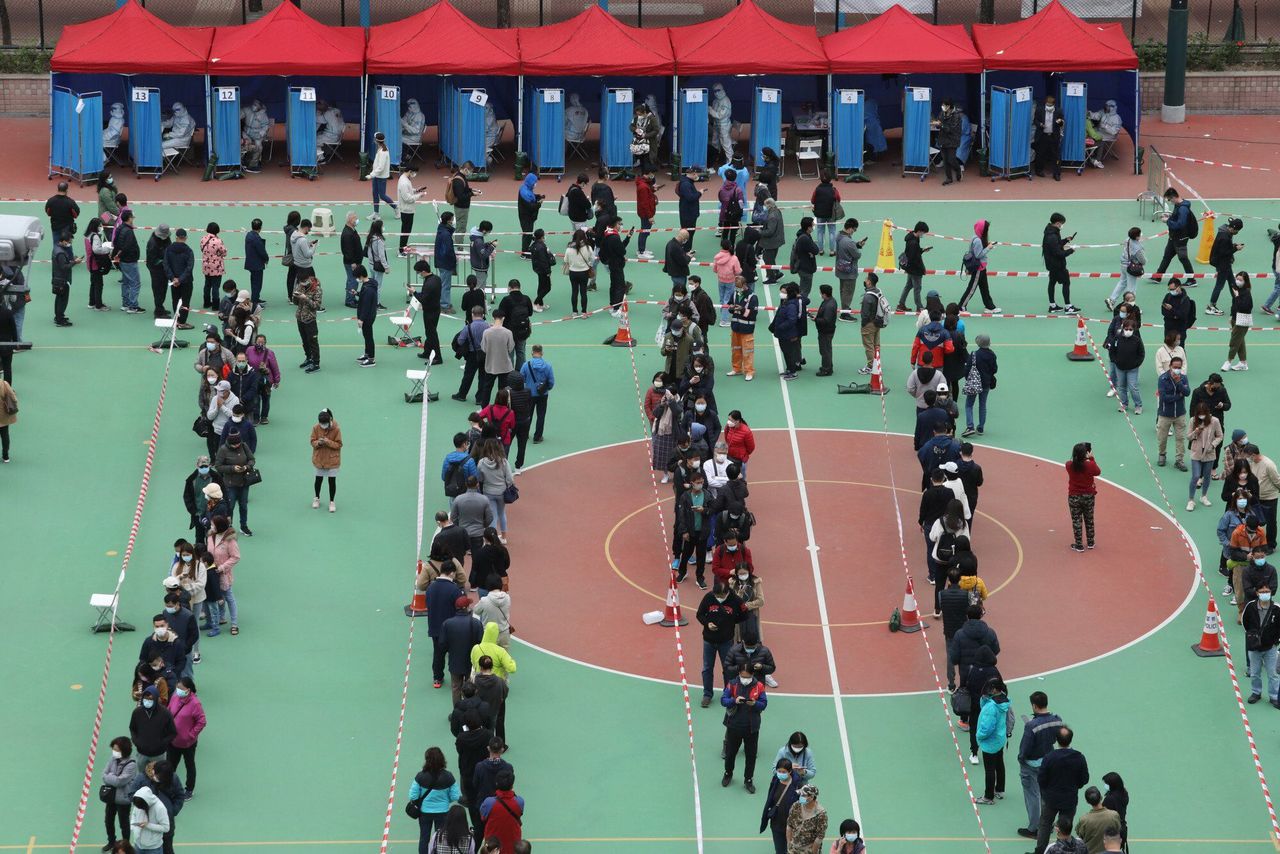 Boosting Covid-19 testing capacity was among a variety of initiatives that will be funded with HK$67.5 billion earmarked in Hong Kong's budget.

The government intended to inject an extra HK$12 billion into the Anti-Epidemic Fund to aid construction of various facilities. The insider said the funds would cover building about 10,000 new isolation units at Penny's Bay and the Kai Tak Cruise Terminal. Construction began last Saturday, with the help of a team from mainland China.

Hong Kong aims to roll out a compulsory universal testing for all 7.4 million residents in March, but the final price tag remained unclear, according to the source. It was hoped that a separate HK$20 billion earmarked for "other potential anti-epidemic needs" would be enough, the insider added.

"We hope that what we have earmarked could meet the needs. But even if the money is not enough, the finance minister would offer full financial support for our work," the source said.

Other pandemic-related expenses included about HK$7 billion for various government departments to purchase infection-control items, and HK$500 million for overall environmental hygiene measures, such as street cleaning, refuse collection, rodent control and public market cleanliness.

Another source explained that among the HK$67.5 billion in initiatives, more than HK$54 billion was specifically allocated in the latest budget, while the remaining HK$13 billion were items that had been reserved earlier.

Recurrent subvention to the Hospital Authority, which manages the overburdened public hospitals and the increasing number of community isolation facilities for Covid-19, was increased by 11 per cent from 2021-22 to HK$90.4 billion. That includes HK$7.5 billion for buying Covid-19 medication and recruiting extra manpower.

The government's budget allowed for increasing the number of spots in self-financed health care undergraduate programmes partially funded through subsidies by 500. Another HK$10 billion, on top of the current HK$20 billion, would be set aside to improve and expand health care teaching facilities at University of Hong Kong, Chinese University and Polytechnic University. The additional facilities would allow those three institutions to offer about 900 extra health care training places.

The Hospital Authority welcomed the extra funding from the government allocated in the latest budget.

Dr David Lam Tzit-yuen, the lawmaker for the medical and health services sector, said it was difficult to assess whether the budget measures for pandemic control was enough, as officials had pledged that more funding would be added if necessary.

"The most crucial elements now are rapid test kits, isolation facilities and manpower. But manpower is not something that could be solved by money alone," Lam said. "Also, it seems initiatives for contact tracing were not mentioned."

Hong Kong currently devoted significant manpower to contact tracing, but lacked advanced technological systems to support the effort, he said, adding that making use of better technology would help the effort.