Pilot attending job fair says he is tempted by promises of tax-free salary, accommodation and education allowance.
Around 100 people attended the first in-person recruitment fair for pilots in Hong Kong since Covid-19 struck, hosted by Middle Eastern carrier Emirates Airlines, as the global battle for talent heats up.

The recruitment drive is part of Emirates' effort to hire an undisclosed number of pilots globally as it expands to meet demand.

The Post has contacted Emirates, the biggest carrier in the Middle East, for comment.

The carrier resumed its daily non-stop Dubai-Hong Kong service on Wednesday, taking its operations to 14 weekly flights. The airline's chief commercial officer Adnan Kazim this month said while the financial year started quietly, "from July 2022 onwards, there has been non-stop expansion".

Dubai's state-owned airline, looking for experienced professionals, was holding the first in-person fair targeting pilots in the city since the pandemic on Thursday and Friday.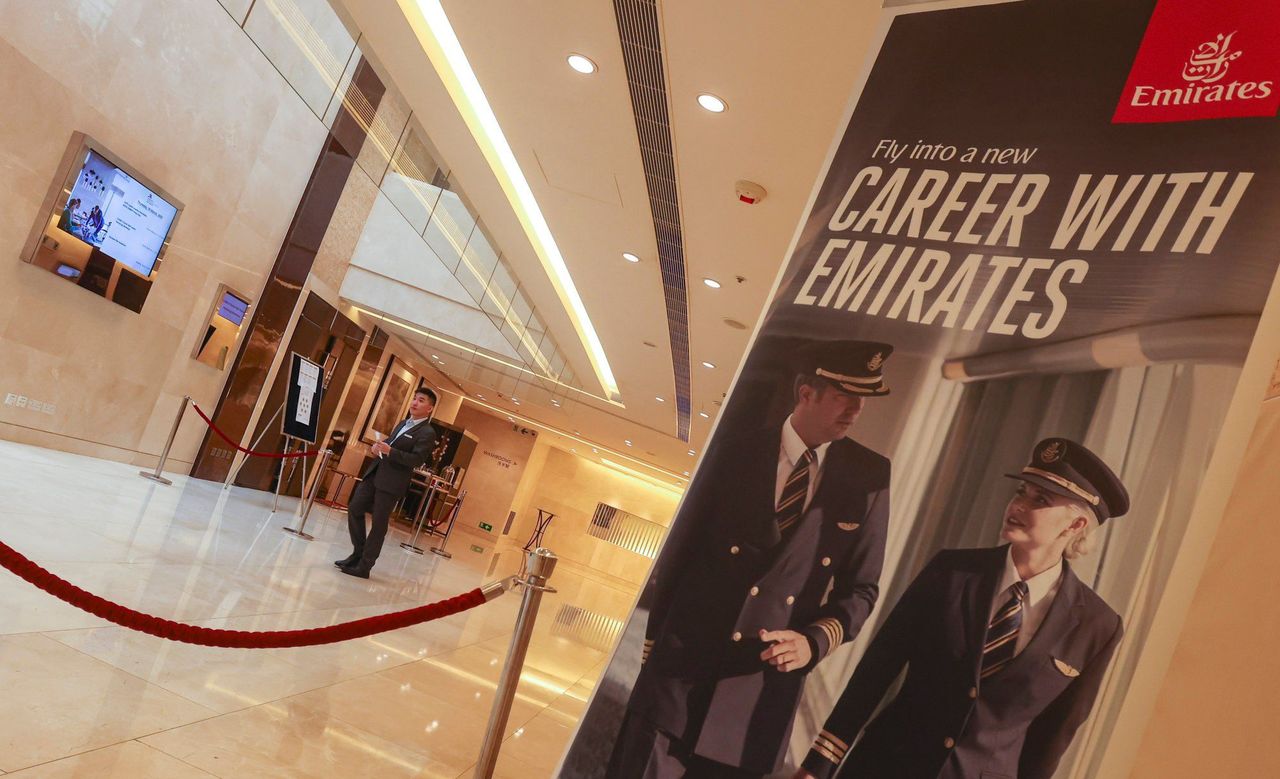 Emirates hosts the first in-person pilot recruitment fair in Hong Kong since the Covid-19 pandemic.

The Post observed local and foreign pilots attending the event. Some were from Australia and flew for the city's main carriers, including Cathay Pacific Airways and HK Express. Others travelled from Southeast Asian countries, including the Philippines, to take part.

An Australian pilot who has lived in Hong Kong for five years, and declined to be named, said there had been a lot of interest in the fair locally.

"Many places in the world are opening up, creating more opportunities. Singapore is also competing in the market to get pilots. It's not only Emirates, Qatar Airways and the Middle East," he said.

Another considering a move was a Hong Kong pilot in his 30s with almost a decade of experience and who declined to be identified. He said the benefits, which included a tax-free salary, accommodation and education allowance, were attractive.

"Emirates came up with a pretty good offer, so I am thinking about it," he said. "Things are getting more expensive. We can see US carriers are offering way more tempting contracts, and they are coming up with a big pay rise. I don't see my current employer being able to match that."

The city's flagship carrier was hit hard by the pandemic, shedding a record 5,900 jobs in October 2020 as it axed regional airline Cathay Dragon, followed by a range of permanent and temporary staff cuts in the first half of 2021, which reduced the workforce by another 2,500 people.

A government-backed restructuring in 2020 also came with new employment contracts for flight crews, which saw a reduction in pilots' pay of around 40 per cent and a drop in housing and retirement benefits.

In January, Hong Kong-based staff were offered an increase in base pay by an average of 3.3 per cent and bonuses worth the equivalent of one month's salary.

Emirates and other carriers are competing against local airlines in the hunt for talent, with HK Express hoping to hire 180 pilots by the end of this year, while Cathay said it aimed to recruit 3,000 frontline staff this year.

Andrew Yuen Chi-lok of Chinese University's Aviation Policy and Research Centre said a severe shortage of pilots in the global market would be one of the major bottlenecks for the industry's recovery in Hong Kong.

"Both the government and Hong Kong-based airlines need to take a more proactive approach to attract foreign pilots to work in the city," Yuen said.

"For example, the Top Talent Pass Scheme or other similar schemes could be expanded to include pilots because they could strengthen Hong Kong as an international aviation hub," he said.

He added airlines might need to review their salaries and fringe benefits to maintain their competitiveness in attracting pilots.