Typhoon Kompasu and Tropical Storm Lionrock return rubbish dumped in sea to city's shores, leaving large clean-up operation ahead.
Hong Kong's massive sea pollution problem has been exposed once more, with the two tropical cyclones that battered the city in the past week dumping piles of rubbish on its beaches and coastline.

Styrofoam, plastic bottles and fishing nets were among the debris washed ashore by Typhoon Kompasu, with a lifeguard at the scenic Silverstrand Beach in Sai Kung warning it could take a month to clean up.

A solitary cleaning contractor on the beach, one of several closed until further notice, told the Post the government had yet to deploy plans for a large-scale operation to clear the waste a day after the typhoon skirted the city.

"I'm just doing the best I can to put the rubbish in one place," she said, adding she had been working alone since 7am.

The rubbish did not deter people from swimming, however, with about 10 people on the beach, and another five in the sea, at around 10.30am.

But a man in his 60s, who gave his surname as Lee, said he had decided not to go into the water after seeing all the waste on the beach.

"It's karma, if you throw rubbish into the sea, it will find its way back to haunt humans," he said.

Lee, who has been swimming at beaches around Sai Kung for about a decade, said each typhoon seemed to bring in more rubbish.

Hong Kong was hit with two storms over the past week.

Tropical Storm Lionrock, named after the mountain in Hong Kong, lashed the city for almost 24 hours, causing massive scaffolding to collapse on Friday at the Beverly Hill residential estate in Happy Valley, killing a 55-year-old construction worker.

Kompasu, which takes its name from the Japanese word for compass, triggered a No 8 typhoon warning on Tuesday, and left one person dead in a road accident and at least 20 others injured the following day. The signal was in force for more than 23 hours – the longest in over 40 years.

One of the seven lifeguards on duty in Sai Kung, who was helping to clean up on Thursday, said it took two months to clear the aftermath of Super Typhoon Mangkhut in 2018.

"It's hard to say how long it will take to clear everything, but it will take at least a month," the lifeguard said.

A retired construction worker, who gave his surname as Shing, said the pollution problem was concerning, but that did not stop him from entering the water.

"I'll take a swim for about 30 minutes but perhaps go further away from the shore where there's less rubbish," he said. "If it's too much, we might go to a public swimming pool instead."

Paul Zimmerman, a Southern district councillor, said the two storms had washed an enormous amount of waste from both formal and unofficial tipping sites into the sea.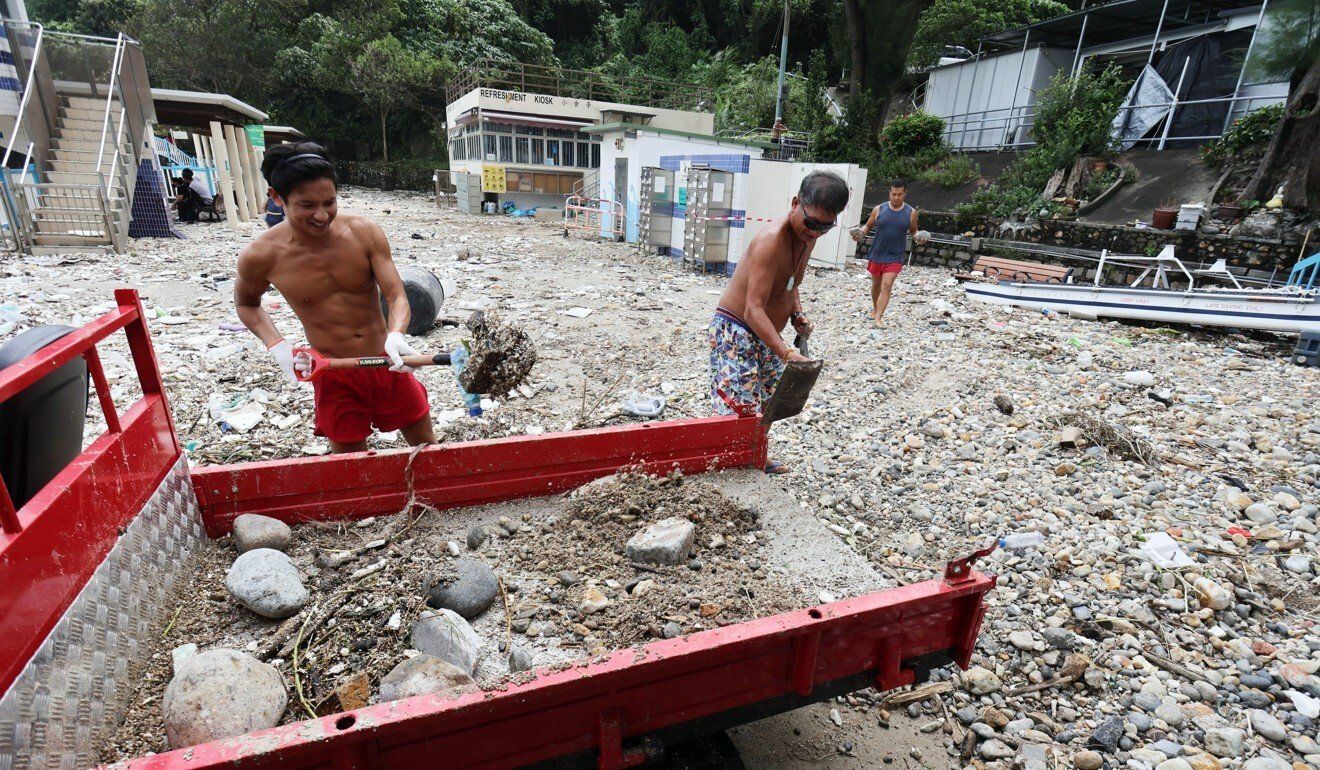 Two workers begin removing debris from Silverstrand Beach.

Litter was also strewn across Shek O Beach on Hong Kong Island, and the outlying island of Cheung Chau, according to images on social media.

"Over the coming days a lot of flotsam, especially plastics and wood, will appear on our beaches and shorelines. Others will become part of the growing amount of debris floating on our oceans," said Zimmerman, who is also chief executive of Designing Hong Kong, an urban design advocacy group with a focus on sustainability.

He added the situation showed the dire need to tackle fly-tipping, the illegal dumping of construction waste in rural areas.

Angus Ho Hon-wai, executive director of local environmental group Greeners Action, said the only way to solve coastal pollution was to focus on reducing waste at the source.

"To solve this kind of problem in the long term, [the way out is to] stop using single use plastics such as foam boxes and water bottles," Ho said.

Rubbish weighing a total of 13,801 tonnes was collected from Hong Kong seas reached last year, according to the Interdepartmental Working Group on Marine Environmental Management, which compiled data from four government departments.

On Thursday, the Leisure and Cultural Services Department said Silverstrand Beach and Trio Beach in Sai Kung, and Shek O Beach, were closed until further notice. Shark prevention nets at those beaches had been damaged and beach goers were urged not to swim there.

Big waves also rendered Clear Water Bay Second Beach in Sai Kung unsuitable for swimming, the department added.