Unprecedented, urgent arrangements last year secured life-saving heart for infant from mainland donor.
A baby girl who successfully underwent Hong Kong's first transplant using a donated organ from mainland China can now breathe unaided and is making a recovery "as anticipated" after receiving the life-saving heart last December, according to the Hospital Authority.

In a brief update, the authority on Sunday said Cleo Lai Tsz-hei, who is now between six to seven months old, no longer needed targeted cardiac drugs and had been discharged from the intensive care unit.

Born last July, she was diagnosed with a heart muscle problem shortly after birth. A heart transplant was deemed her only hope, with her mother making an urgent public appeal in November for a heart donation to give her daughter a chance of survival.
With time running out, the Hong Kong Hospital Authority contacted the mainland's National Health Commission.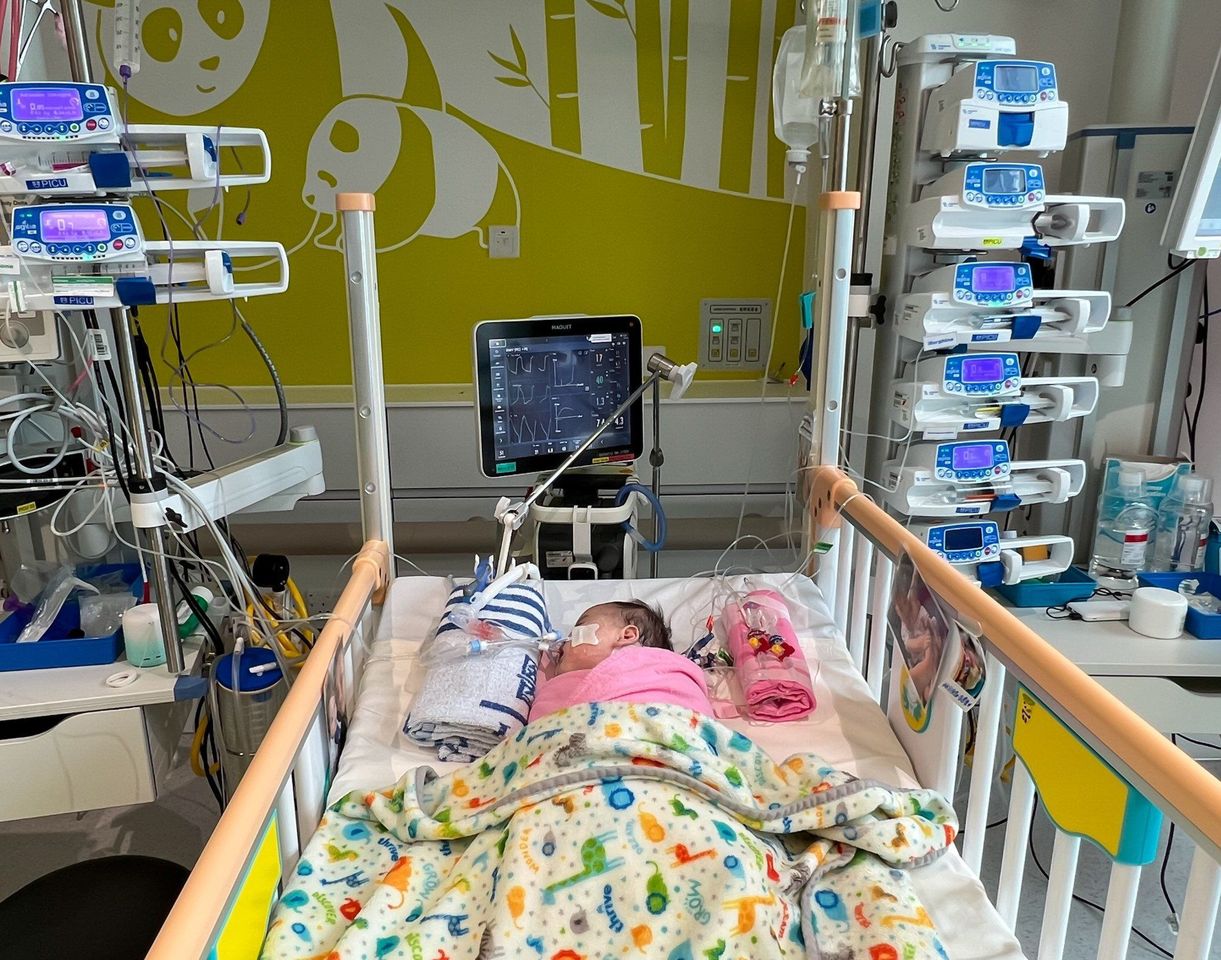 Cleo Lai in November, 2022, when her mother made a desperate appeal for a life-saving heart donation.
A subsequent search located a heart belonging to a mainland child who succumbed to a severe head injury. The heart was assessed to be suitable for Cleo after no suitable recipient in the mainland's database was found.
Unprecedented special arrangements were made so that the donated organ could be delivered across the border in time, allowing Cleo to undergo a successful heart transplant at Hong Kong Children's Hospital in December.
The authority on Sunday said: "Cleo's recovery is progressing at a pace as expected by the medical team. There has been no need to use cardiac agents or a ventilator.
"In recent days, Cleo has been transferred from the paediatric intensive care unit to the cardiology ward. The medical team will continue to monitor her clinical conditions and will provide the needed treatment and rehabilitation."
Her case was also the city's youngest heart transplant.
An acceptable heart donation for Cleo required a donor weighing between 4.5kg and 13kg.
After the case, health minister Lo Chung-mau said he hoped Hong Kong hospitals could be included in the mainland's organ allocation system – the China Organ Transplant Response System – so patients could join the queues without going across the border in person.
Hong Kong and the mainland have so far maintained separate networks for matching patients with donors.
Beijing has been accused by human rights groups in the past of forcibly harvesting organs from inmates, including political prisoners.
For years, mainland hospitals were forced to rely on their own connections to find donations, which opened the system to abuse, but in 2013 the central government introduced the centralised database to regulate the process and two years later banned taking organs from executed prisoners.
But concerns over the source of organs persist. The International Society for Heart and Lung Transplantation, an organisation that counts more than 3,700 medical practitioners from over 45 countries, issued a statement last year saying organ donations from the mainland should not be accepted.