Hong Kong has lowered the age limit for China's Sinovac vaccine from 18 to 3 years old, as the regime in Beijing pursues a zero-COVID-19 policy and a broader vaccination campaign.
"Adolescents aged 12 to 17 will be accorded priority to receive the [Sinovac-]CoronaVac vaccine, with a view to extending to children of a younger age group at a later stage," Sophia Chan, the secretary of Hong Kong's Food and Health, said in a statement on Saturday.

China-based Sinovac Biotech earlier applied to lower the age limit for receiving its vaccine to 3 years old in the city, according to a Hong Kong government release. The extension of eligibility won the support of Hong Kong medical experts advising a government panel—citing the "good safety" of Chinese-made shots on the younger age group—in a Nov. 15 meeting, the statement said. The conclusion refers to overseas clinical trials and data from mainland China.

The Hong Kong government validated the plan on Nov. 20, and local authorities are expected to now prioritize the vaccination of those aged 12 to 17.

The Asian financial hub has followed Beijing's lead in retaining strict travel restrictions to curb new COVID-19 outbreaks.

In mainland China, children as young as 3 years old started receiving vaccine doses from last month. City and provincial authorities in at least seven provinces issued notices requiring children between 3 and 11 years of age to be inoculated.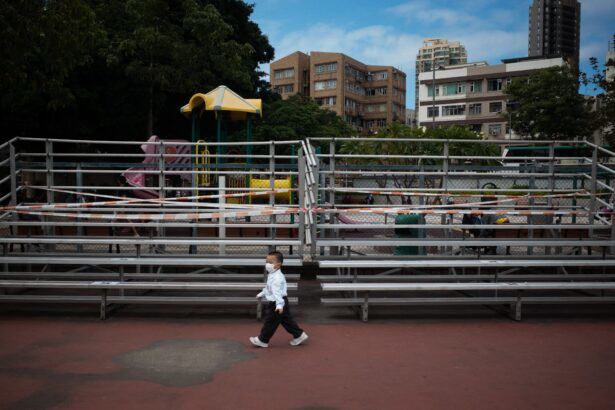 A boy walks past taped-off bleachers amid the COVID-19 pandemic at a playground in Hong Kong on Nov. 9, 2021.

Hong Kong has been slower than many other developed countries since it launched a massive vaccination campaign in February, with about 67 percent of the population now vaccinated with two shots from either Sinovac or Germany's BioNTech.

Last week, Hong Kong authorities put 130 Cathay Pacific cargo pilots returning from Frankfurt, Germany, under quarantine, after they stayed in the same hotel as three other crews who tested positive for COVID-19. Chief Executive Carrie Lam said the decision put a strain on freight companies and affected imports to the city.

International business lobby groups warned the defensive approach would see the loss of talent and investment in the city, as well as losing competitive ground to rival finance hubs such as Singapore unless it eases travel restrictions.

Despite barely any recent local cases and an environment virtually free of COVID-19, Hong Kong has imposed mandatory hotel quarantine of up to 21 days for arrivals from most countries at the travelers' cost.

In a separate statement on Nov. 19, the city's government said it purchased 1 million extra doses of BioNTech vaccine for the implementation of third dose COVID-19 vaccination.