The Food and Health Bureau says it is considering 'taking further action' after finding a domestic worker later discovered to be infected had sent samples to a local lab from abroad.
Hong Kong health authorities have urged local labs to refuse antibody test samples from overseas after a domestic helper carrying a more infectious variant of the coronavirus was found to have sent a specimen to a screening facility to shorten her quarantine period upon arrival.

The Food and Health Bureau also said it was considering "taking further action" after revealing the 38-year-old woman, who returned to Hong Kong from the United States, sent samples for antibody testing to a local lab.

"The bureau has reminded all authorised private labs not to accept samples taken abroad. Residents can take antibody tests at authorised private labs before they leave Hong Kong, to be used as proof of antibody levels upon their return," it said, citing regulations announced in late June.

The city confirmed one imported coronavirus case on Sunday involving a 34-year-old woman who arrived from Mexico last Saturday and tested positive for the L452R mutation, which has been linked to several variants, including the highly infectious Delta strain.

The latest infection brought the city's overall tally to 12,033 cases, with 212 related deaths.

The discovery of the helper's case on Saturday could lead to another tightening of quarantine policies in the city, with experts set to review the existing measures on Monday, according to Professor David Hui Shu-cheong.

The government only recently revamped its anti-pandemic rules, and from last Monday started using a streamlined process for assessing the Covid-19 risk posed by various countries. The new rules allow more fully vaccinated residents stranded overseas to return home, and let in certain foreign domestic helpers and businesspeople seeking to travel to the city.

But Hui warned that the helper's case showed the existing seven-day isolation period for certain travellers was not sufficient, suggesting quarantine stays for fully vaccinated travellers from medium-risk countries be extended to two weeks, even if they had positive antibody test results.

Since June 30, residents who test positive for coronavirus antibodies have enjoyed shorter quarantine stays in designated hotels, but are still screened for the virus periodically after completing their isolation period.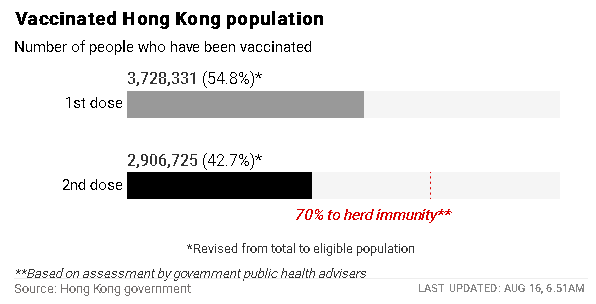 Because she had sent samples back to the city for antibody testing, the fully vaccinated helper was able to present a valid positive result upon arrival, and was allowed to serve just a week of hotel quarantine.

After completing quarantine, she travelled to several places in Wan Chai, Causeway Bay and Stanley before her infection was detected on Thursday by a compulsory test on her 12th day in the city. The woman was found to be carrying the L452R mutation.

The helper was one of two new imported cases confirmed on Saturday, the other being a 56-year-old man who also arrived from the US. Both of them had been fully vaccinated with the German-made BioNTech vaccine.

Experts have said that vaccination does not offer ironclad protection against infection, but the jabs substantially decrease the severity of the illness and lower the risk of death.

Meanwhile, police have arrested two women and a man on suspicion of making counterfeit Covid-19 vaccination and antibody test records.

The fake certificates were going for HK$600 (US$77) each, with police saying they believed the suspects were selling them to people who did not have identification documents so they could find work in the city.

The counterfeits were seized during an operation on Friday at a photo printing studio in Kowloon Bay. In the raid, police found 11 false vaccination records, three fake doctor's letters and 21 phoney antibody testing records.

They also found 45 other fake documents stored on the shop's computer, and later discovered two false Hong Kong IDs in the home of the store manager.