Sources say the frozen assets include all 70 per cent of Lai's shares in his Next Digital media company and his holdings in three other firms. The total is worth US$64 million.
Hong Kong authorities have frozen nearly HK$500 million of jailed media tycoon Jimmy Lai Chee-ying's assets in the first such use of new powers granted under the city's national security law.

The government issued a statement on Friday night announcing that the secretary for security had ordered Lai's shares in the Next Digital media company to be frozen, along with assets in the local bank accounts of three companies he owned.

The statement did not specify the amount involved, equal to US$64 million, or provide further details, but it noted that the security minister had the authority to take such action if there were "reasonable grounds" to suspect that people charged with national security offences held "offence-related property".

Government sources told the Post that the frozen assets included all 70 per cent of Lai's shares in Next Digital as well as his holdings in three other firms.

Based on Next Digital's HK$490.3 million market capitalisation, Lai's 70 per cent stake is worth HK$343 million.

National security police issued a letter to Next Digital, publisher of the Apple Daily tabloid, and its auditors informing them of the move, which came after the end of trading.

Next Digital shares closed 2.11 per cent, or 0.4 HK cents, lower at 19 HK cents.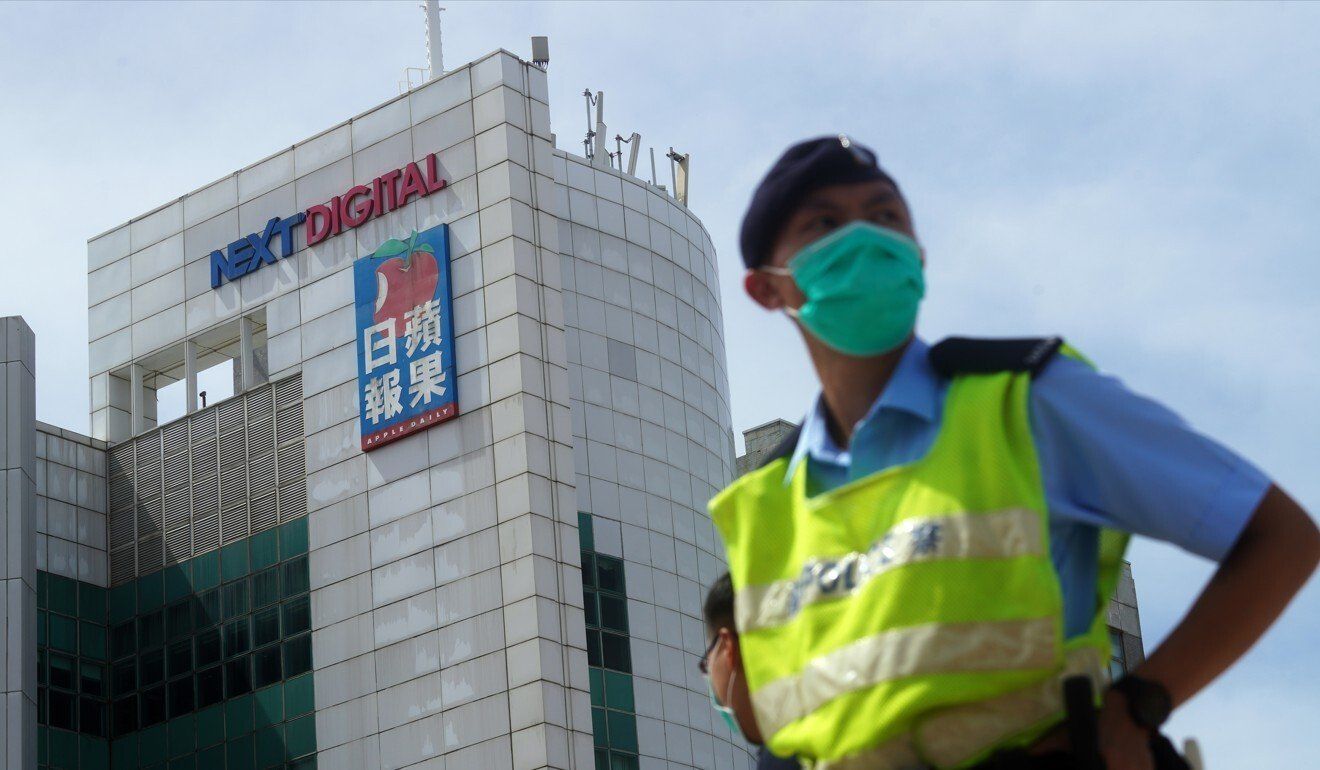 A police officer stands outside the offices of Next Digital in Tseung Kwan O during a raid in August.

"The company is operating normally financially. We will of course continue to publish tomorrow," Cheung Kim-hung, chief executive of Next Digital, told the Post.

Hong Kong's national security law was imposed by Beijing last June to prohibit acts of secession, subversion, terrorism and collusion with foreign forces. It gave the authorities sweeping powers to restore law and order and prevent a repeat of the chaos and street violence that anti-government protests
descended into after they were first sparked by opposition to the since-withdrawn extradition bill.

Article 43 of the law grants police the power to freeze property used or intended to be used in a national security offence. Officers can also seize proceeds of the crime and any other property related to the offence committed.

Lai, a vocal critic of Beijing and leading supporter of the 2019 protests, was arrested in August on suspicion of collusion with foreign forces after hundreds of officers raided the company's Tseung Kwan O offices and carted away boxes of documents.

He was charged in early December with fraud over the use of his company's office space and later that month with the collusion offence. He was detained for 20 days and released on bail, in a move strongly criticised by Beijing – the decision was later reversed.

He is currently serving a 14-month sentence handed down in April for his role in two illegal protests during the social unrest and faces another trial in relation to last year's banned June 4 vigil.

Last month he was hit with a second collusion charge and a third of perverting the course of justice in connection with a fugitive's bid to flee to Taiwan.

Barrister Albert Luk Wai-hung, who specialises in criminal law, said Next Digital's cash flow could be affected by the freezing of Lai's assets. The company might struggle to pay staff wages and meet loan obligations.

"If the company cannot pay back any loans, its creditors can seek to wind up the company," Luk said, adding supporters might yet pump fresh funds into the operation.

Corporate governance activist and former investment banker David Webb suggested Lai would not be able to move his assets, but could still be allowed to exercise his corporate voting rights.

Authorities had "broad power" to freeze assets under the security law, Webb said, adding that although Lai could challenge the order in court, he doubted the move would be successful.

While Next Digital has dismissed speculation that Apple Daily could be shut down, the tabloid has been repeatedly criticised by authorities over its news coverage.

Last month, Commissioner of Police Chris Tang Ping-keung accused it of "inciting hatred" and openly voiced support for a new law against "fake news".

The Hong Kong Journalists Association criticised the latest action against Lai, with chairman Chris Yeung Kin-hing questioning whether political factors were involved.

"We are deeply concerned that the government's decision [to freeze Lai's assets] comes just around the same time that the police commissioner has repeatedly criticised Apple Daily's news coverage, claiming it to be publishing fake news and inciting hatred," he said.

But pro-establishment lawmaker Ma Fung-kwok, who represents the sports, performing arts, culture and publication sector, said the government action against Lai had nothing to do with press freedom.

"A problem with an Apple Daily shareholder does not necessarily mean that the company itself is also problematic," he said.

"Freezing Lai's shares only means he cannot sell them. Even if he was found guilty of a crime, it does not mean that his company has to share the responsibility, too."

Veteran pro-establishment lawmaker and former security minister Regina Ip Lau Suk-yee dismissed concerns that the authorities' move would undermine media independence.

"The freezing of assets only applies to Jimmy Lai, who has been charged with serious national security offences," she said. "I don't see how press freedom … can be affected."

Another pro-establishment lawmaker, Elizabeth Quat, said it was "lawful and reasonable" for the security chief to freeze Lai's assets.

"It can prevent him from transferring his capital," she said. "Next Digital has used fake news and biased reporting to smear China and Hong Kong and provoke hatred … If Apple Daily has violated the Crimes Ordinance or the security law, the government should strictly enforce the law on it."

Separately, the Taiwanese branch of Apple Daily announced on Friday it would stop publishing the tabloid from next Tuesday.

It informed readers in a letter published on its website that Next Digital had decided to cease publication due to "continuous operating losses".

"Apple Daily Taiwan did not lose in the news battlefield, but rather to internal and external pressures," the letter read. "The loss was due to the monopoly of advertising resources by pro-China forces and the deteriorating political situation in Hong Kong, which made us unable to sustain operations in the long-term."