Hong Kong celebrities take to stage with others from mainland China, Taiwan and Macau to celebrate annual festival.
A who's who of Hong Kong showbiz talent joined top artists from mainland China, Taiwan and Macau to stage a concert in Shenzhen on Tuesday that featured many beloved Cantonese songs.

The nearly three-hour Mid-Autumn Festival Concert in the Greater Bay Area 2021 was available to watch across the nation via live-streaming platforms and was shown in Hong Kong by public broadcaster RTHK.

While the bay area along the southern Chinese coast has a rich history of Cantonese culture, the concert marked a rare instance of the dominant language of Hong Kong being featured in a high-profile entertainment event staged over the border, where Mandarin is mainly spoken.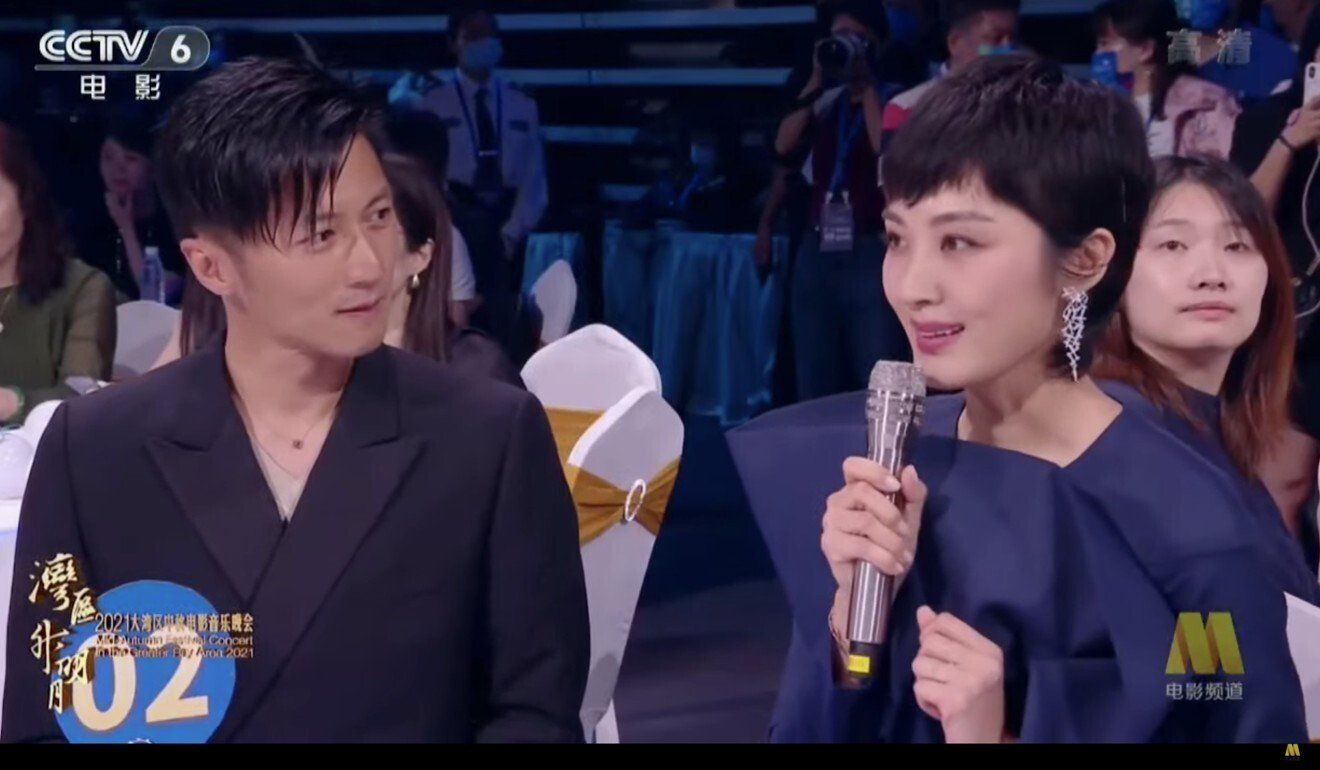 Nicholas Tse at the concert in Shenzhen.

Among the Hong Kong celebrities taking part were Alan Tam Wing-lun, Jackie Chan, George Lam Chi-cheung, Faye Wong, William Chan Wai-ting and Gloria Tang Tsz-kei – better known as G.E.M. – with most of the performers choosing Cantonese songs.

The annual Mid-Autumn Festival is rooted in a fairy tale about the lunar deity Chang'e and Hong Kong actor and singer Nicholas Tse Ting-fung, who was among the hosts, seized upon the theme to praise the nation's string of successes in space flight in recent years.

"The fairy tale about the moon has become the reality and our [spacecraft] has already been able to land on the moon."

Earlier this month, Tse said he would give up his Canadian citizenship following criticism on the mainland about his overseas roots. He was born in Hong Kong in 1980 and moved to Canada at a young age before returning to the city with his family. Mainlanders cannot hold dual citizenship, while Hong Kong authorities have said they will more strictly enforce laws that do not recognise it.

The concert kicked off with the popular Mandarin song Pearl of the Orient, which was written in the 1980s by Taiwanese singer-songwriter Lo Ta-yu and traces Hong Kong's cultural roots to the mainland.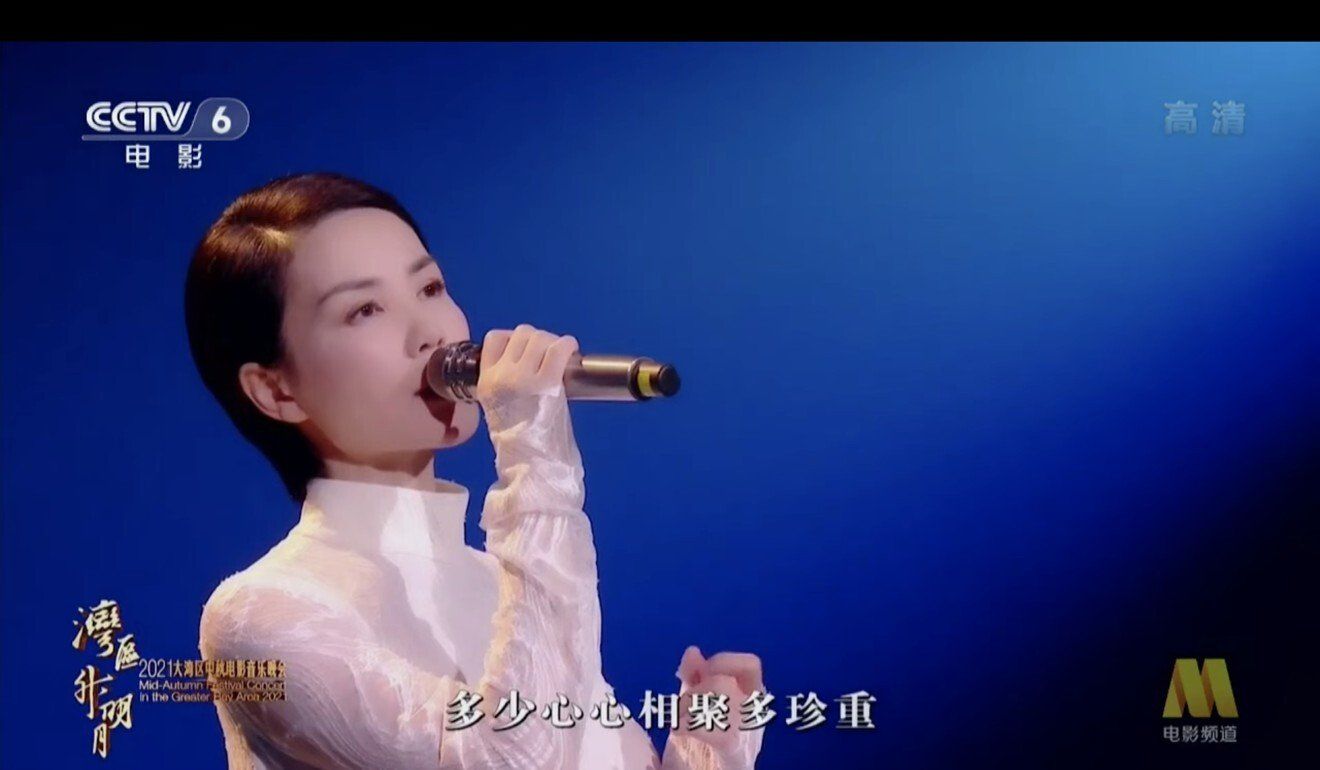 Faye Wong performs at the concert.

The Hong Kong Chinese Orchestra performed under the baton of artistic director and principal conductor Yan Huichang, while renowned Hong Kong-based tenor Warren Mok also performed.

The event was co-produced by the publicity branch of Shenzhen's Communist Party, the Film Channel Production Centre, which is under the State Administration of Radio, Film and Television, Bauhinia Culture Holdings, Phoenix TV and Hong Kong's TVB.

The concert also highlighted some popular Hong Kong-produced films and featured songs used in the movies, including the theme song of McDull, The Fantastic Brothers and Raging Fire.

A political scientist at University of Macau, Bruce Kwong Kam-kwan, said the production team had clearly added "Hong Kong flavour" to lure local fans.

"Compared with the Spring Festival Gala, I believe there will be a greater Hong Kong audience for the Greater Bay Area concert," he said. "Because of the relatively close geographical factors and cultural roots, Cantonese pop songs and Hong Kong films have already been very popular with fans in the Guangdong area before the handover, and residents of various cities within the bay area have already been keeping in close contact.

"Therefore, from the perspective of entertainment alone, it will be more able to attract Hong Kong audiences."

RTHK, which has been caught up in a series of controversies over airing content deemed critical of authorities, said showing the concert was in line with its mission.

"As the public service broadcaster in Hong Kong, RTHK has to fulfil the public purposes and mission stipulated in the Charter of RTHK, including engendering a sense of citizenship and national identity through programmes that contribute to the understanding of our community and nation," a spokesman said.

"Broadcasting mainland entertainment shows and developing partnership with different mainland media is in line with the charter."

Hong Kong leader Carrie Lam Cheng Yuet-ngor said last month that RTHK would forge a long-term alliance with state-owned China Media Group and air more content produced on the mainland to boost patriotism in the city.

Lam also said RTHK's Chinese-language free-to-air TV31 channel would be running more mainland productions. She said she believed the new programming could be "conducive to Hong Kong's integration into the country's development".

The Greater Bay Area development, spearheaded by Chinese President Xi Jinping, calls for uniting Hong Kong, Macau, Shenzhen and eight other Guangdong cities into a finance and technological powerhouse by 2035.

The central government earlier this month announced a new blueprint for the Qianhai cooperation zone in Shenzhen. Under the new plan, the zone will grow in size from about 15 sq km (3,705 acres) to more than 120 sq km, with about a third of the new area reserved for Hong Kong investors. The goal is to deepen financial reforms and offer a "wider stage" for Hong Kong to grow its economy.