City also records 5,308 new Covid-19 infections, the most since 5,823 were logged on April 1.
Arrivals to Hong Kong may jump as much as 80 per cent following the government's cut to the hotel quarantine period, the health minister has said, vowing to further adjust travel curbs should the pandemic situation improve.

But the pledge by Secretary for Health Lo Chung-mau on Saturday came as the city confirmed 5,308 new Covid-19 infections, the most since 5,823 were recorded on April 1. Among the latest cases, 160 were imported, while three more deaths related to the virus were logged.

Hong Kong on Friday shortened the week-long mandatory stay in hotel for travellers to three days, with the remaining four to be spent at home under medical surveillance, and Lo said the government had been fine-tuning its Covid-19 measures to make the arrival process even easier.

"More travellers can come back [to Hong Kong] under the new '3+4' arrangement," he told a radio programme. "We estimate the figure can increase by 60 to 80 per cent, but it cannot be doubled."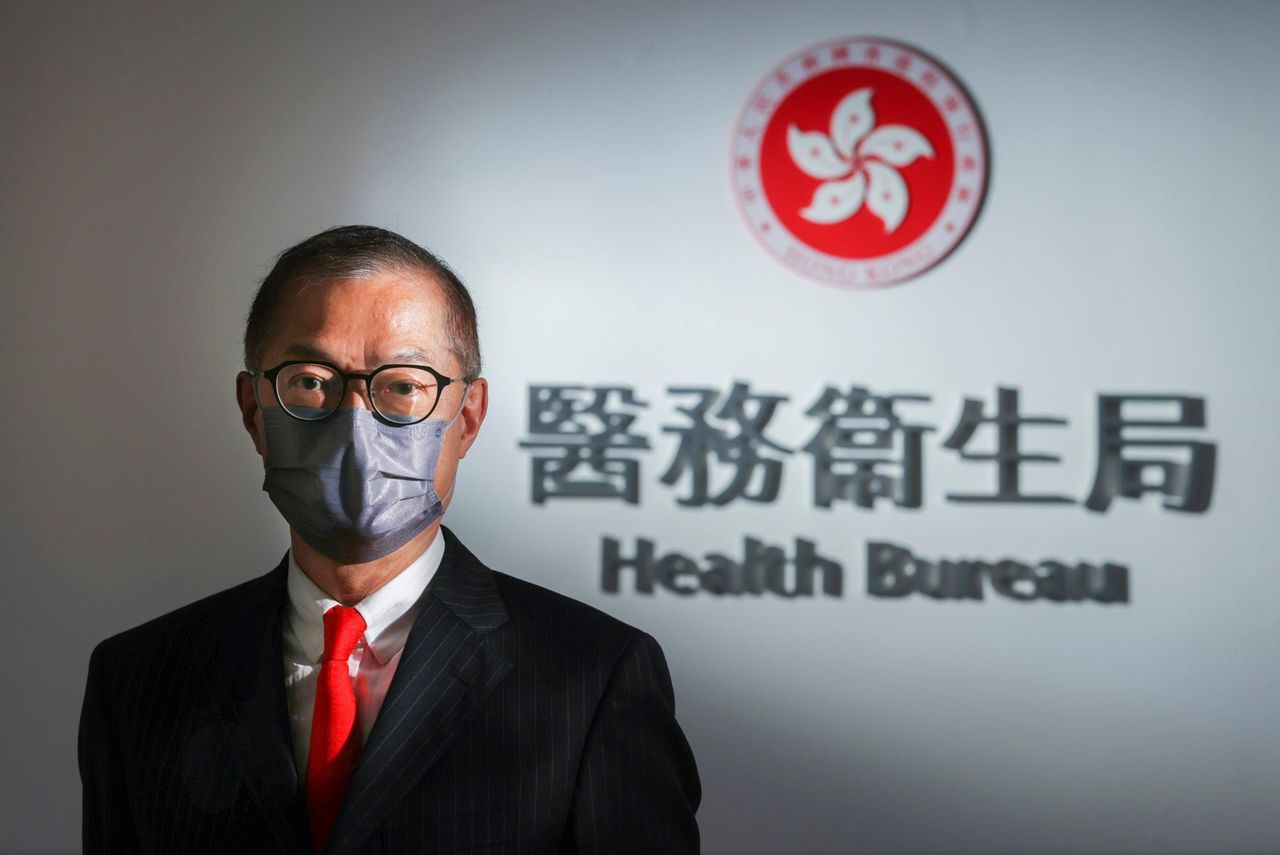 Secretary for Health Lo Chung-mau.

Under the new arrangement, arrivals found to be infected are given a red health code, while those under medical surveillance get an amber one.

Those with amber codes can still work and study but cannot enter 18 types of premises, including restaurants, hair salons and gyms, which are considered to have higher transmission risks and require "active checking" of the government's "Leave Home Safe" Covid-19 app.

Lo said authorities were reviewing the types of premises off-limits to people under medical surveillance after the exhibition sector called on the government to remove trade shows from the list. But the minister noted exhibition and trade show venues were included because of their visitor traffic.

"We are not targeting a particular industry," he said. "We need to be fair and consider [relaxation] as a whole. We will make adjustments if data proves that the infection risk at the premises is low."

Arrivals with amber codes could also leave the city at any time during the four-day home medical surveillance period, he added.

Lo also warned that people assigned an amber code could be in breach of quarantine orders if they took part in maskless activities and gatherings even in private places, while Secretary for Education Christine Choi Yuk-lin said students and staff with such codes should dine in a separate room at schools, and those spaces needed to be cleaned thoroughly after each use.

Separately, in response to reports about senior global bankers not joining a Hong Kong financial summit in November if they needed to quarantine, Lo said protecting the health of residents remained his first priority.

"I would not see [November's summit] as a deadline … I would only make the decision based on the current data," he said in a TV interview.

The city could gradually relax quarantine and social-distancing measures before then if the daily caseloads decreased and the virus reproduction rate went below one, he said. The figure currently stood at 1.06, meaning one Covid-19 patient could infect about one person.

Lo said that given the virus continued to mutate and the pandemic was still evolving, he could not promise "zero quarantine" in the city by the end of this year.

"It depends on the Covid-19 situation … Many experts have warned that the pandemic is not over yet. To say hastily that we will relax everything and go for a zero-quarantine measure will not be practical," he said.

Dr Chuang Shuk-kwan, the head of the Centre for Health Protection's communicable diseases branch, said fluctuations in the number of cases each day were to be expected.

"Although the figure keeps fluctuating, the overall infections have not fallen, they are still climbing," she said. "We reported about 2,000 cases a month ago … It's just the speed [of increase has become slower], with the number of cases doubling in a month rather than within two weeks."

A total of 32 and 25 Covid-19 patients remain in critical or serious condition respectively, including an unvaccinated five-year-old girl without a history of medical problems, who was admitted to the intensive care unit at Tuen Mun Hospital on Friday.

"We suspect her rapid deterioration could probably be due to the Covid … Whether it is causing encephalitis or other conditions, we are still doing the investigation," Chuang said, referring to inflammation of the brain.

Health minister Lo was also asked whether overseas arrivals could spend the first three days of mandatory quarantine at home rather than in a hotel, but he said the government had already considered the move and dismissed it.

"Unlike locally infected patients, infected overseas arrivals have not entered the local community when they test positive. [Hotel quarantine] gives us a chance to identify infected people earlier and prevent them from entering our community," he said.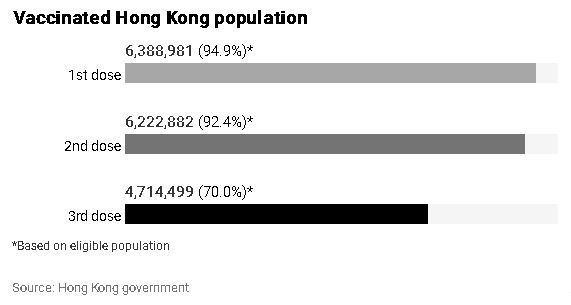 Lo also called on parents with children aged six months to three years to not wait for the BioNTech Covid-19 vaccine to become available in doses tailored for the age group.

Currently, only the China-made Sinovac vaccine is offered to those aged younger than three, as officials are still negotiating with the German makers of BioNTech to buy its shots specifically for children.

"Unlike the Sinovac vaccine, the BioNTech vaccine for young children is a completely new formula. The government needs to restart the procurement process and we are actively dealing with the contract," he said. "Supply [of the vaccine] is also tight."

Separately, the Immigration Department said it had received 27 requests for help from Hong Kong residents stranded in the mainland Chinese city of Hainan, which had been placed under lockdown after about 5,000 infections were reported earlier this month.

The city's Covid-19 tally stands at 1,412,043 cases, with 9,562 related fatalities.