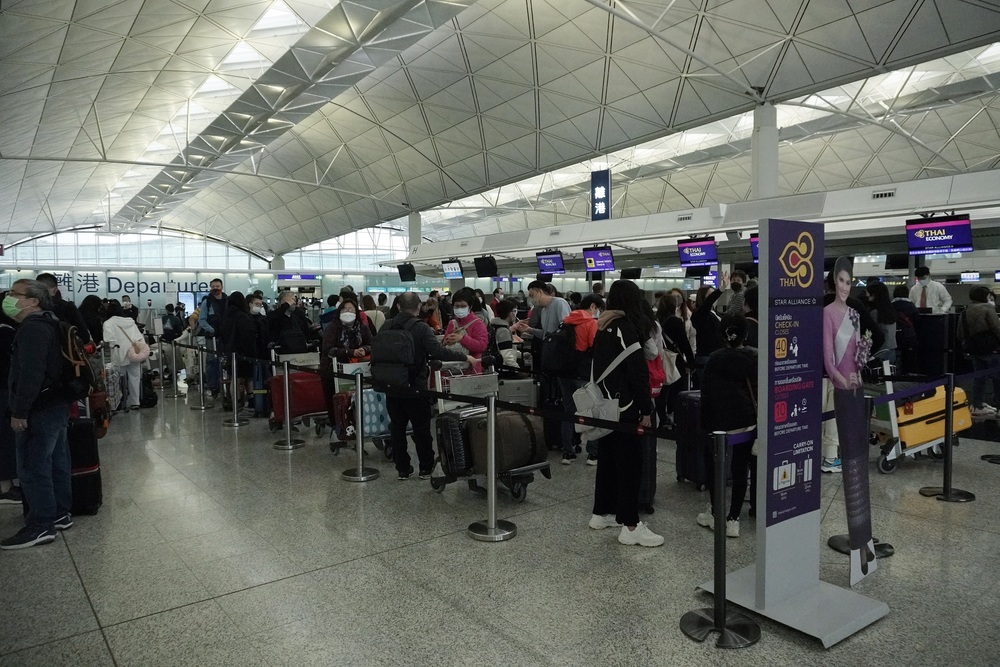 Hong Kong airport passenger traffic reaches 4.2m in January and February: transport chief
Hong Kong International Airport passenger traffic reached up to 4.2 million in the first two months of 2023, marking a 26-fold jump over the same period of last year, said Secretary Transport and Logistics Lam Sai-hung.
In Lam's blog published on Saturday, he also pointed out that the number of flights that landed and took off at the airport increased by 60 percent in January and February compared to the figure logged last year.

As of Thursday, the passenger traffic has exceeded 2.6 million already, Lam added.

The number of inbound and outbound travelers reached 83,000 in a single day last Sunday (Mar 26), taking up about 60 percent of pre-pandemic levels, Lam noted, as he said the Meeters and Greeters Hall was flooded with people.

He also said authorities had requested public transport companies to mobilize more staffers at the West Kowloon Station and major bus terminuses and piers at border points as more citizens are expected to leave Hong Kong for their Easter vacation.

On another note, 80,000 out of the 500,000 free tickets under the "Hello Hong Kong" promotional campaign will be disturbed to residents in the Greater Bay Area in phases starting late April.

He believed the free giveaway could further stimulate the airport's passenger traffic with GBA residents transiting to other parts of the world through Hong Kong.

The transport chief also said the government has been contacting the Airport Authority and the aviation sector and that the Airport Authority has completed a new round of workforce surveys.

The government aims to introduce measures to further promote the sustainable development of the labor resources of the aviation sector later this year.