Either gamble on permit or resign with payout, HKA pilots told. Scores quit ahead of deadline, while some 500 expats working for Cathay wait to learn their fate.
Hong Kong Airlines (HKA) pilots face losing their jobs over problematic work-visa renewals, the Post has learned, while hundreds of those serving Cathay Pacific who have expired or short-term work permits are stuck in limbo.

HKA pilots were given the choice to gamble on a visa renewal with no certainty of immigration approval, or resign from the company with a guaranteed payout, according to an internal document seen by the Post.

At least 20 employees are waiting on application extensions, an HKA spokeswoman said, adding the figure might increase as it handled more cases. The number does not include scores of pilots who opted to resign by a deadline on Wednesday.

The spokeswoman said a valid work visa was a prerequisite for employment, and added the airline was doing its best to "support affected employees and have made arrangements related to their remuneration, insurance and benefits".

As many as 500 Cathay employees are also facing visa problems, a source familiar with the situation said. Some on expired visas were still getting paid, and the company had not yet taken action to terminate their employment.

The source said the government was so concerned about the high level of unemployment among local aviation workers that it had carried out an investigation and produced a report for Chief Executive Carrie Lam Cheng Yuet-ngor to take action on.

The months-long crisis in the cockpit among those with high-end skills has snowballed across various workforces and companies, including cabin crew and other aviation workers dependent on visas, who are normally granted the right to work in Hong Kong for up to three years.

In a normal year before Covid-19, the Hong Kong Immigration Department would receive around 45,000 work visa applications, which dropped to 17,688 last year. In the first three months of this year, it got almost 3,800. The number of applications refused remains in single figures, but the department does not provide a breakdown across different sectors.

Problems facing expat aviation workers have reached a critical stage. A number of HKA pilots were told in April that the Immigration Department would issue a final round of visa renewals for three months, although those were not guaranteed.

Visa troubles surfaced after the closure of Cathay Dragon with virtually all staff, most of them local Hongkongers, made redundant in October 2020.

Late last year, Hong Kong's deputy leader, Chief Secretary Matthew Cheung Kin-chung, led a government inquiry into the impact of unemployment on the local aviation industry. The city's unemployment rate remains close to a pandemic-high of 6.8 per cent in March.

The effect among Cathay's workforce has been felt by pilots, cabin crew and ground staff, amounting to some 500 non-permanent residents. Many have expired visas, meaning their spouses are unable to work and children cannot go to school.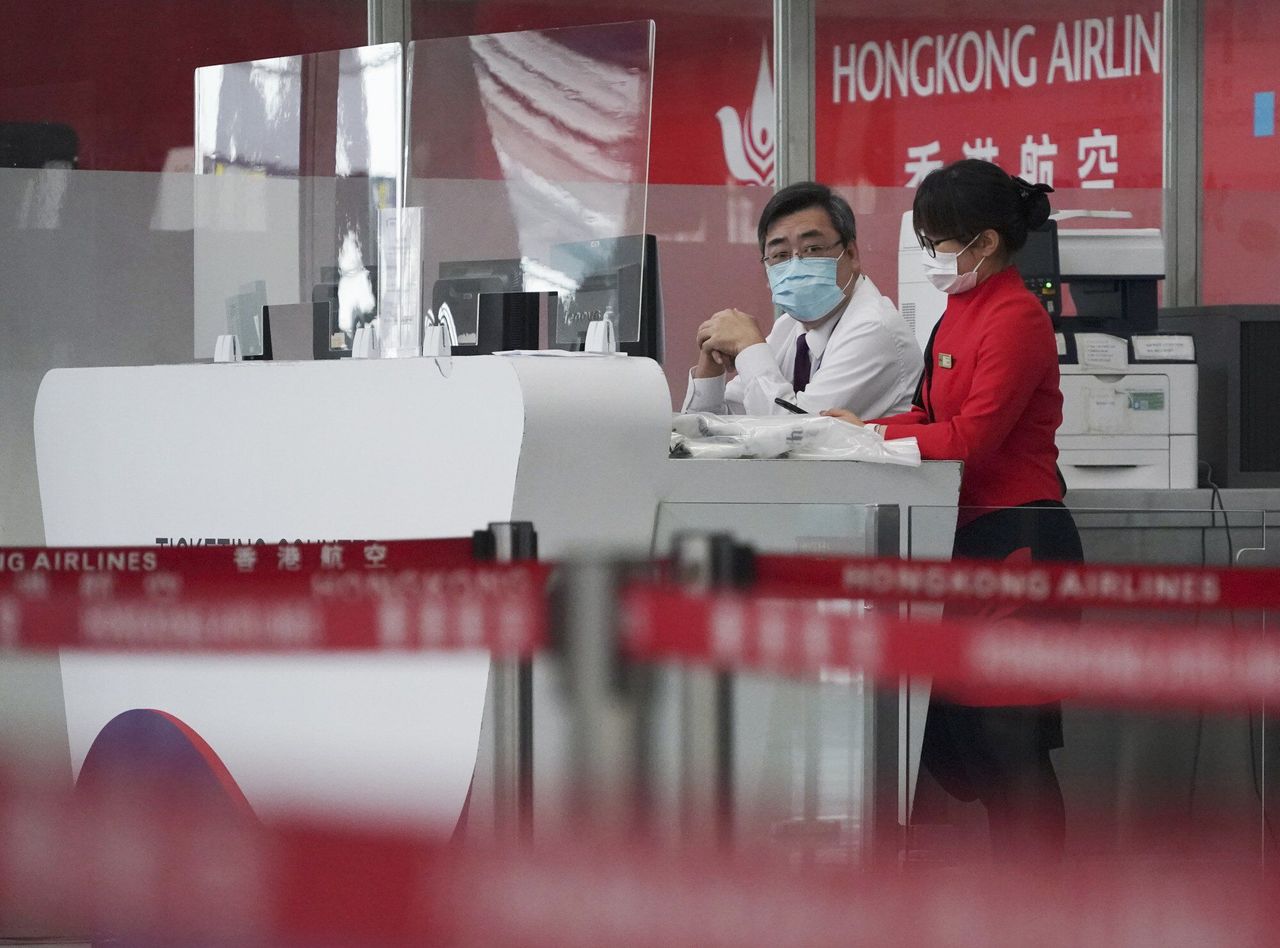 Hong Kong Airlines staff at the check-in counters at Hong Kong International Airport.

The Immigration Department said expats would be admitted to Hong Kong if there was a job vacancy and, among other things, the role could not be performed by a local.

"Extension of stay … will be considered if the applicant continues to meet the relevant eligibility criteria," a spokeswoman said.

An affected HKA pilot, who declined to be named, pointed out that "forcing pilots" out of their jobs in an effort to support local employment would not result in the immediate rehiring of Hongkongers, given the catastrophic financial consequences of Covid-19.

But a Dragon pilot who was made redundant said: "Pilots are historically an area where the local workforce is lacking … and it is extremely unfortunate Cathay retrenched over 400 local pilots whilst retaining employment of even more foreign pilots on work visas. This has been endorsed by immigration against its own policies by not declining work visa renewals."

Cathay Pacific did not answer questions on how many employees were affected by visa issues, how it would handle visa rejections, special circumstances, or state if it was aware of one-off renewals.

A spokeswoman said the airline was answering any questions the Immigration Department might have "in relation to any visa renewals".

On Thursday, Cathay announced it would close overseas pilot bases in Canada and proposed the same for Australia and New Zealand, raising the likelihood of more job losses at the airline.

But in a briefing with Australia-based pilots, the airline said it would only relocate permanent residents or those with the right to live and work in the city.

Employment law expert Yonah Leung, senior associate in Eversheds Sutherland's human resources practice, said visa applications were taking longer, and there was greater onus on firms to show no local candidate could do the job.

"Before Covid-19 it is likely that these visa applications would have been approved," he said.