Authorities expect mainlanders to return to Hong Kong in slowly increasing numbers, as city must prepare for their arrival, government sources say.
Hong Kong hopes to finish a proposal for fully reopening its border with mainland China by mid-January and begin introducing the changes before the Lunar New Year holiday starts about a week later, the city's chief executive has said upon his return from talks with state leaders in Beijing.

While stressing the date for easing curbs was ultimately up to the central government to decide, John Lee Ka-chiu laid out on Saturday how his government would approach gradually increasing traffic at checkpoints amid what is a worsening Covid-19 pandemic on both sides of the border.

"I can now announce that the much-awaited reopening of the border with the mainland can now be achieved," Lee said, adding he had received the green light from Beijing. "We aim to discuss with authorities in Guangdong and Shenzhen plans to reopen the border and then seek the central government's [final] approval."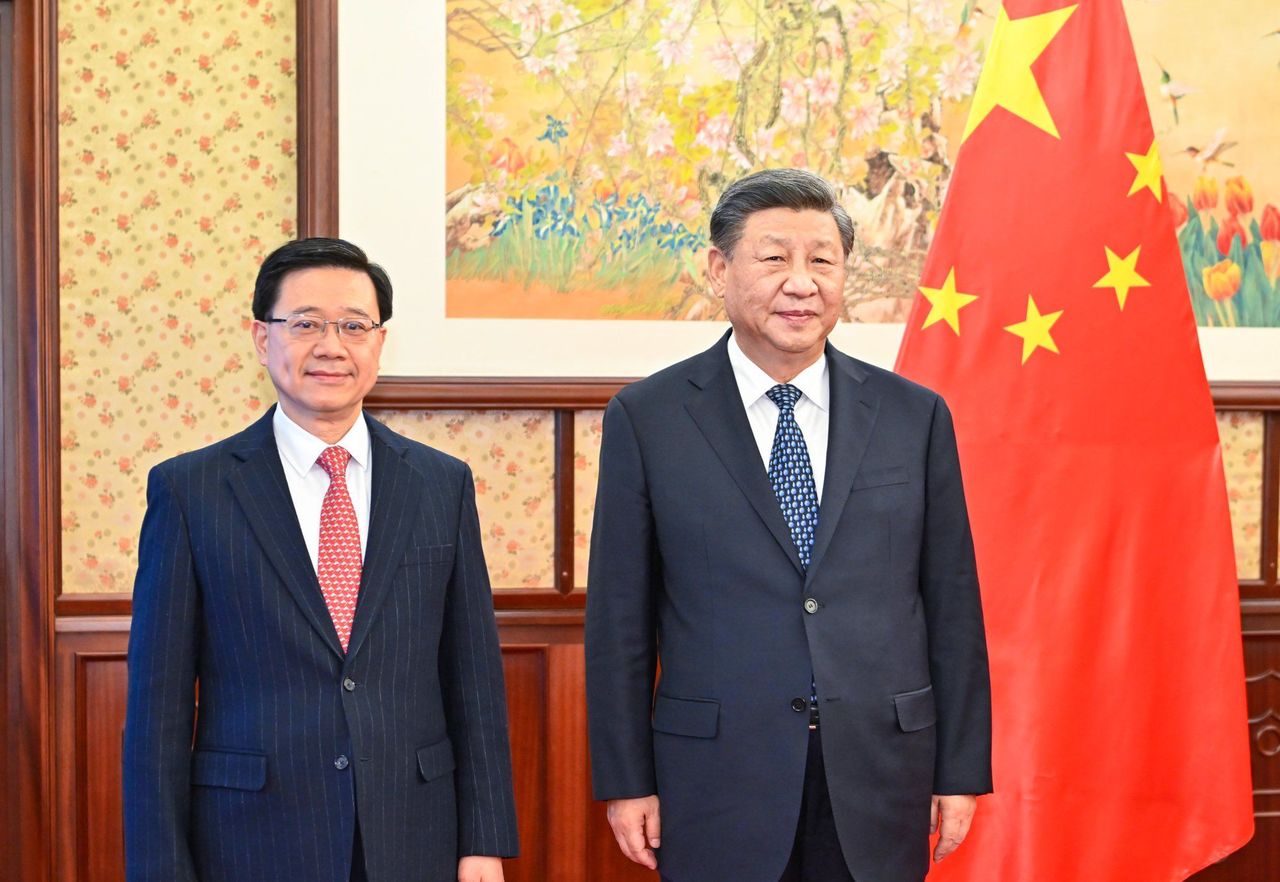 Hong Kong Chief Executive John Lee with President Xi Jinping.
Government sources emphasised the relaxation would take place in stages and border traffic would not immediately jump to pre-
Covid
levels when the first changes were implemented next month. Authorities expected mainlanders to return to Hong Kong in slowly increasing numbers, as the city had to prepare for their arrival, they added.
Lee said a group chaired by his second-in-command, Chief Secretary Eric Chan Kwok-ki, would coordinate the work of all 15 government bureaus on finalising details, while the National Health Commission and Beijing's liaison office would also be involved in moving the process forward.
Authorities would have to reach a consensus over the daily quota of travellers and which checkpoints would be reopened first, he added.
Shenzhen last week agreed to increase the daily quota of Hong Kong arrivals from 2,500 to 2,800, while about 2,000 mainland visitors crossed the borders of the financial hub every day from Wednesday to Friday.
Lee cautioned that the pace of the relaxation would depend on the pandemic situation at both the national and local level. The city's health authorities recorded 21,362
coronavirus
infections on Saturday, the second day in a row where cases topped the 20,000 mark, and 39 related deaths. The mainland reported just 4,128 symptomatic infections, but experts have suggested the actual number of new cases each day likely exceeds a million.
Lee arrived in Beijing on Wednesday for his first duty visit since taking up the top job in July and met Chinese President Xi Jinping and Premier Li Keqiang, as well as other state leaders. Xi praised the chief executive's efforts to stimulate the economy and urged the city to make good use of its unique advantages to deepen cooperation with the rest of the nation and the world.
The premier told Lee that as anti-epidemic rules relaxed on the mainland, relevant local departments should strengthen communication "so that the exchanges between Hong Kong and mainland residents can return to normal gradually", according to state broadcaster CCTV.
Lee said in Beijing that Hongkongers "earnestly hoped" the mainland border could be reopened and the government would continue to discuss the matter with central authorities, as well as the Guangdong and Shenzhen officials.
But pro-Beijing heavyweight Tam Yiu-chung expressed doubts over whether the border would be fully reopened by Lunar New Year on January 22.
"What he said was opening in a gradual manner … it does not mean in one go," Tam said, adding both sides would have to decide on the most appropriate proposal for moving forward.
Hong Kong's tourism industry has been ravaged by three years of pandemic restrictions, which followed anti-government protests in 2019 that kept many visitors away. Arrivals from the mainland last year fell to about 65,700, roughly the number the city would receive in just half a day in 2018, when 50.8 million visitors came over the border in the full 12 months.
Tourism lawmaker Perry Yiu Pak-leung welcomed Lee's announcement, describing it as a "breakthrough".
"This is very happy news," he said, adding he had written to Lee before his trip to ask him to raise the issue while in the capital.
Yiu said the government should ask Beijing to begin issuing travel visas for individual tourists so traffic would not flow only in one direction.
Lawmaker Jeffrey Lam Kin-fung, for the commercial sector, called the development "Beijing's best Christmas gift for Hong Kong".
Eden Woon Yi-teng, president of the American Chamber of Commerce in Hong Kong, predicted the policy shift would convince many companies to return to the city.
"We welcome the announcement since much of Hong Kong's business and tourist connections are with the mainland," Woon said. "This serves to attract many multinationals to come to Hong Kong.
"But access internationally still needs to be completely opened as soon as possible in order for Hong Kong to truly be a competitive international city."
Dennis Ng Kwok-on, vice-president of the Chinese Manufacturers' Association of Hong Kong, said fully easing travel rules would help build investor confidence in the city and the rest of the nation.
"This has indicated to investors that everything will be back to normal, so they can be at ease to invest in both Hong Kong and the mainland," he said. "For the manufacturers, they can have time to make plans and restore normal production after Lunar New Year."
Iris Pang, chief economist for Greater China at financial services firm ING, said she expected the new approach would bolster cross-border economic activity, but not immediately lead to an influx of mainland tourists coming for sightseeing or shopping.
"For the first batch of mainland visitors, they might come to Hong Kong to stock up on
Covid
-19-related medicine and healthcare products, such as masks or to get vaccinated or healthcare services, so the city's pharmacies and healthcare institutions and enterprises will register robust growth," she said.
"The catering sector and the cross-border transport operators will also greatly benefit, but in the initial stage, there won't be too many mainland tourists coming for leisure purposes or to buy luxury items."
Gary Ng Cheuk-yan, a senior economist at Natixis Corporate and Investment Bank, predicted the new approach would help the economy grow by 3.5 per cent next year.
The government last month downgraded its full-year economic forecast for the city from between 0.5 per cent growth and 0.5 per cent contraction to a 3.2 per cent drop, citing the effects of the pandemic.
Hong Kong's
Covid
-19 tally on Saturday stood at 2,463,557 cases and 11,412 related deaths