Pandemic adviser Professor Lau Yu-lung says health officials seeking data on inoculating toddlers from city's vaccine suppliers BioNTech and Sinovac.
Hong Kong aims to boost coronavirus jab uptake among unvaccinated elderly residents and will seek data on whether to inoculate toddlers, a health expert has said, a day after Chief Executive John Lee Ka-chiu met government pandemic advisers for the first time as leader.

Professor Lau Yu-lung, chairman of the Scientific Committee on Vaccine Preventable Diseases, who attended Friday's meeting, also revealed on Saturday that nearly 10 per cent of children under the age of three and elderly residents over 60 had been hospitalised after contracting Covid-19.

His remarks came as Hong Kong reported 4,265 new Covid-19 cases, 231 of which were imported, and seven additional deaths on Saturday. It was the third straight day with more than 4,000 new cases reported.

The city's overall coronavirus tally stands at 1,317,489 infections and 9,461 related fatalities.

Larry Lee Lap-yip, a chief manager at the Hospital Authority, said among the critical cases was an 18-month-old girl admitted to Queen Elizabeth Hospital's accident and emergency department on Wednesday for fever and heart palpitations after catching the virus.

He said her condition deteriorated the next day and she needed an oxygenator, and became stable two days later.

Children's isolation wards across the city's 42 public hospitals had an occupancy rate of 48 per cent as of Saturday.

Lau, the government adviser, also said health officials were seeking data from the city's two vaccine suppliers, BioNTech and Sinovac, to determine if children under the age of three could receive jabs, calling it "the first imperative".

"The old school of thought is a phase 3 clinical test. This is the golden standard for sure," Lau, who also serves as the head of paediatrics at the University of Hong Kong (HKU), told a radio programme.

Currently in Hong Kong, anyone aged five or above can receive a German-made BioNTech jab, while the Chinese-produced Sinovac shot is available to those aged three or above.

According to World Health Organization recommendations, the Sinovac and BioNTech vaccines are safe for individuals aged 18 and older, and five and above, respectively.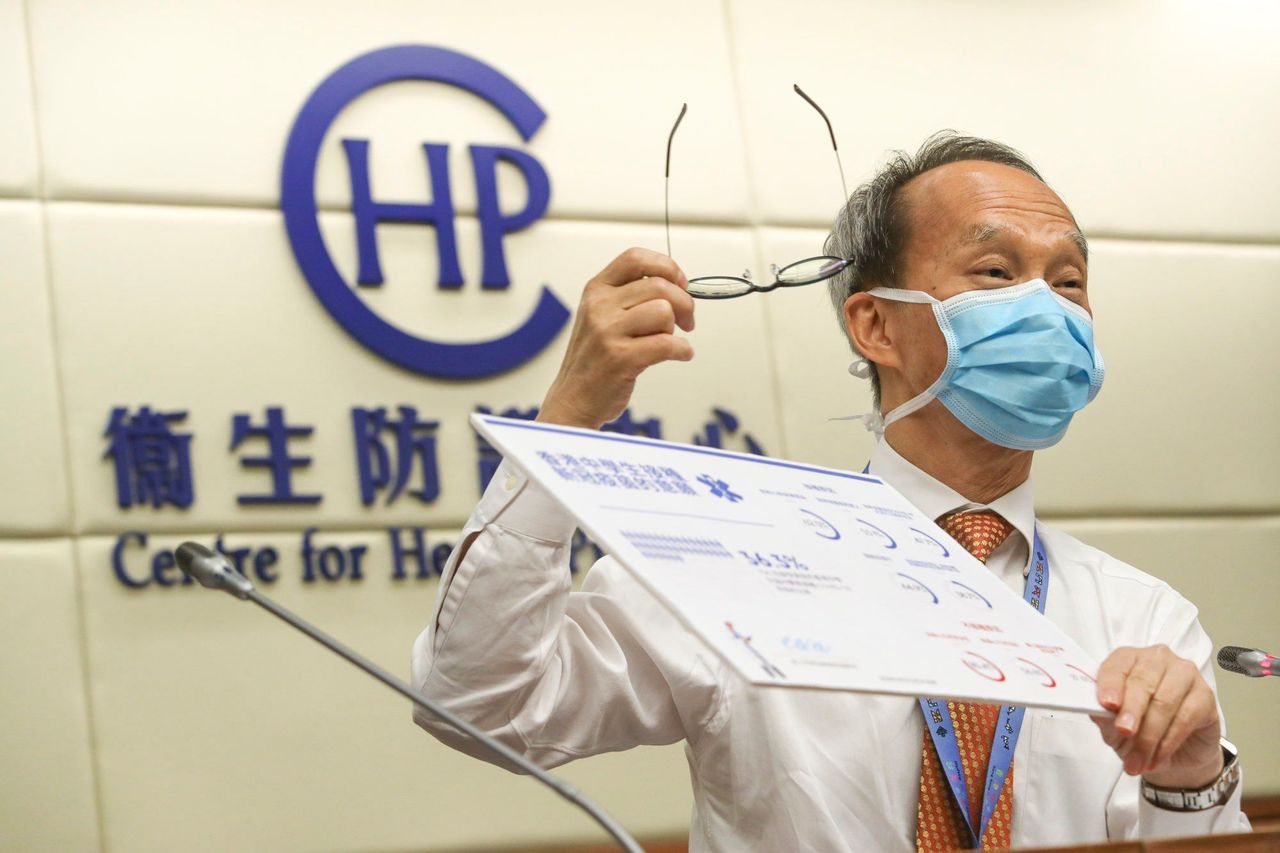 Professor Lau Yu-lung, chairman of the Scientific Committee on Vaccine Preventable Diseases.

Lau said the pandemic involved rapid changes which could see a new outbreak arise within two to three months, noting that health authorities needed to "adjust our thinking and research".

"Instead of merely relying on the golden standard, we have to look at other evidence," he said, without elaborating on the type of information he was referring to.

The committee chairman said government advisers and authorities had agreed during the meeting, which Lee convened, to also promote vaccination efforts to reduce the risk of patients developing severe symptoms or hospitalisation.

Lau added that, during the meeting, Secretary for Health Lo Chung-mau and welfare minister Chris Sun Yuk-han had said authorities would explore methods for identifying about 120,000 unvaccinated elderly residents and getting them inoculated before winter.

Health authorities reported that about 70 per cent of the population aged 80 or above, the demographic most vulnerable to the coronavirus, had received three doses of a vaccine as of Saturday.

Responding to calls by other health experts to promote "hybrid immunity", Lau also said such protection would not be strong enough to prevent residents from getting reinfected.

The number of new cases could double every two weeks, he warned, estimating that the figure could reach as much as 7,000 next month.

However, Lau also said the likelihood of the city recording 10,000 infections per day would depend on how both the public and the government responded to the epidemic situation.

Appearing on the same programme, Mike Kwan Yat-wah, an honorary associate professor of paediatrics and adolescent medicine at HKU, said that 10 per cent of coronavirus-infected children in Hong Kong had developed symptoms associated with "long Covid", including eczema.

He also said health authorities had reported 60 cases of multisystem inflammatory syndrome involving children who had contracted Covid-19, with half being sent to intensive care units at hospitals.

Kwan also revealed at a scientific conference organised by the Hong Kong Paediatric Society on Saturday that among 248 infected children under his care, 45 of them, or 18 per cent, had at least one long-Covid symptom, and 19 had at least two, while nine showed three or more.

He said the most common symptoms among them included memory loss, cognitive deficit, malaise and headache.

Kwan said sufficient scientific evidence had already shown vaccination could prevent acute as well as mid- and long-term Covid symptoms in children, and urged more youngsters to receive their jabs.