Court hears teacher turned publisher lost most of his vision in right eye after he was hit by tear gas canister during 2019 demonstration.
A former teacher turned political activist who lost most of the vision in one eye after he was struck by a police tear gas canister at a 2019 anti-extradition bill protest in Hong Kong has been jailed for nine months for involvement in the social unrest.

Raymond Yeung Tsz-chun, now a publisher, pleaded guilty at Eastern Court on Monday to two charges of unlawful assembly.

The court heard that Yeung took part in a demonstration in the morning and also in the afternoon near the government's Tamar headquarters on June 12, 2019, in a bid to block the second reading of a bill that would have allowed the extradition of fugitives to mainland China.

The 32-year-old was one of eight people who applied in 2019 for a judicial review of a police decision to exempt officers from wearing their force identification numbers while on duty during the disturbances.

A High Court judge ruled in November 2020 that the police decision was unconstitutional.

But the victory came at a price because Yeung said in an affidavit submitted to the High Court that he was at the June 12 protest, which supplied evidence to convict him of being involved in the illegal gathering.

Yeung, who was captured on video footage in a helmet and wearing a face mask, gloves and goggles, confronted police and helped erect roadblocks by placing metal barriers on two sections of Harcourt Road in Admiralty.

Yeung was struck by a tear-gas canister fired by police outside the People's Liberation Army's Hong Kong headquarters at around 4.25pm.

He went to hospital half an hour later and was recognised by police officers stationed there because they had seen an interview that Yeung had given after he was injured.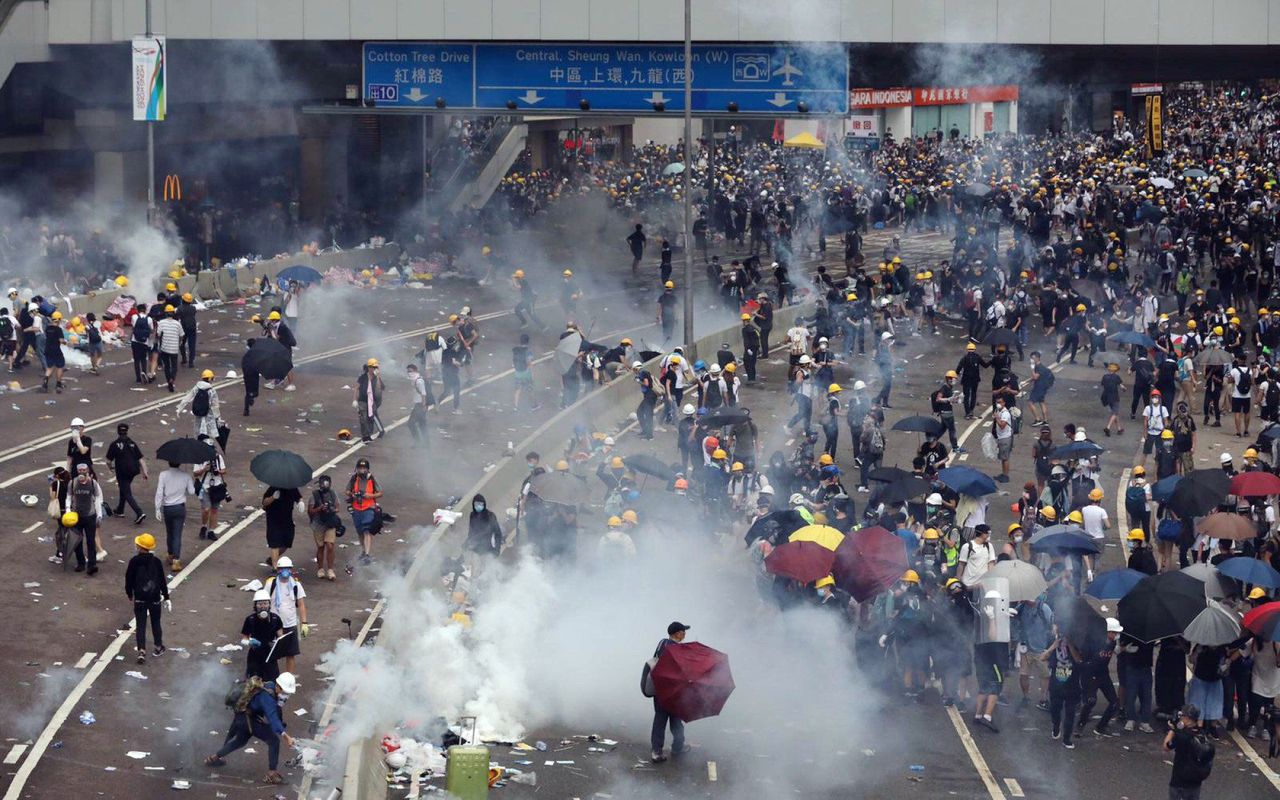 Disturbances wreathed in tear gas at the junction of Harcourt Road and Gloucester Road in June 2019.

The court heard that Yeung founded independent publisher Hillway Culture and had written several books, including a series of liberal studies textbooks, after he resigned from his post at Diocesan Girls' School, Kowloon, in July 2020.

A photo collection he published on Ukraine raised HK$400,000 (US$51,040), which was donated to help refugees forced to flee after Russia invaded the country.

Counsel for the defence pleaded for leniency and highlighted Yeung's previous good character and track record in education.

The defence lawyer said that Yeung had paid for his actions as he had suffered permanent damage to his right eye, lost his teaching licence and was forced to move house after his family suffered frequent harassment by doxxers – people who mine social media for personal information such as addresses and release it online.

But Principal Magistrate Ada Yim Shun-yee said there was limited room for a reduction in Yeung's sentence because of the scale of the social unrest.

She dismissed the idea that Yeung's injury could be considered in mitigation and that the police had been forced to act after the situation on the day of the offences deteriorated.

"We can see how the situation had worsened right before the defendant's injury. The police could not take no action and allow it to deteriorate any further," Yim said.

"The court regrets hearing of anybody injured, but, in this incident, I don't see how the defendant's injury can be a factor for further remission of sentence."

Yim sentenced Yeung to jail for seven and nine months on the two counts of taking part in an unlawful assembly, but ordered the terms to run concurrently.