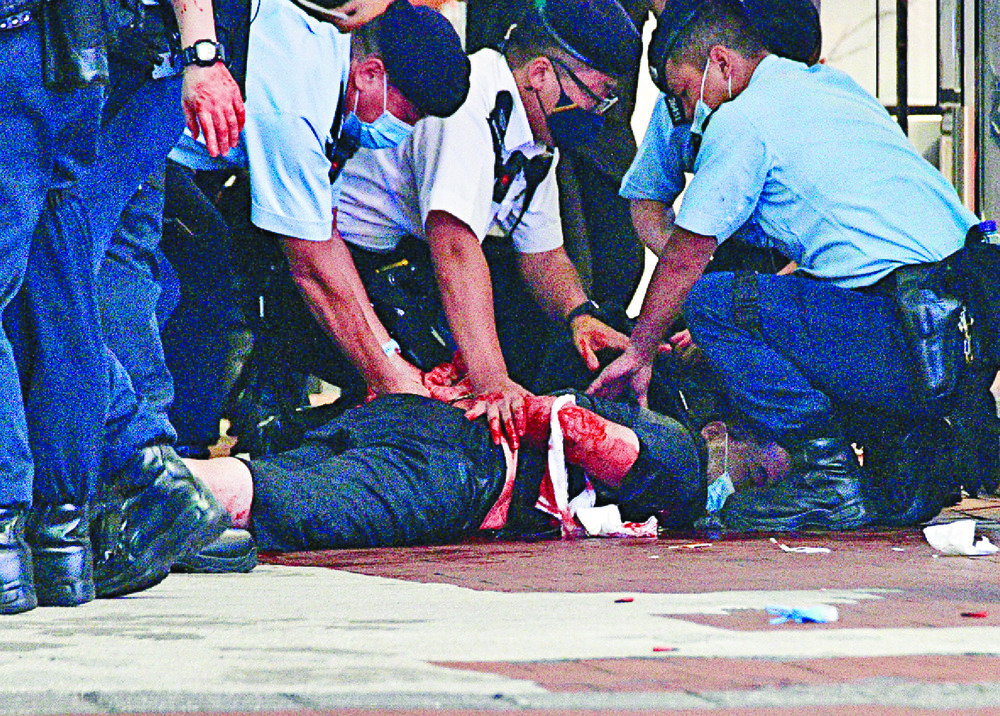 Home raided after journalist filmed constable's stabbing
A former online reporter who filmed a man stabbing a police constable on July 1 has had her travel documents withheld and her home searched.
The Hong Kong Journalists Association said the journalist is assisting police in its probe and demanded an explanation for its treatment of her.

A 50-year-old man stabbed the constable outside Sogo department store in Causeway Bay on July 1, the anniversary of the handover and the implementation of the national security law before killing himself.

Government officials have designated the incident a "lone wolf terrorist attack," and the case is under investigation by the police national security department.

The association said officers from the department went to the journalist's home at 11pm on Monday and then to a police station, before asking her to make a statement, which had been promised earlier, without her lawyer being present.

The woman, Nina, who was fired days after filming the stabbing by Vision Times, a US-based online media outlet that specializes in reporting news related to China, was later escorted home. Police searched the home after she gave a statement in the presence of one of her friends.

An association lawyer yesterday accompanied Nina to Chai Wan police station in a mediation effort at 1am.

The association said journalists are merely doing their job by recording a suspected crime. Her role was to assist investigations when she gave a statement at police headquarters on July 2. It also said action taken by the department's officers was threatening and might cause fear among journalists.

The police said the department's officers conducted a search of two venues, one of which was Nina's home, with a warrant. Items seized included a computer and a smartphone.

Nina, 56, is currently under investigation but was not arrested. The police have seized her travel documents under the national security law.