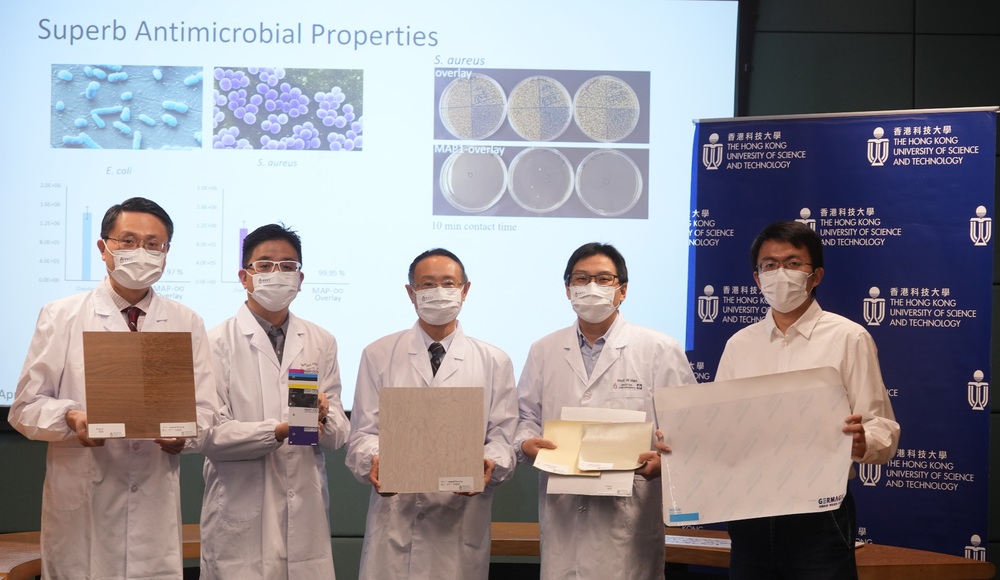 HKUST researchers develop new anti-Covid surface coating
Researchers from the University of Science and Technology said on Thursday that they have developed a new surface coating that can kill a wide range of bacteria and viruses - including the Omicron variant of the coronavirus.
The team led by Professor Yeung King-Lun from the university's Department of Chemical and Biological Engineering said the new surface coating - MAP-∞ is proven to last at least five years on different materials and surfaces.

The team said the new coating is an upgrade from an older version they introduced to the market two years ago, which could only last for up to three months.

It was understood that the new MAP-∞ - a transparent and glossy coating, could stick to a wide range of materials, including metal, concrete, glass, ceramics, wood, and plastics.

Yeung explained that the protective material works by damaging the outer layer of bacteria and viruses, interfering with their functions so that they can no longer be transmissible, and its non-adhesive feature prevents pathogens from colonizing on a surface.

The expert added that the team has put the new coating, which is of food-grade quality, through a 16-month trial by applying it inside the pipes of a water treatment installation.

"One of the requirements for the water pipe application is that it passes certification that indicates that it is actually safe for use under running water and at the same time it should not cause changes in the smell, and color, as well as lead to toxicity in the water itself," said Yeung.

The research team noted it's now in talks with NGOs and companies on using the coating in public transport, elderly care homes, optical lenses, credit cards, and passenger aircraft.

The coating can also be applied to frequently touched objects such as doorknobs, smartphone screens, remote controllers, handbags, or building materials such as artificial marble and wallpaper, without changing their texture and appearance, according to the team.

The team said they expected, in the future, to partner up with the Water Supplies Department and the Drainage Services Department in applying the coating to water pipes in the territory.