Hong Kong's role in the Greater Bay Area means it will win out over Singapore in attracting capital and talent, according to the bourse operator's chairwoman.
Hong Kong will win out over Singapore as an international financial centre in the long term, as the city will attract capital and talent while playing a key role bankrolling innovation in the Greater Bay Area, according to the boss of bourse operator Hong Kong Exchanges and Clearing (HKEX).

"While Singapore may be in an advantaged position in the short term to tap talent and investment, Hong Kong has many unique advantages for the long term to attract capital and talent, due to our rule of law, transparency, reliability and connection with China," Laura Cha Shih May-lung, chairwoman of HKEX, said in a forum at the University of Hong Kong on Wednesday.

Cha answered "definitely yes" when one of the hundreds of students attending the event questioned whether Hong Kong can still compete with Singapore as a financial hub.

"Hong Kong has a lot of strengths, including the free flow of information and free flow of capital, while we also act as a super-connector between China and the world," Cha said.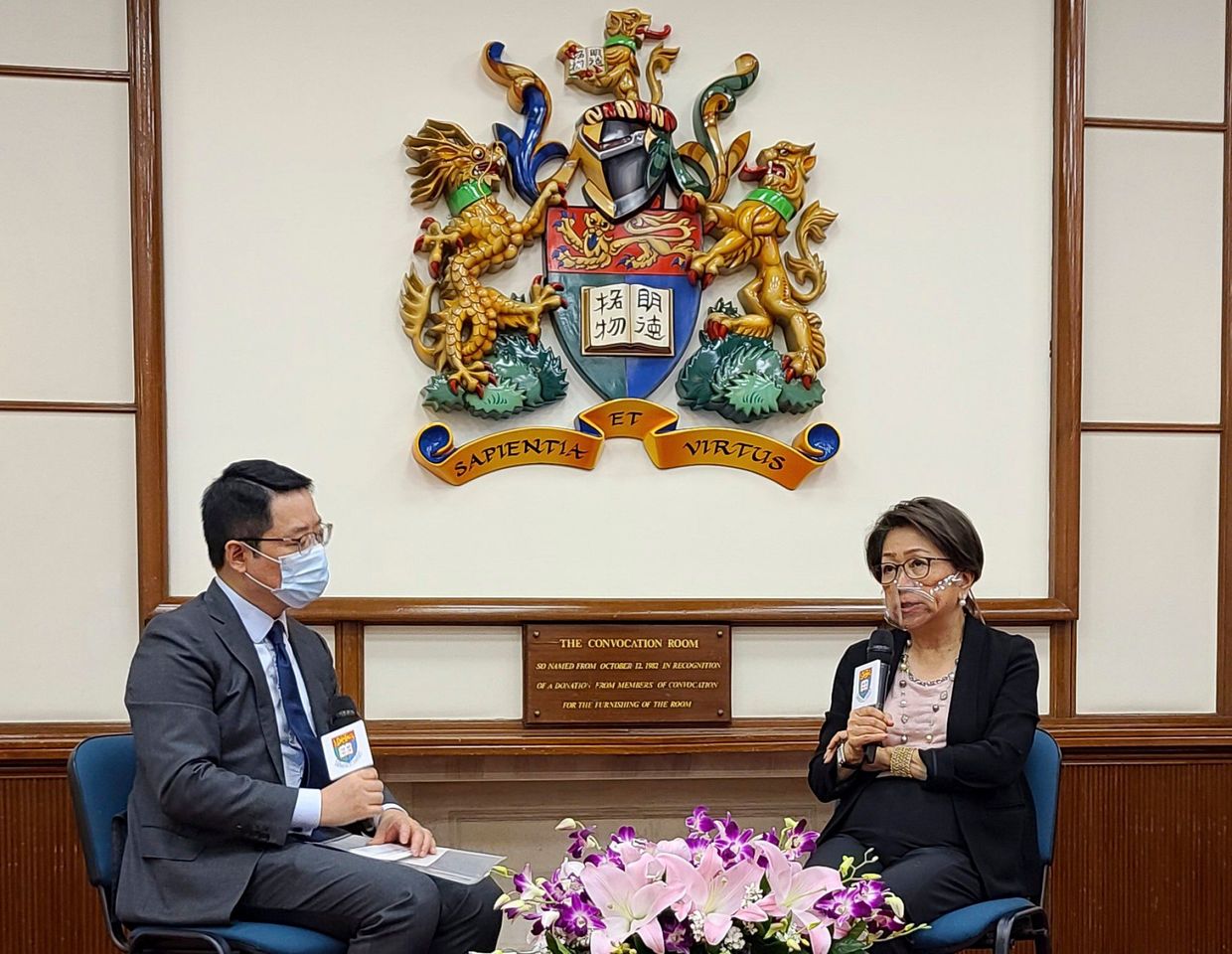 Laura Cha Shih May-lung, chairwoman of Hong Kong Exchanges and Clearing (right), speaks with Yan Xiaojun, director of the Research Hub on Institutions of China at The University of Hong Kong during a forum on September 7, 2022.

She admitted that the social unrest in 2019 and the pandemic since 2020 have led people to question Hong Kong's status.

Hong Kong and the mainland are among the last remaining places that continue to require incoming travellers to go through hotel quarantine, while Singapore has removed almost all restrictions. This has led many international business forums to move from Hong Kong to Singapore, and some Hong Kong companies have also shifted people there.

Singapore last week fired shots in the talent war when it announced it will create a new five-year visa for people earning at least US$21,400 per month. Holders will be allowed to work for several companies at one time, and their spouses will also get permission to work in Singapore.

People with "outstanding achievements" in sports, the arts, science or the academic world who do not meet the salary criteria will be able to qualify under Singapore's Overseas Networks and Expertise (ONE) pass. Analysts expect these policies to help capture talent from Hong Kong.

More than 113,000 residents left Hong Kong in the 12 months to the end of June, according to government data. Meanwhile, one in five global fund management companies operating in Hong Kong is offering hardship allowances to attract overseas talent to the city, according to a survey by the Hong Kong Investment Funds Association in July.

Cha, however, said the business opportunities in the Greater Bay Area, as well as the development of green finance and innovation, will ensure Hong Kong's position.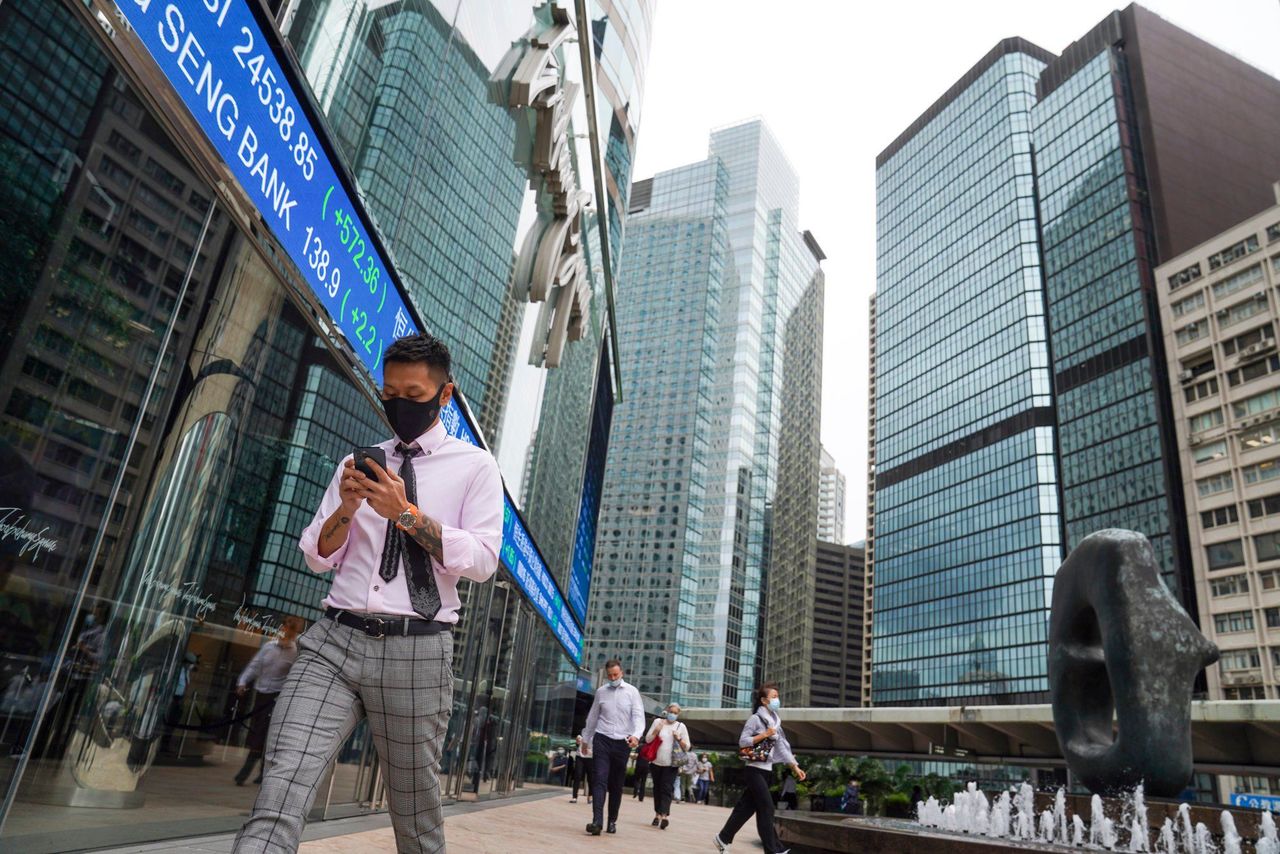 People pass Exchange Square in Central, home of bourse operator Hong Kong Exchanges & Clearing.

She also believes the dry spell of initial public offerings (IPOs) this year will be broken once the pandemic is over, as many companies need to raise funds in Hong Kong.

"In a post-pandemic era, many more companies will come to raise funds in Hong Kong," she said.

The closed border between Hong Kong and mainland China over the past two years has slowed down the IPO process by preventing bankers, lawyers and accountants from accessing mainland companies, Cha said.

"It is also because the market condition is not good," she added.

However, the HKEX has over 170 companies that have applied for listing, she revealed.

"In other words, these companies are waiting for the condition to turn better, and then they will come to the market," she said. "When the conditions are better, the companies will come. What we are doing in the meantime, is that we are also streamlining our framework to make it easier in terms of processes, as we know there are areas we can improve on."

She said the bay area, with policy support from Beijing, will develop into a green financing hub and innovation centre, while Hong Kong can play a role raising capital for these projects and companies.

"Hong Kong's role in the Greater Bay Area is just like New York sitting next to Silicon Valley," she said. "Many international investors want to invest in the Greater Bay Area, but they do not know how. Hong Kong is the super connector to bring international capital to the Greater Bay Area. That is the way that we can help the Chinese economy, by getting more international investors to invest in the mainland companies."

The bay area, encompassing Hong Kong, Macau and nine mainland cities, has a population of around 80 million, larger than the United Kingdom, as well as economic output comparable to South Korea.