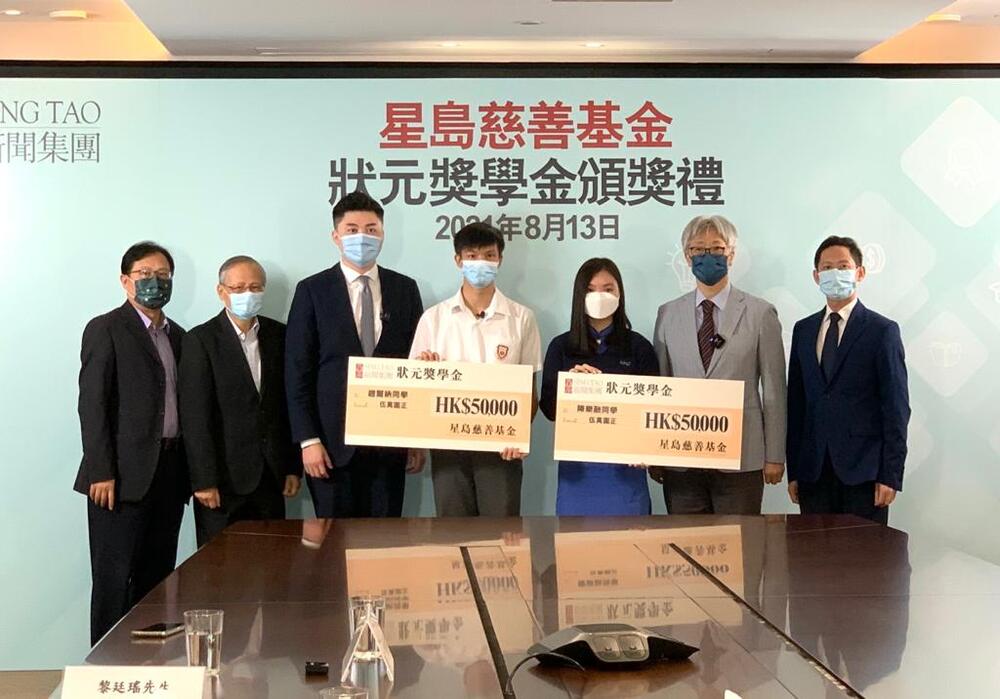 HKDSE top scorers awarded Sing Tao scholarship
Two HKDSE top scorers have been each awarded a HK$50,000 scholarship through the Sing Tao Charitable Foundation today for their outstanding performance in the public exam.
The two top scorers are Ian Chiu Yi-nap from Po Leung Kuk Tang Yuk Tien College and Jodie Chan Lok-yung from St Stephen's Girls' College. Both of them have previously participated in the Sing Tao Inter-School Debating Competition.

Chiu, a "super scorer'' in the exams, scored eight 5** in the four core subjects and in chemistry, physics, economics and mathematics extension module. While Chan is the first DSE perfect scorer at her school, scoring 5** in the four core subjects and in economics, chemistry and biology.

Chiu said joining extracurricular activities helped broaden his horizons, helping him to strive for a balance in learning both inside and outside of the classroom.

"Take the Sing Tao Inter-School Debating Competition as an example, it allows me to improve my critical thinking skills and learn how to present reasoned arguments. The competition also pushes me to utilize such skills in a short period of time. The knowledge I gained is surely beneficial for me in my future workplace," said Chiu.

Meanwhile, Chan said the competitions allow her to understand more about Hong Kong, which is crucial to her tremendous results in Liberal Studies.

"In the competitions, we often debate on social issues, which require us to research on what is happening around us in the city, at the same time, cultivate our civil awareness," said Chan.

During the award ceremony, the two top scorers also grasped the opportunity to learn from the Sing Tao management, for them to share valuable insights.

Responding to Chiu's question on how students should prepare themselves for their future career, Siu Sai Wo, Chief Executive Officer and Executive Director of Sing Tao News Corporation Limited, said there are three areas for students to focus on.

"For students, I encourage them to study a wide spectrum of subjects, in order for them to become all-rounded students. They should also start developing an interest in politics and legal knowledge, along with getting up to speed on the city's technological developments, in order for them to stand out from others," said Siu.

Meanwhile, Chan asked Cai Jin - Chief Operating Officer of Sing Tao News Corporation Limited whether he had any advice for secondary school graduates who will be furthering their studies in universities.

"Do not treat learning as a difficult task and tried to enjoy the process of gaining more knowledge. Try to set a target for yourself on what to learn and what to know about each day. The essential part is to watch and learn," said Cai.

"Bettering your problem-solving skills is also one thing students should focus on throughout their studies, this is also a skill that is useful in workplaces."

Cai also said students, starting today, should not waste any moment of their life, and to keep abreast of the times.