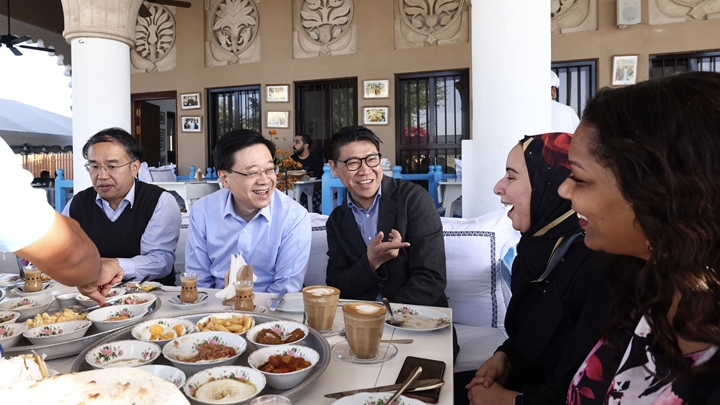 HK signs 13 deals with Saudi and UAE businesses as CE Lee concludes fruitful 'trip of friendship'
Hong Kong leader John Lee Ka-chiu concluded his visit to the Middle East has been a trip of friendship that expands business opportunities and again welcomed Saudi Arabia's state-run oil giant Aramco to list in the city, saying the local business sector is very interested.
The trip also successfully promoted the SAR's advantages, Lee said, who was very satisfied with the fruitful results. One of which included initiating negotiations with the Saudi government on agreements for boosting and protecting investments.

Lee added the United Arab Emirates agreed to commence discussions of signing a memorandum of cooperation on green and sustainable financial developments as well.

Hong Kong also signed a total of 13 memorandums and agreements with businesses in Saudi and the UAE, covering fields like innovation technology, transportation, and energy.

Lee noted that both countries highly value Hong Kong and its unique advantages of simultaneous connections to mainland China and international society.

When asked if Aramco is coming to list in Hong Kong, Lee said the oil giant is one of the companies the SAR wishes to partner with.

Lee continued that his meeting with Aramco has been positive, and the company showed interest in Hong Kong. Lee also said he would invite representatives from Aramco to visit and inspect the city in the future.

When asked about the next country or region Lee's delegation will visit next, he said the Association of Southeast Asian Nations is a crucial trade partner for Hong Kong and hoped he can further deepen ties between the two sides.

He also said he would strive for greater support for Hong Kong on applying for a seat in the Regional Comprehensive Economic Partnership (RCEP).