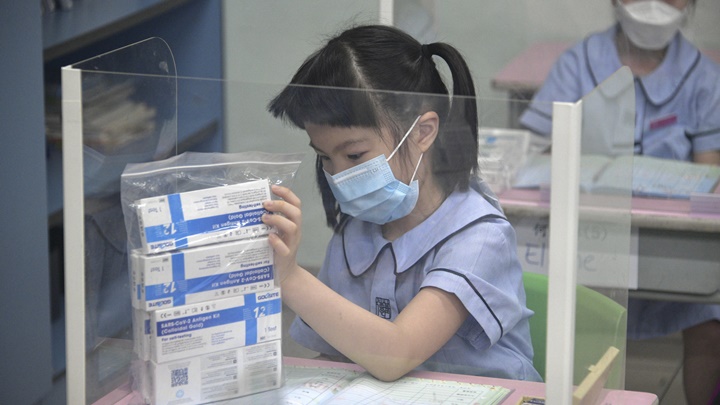 HK sees 1,327 Covid cases, 408 from schools
Hong Kong reported 1,327 new Covid-19 cases on Monday as health authorities said current rapid test measures for schools remain effective after 408 students and teachers reported positive.
Among the new cases, 1,186 were locally transmitted including 435 confirmed via PCR tests and 751 verified positive RAT results. The remaining 141 cases were imported from overseas -- 72 were detected at the airport, 46 at quarantine hotels and 27 were patients who completed the seven-day isolation.

Chuang Shuk-kwan, head of the Centre for Health Protection's communicable disease branch, said the tally of the fifth wave now exceeded 1.215 million.

She said the pandemic saw a slow rise recently, but not as fast as the initial rise of the fifth wave. The number of cases got doubled in 10 to 14 days, believed that most people have developed immunity or got vaccinated. However, she said it was difficult to estimate when the rise will end.

In terms of schools, the authorities received 408 confirmed cases today from 289 schools, including 335 students and 73 staff. A total of 130 schools saw more than two cases in the past seven days.

Six schools were advised to suspend classes, including classes 3D and 5C of Chai Wan Kok Catholic Primary School; class 5Y of St Stephen's College; class 7B of Wycombe Abbey School Hong Kong; class SC of C.C.C. Kei Wan Primary School (Aldrich Bay) ; class 3A of S.K.H. St. Benedict's School; and class 1B of HKFYG Lee Shau Kee College.

Chuang said school transmissions have not yet affected the whole schools. She said there were more than 700,000 students and 100,000 teachers getting tested every day and some schools have more than one class got suspended due to cross-classes activities, adding that current measures stay effective.

Five cases were reported by Longevity Palace - Rainbow Villa Limited, where the last case was confirmed earlier in March. Chuang said health authorities have sent staff to investigate and will arrange quarantine for close contacts.

Three residential care homes reported infections on Monday, of which two reported one resident tested positive and another was a staffer infected.

On the other hand, health authorities reported four more suspected cases carrying the Omicron subvariant BA.2.12.1, taking the number of BA.2.12.1 cases to 211.

Hospital Authority's chief manager for patient safety and risk management Sara Ho Yuen-ha reported a death, involving a 53-year-old male patient with colorectal cancer. The case has been referred to the Coroner's Court for follow-up.

The death tally of the fifth wave now stands at 9,183.

She said the authorities have instructed hospitals to be prepared given the current rise in cases. Public hospitals and treatment facilities are now housing 486 patients. Among them, 16 are in critical condition, nine in serious condition and three in intensive care.