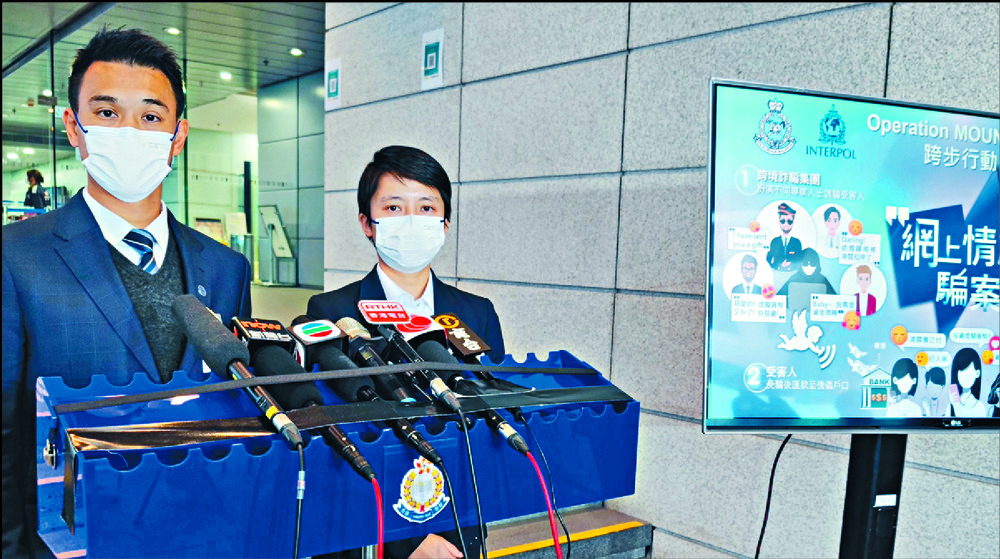 HK looms large as online love scam is busted
Amid a surge in online love scams, a joint operation between Hong Kong and Malaysian police along with Interpol has resulted in 27 people being nabbed as part of a crackdown on a fraud syndicate that swindled 37 women in southeast Asia out of a total of HK$15 million.
The operation, launched in July and ending on November 30, culminated in the busting of a syndicate whose members perpetrated a series of romance scams where victims were cheated out of their money.

After entrapping the women in an online relationship, the fraudsters often asked victims for money to help their "business" stay afloat. They also gave the victims investment suggestions, including cryptocurrencies, said Cheung Wai-ho, chief inspector at the cyber security and technology crime bureau.

In some cases, they told the victims to send them gifts and asked them to pay the customs clearance fees.

A 29-year-old investment manager lost HK$1.8 million after being lured into an investment scam.

A total of 20 suspects were rounded up in Hong Kong for allegedly providing accounts for money laundering, including three men and 17 women aged between 20 and 66.

Some of them claimed to be victims who were deceived into giving out personal information to help with their lovers' business. All of them were released on bail pending investigation.

The police said that "if someone lends his or her bank account and it is involved in a crime, the police will decide whether to prosecute or take other follow-up actions."

Another seven Nigerians were arrested in Malaysia on suspicion of fraud and remote control of money laundering activities.

A total of 1,369 cases of online romance fraud were recorded in Hong Kong in the first 10 months this year, up 80 percent from the 760 cases in the same period last year.

According to the police, the amount of money victims lost to such scams rose by 170 percent to HK$480 million between January and October this year.