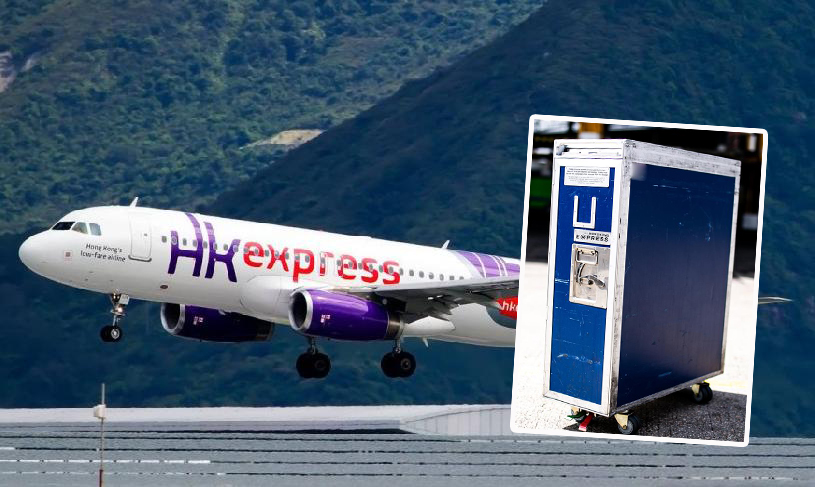 HK Express is selling its decommissioned in-flight trolleys for people to 'fly' at home
Miss flying? You bet! HK Express has got you sorted out, offering members of the public to get a literal piece of the in-flight experience in the comfort of your own home.
The Covid-19 coronavirus pandemic has forced airlines to suspend most flights, with frequent travelers grounded and bored at home.

Budget carrier HK Express announced Wednesday that it is putting up a limited quantity of galley boxes and waste trolleys for sale on its website.

These compact trolleys were exactly the ones that hold your in-flight meals and the ones that blocked the aisle when you really need to use the toilet.

You can use them as a nightstand, a snack cart, a mini mobile bar at home... Or, fill it with drinks, set up some chairs, and re-create the in-flight experience – without all the security checks and turbulence.

Thinking of getting one for yourself throwing cosplay parties at home? Too late! All trolleys were snapped up within a day after they were posted online for sale.

The five items are currently still up on HK Express' website, but all of them have a "sold out" tag on them.

"Each plated with our first-generation logo and a unique license plate, these trolleys are the must-have for cosplay parties or movable furniture for home decors!" A description for the Atlas Half-Sized Trolley with 1st Generation HK Express Logo, which went for HK$4,500, reads on the airline's website.

For good measure, the description adds that "all trolleys are extensively cleansed and disinfected and are in full functional conditions."

The full-sized version of the trolley, priced at HK$5,000, can be a "practical shoe cabinet" or a "fancy champagne trolley," the airline's website suggests.

The airline's first generation waste trolley was the most expensive item at HK$6,000 with the airline suggesting buyers turning it into "a household garbage bin, or a large laundry basket for those who do not want to wash their clothes for a week!"

HK Express, like many airlines around the world, have been left floundering since the Covid pandemic halted travel.

Last December, the carrier rolled out new employees' contracts requiring pilots to take pay cuts as steep as 40 percent.

The Cathay Pacific-owned airline announced earlier this week that it would be giving employees the option to join its updated "special unpaid leave scheme," whereby they would take six or nine months of no-pay leave and receive one or two months' salary.