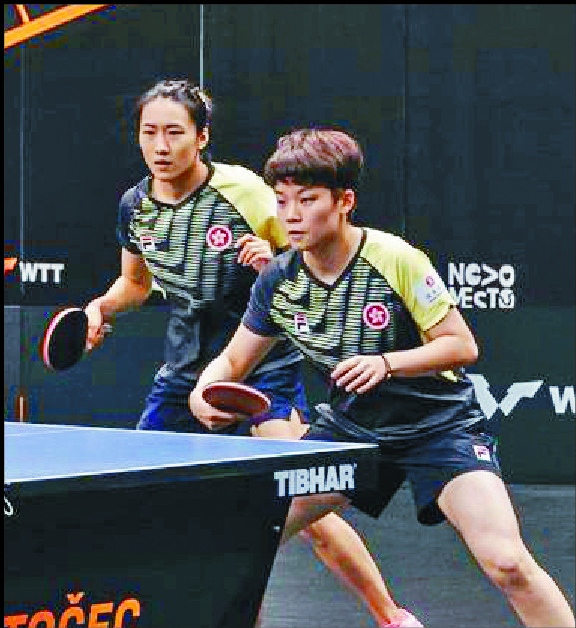 HK duo feeds optimism with smashing gold win
Hong Kong paddlers Doo Hoi-kem and Zhu Cheng-zhu were crowned champions in women's doubles at the World Table Tennis Feeder Series tournament yesterday to bring a gilded finish for a delegation to Slovenia that also bagged two bronzes.
It was the first time that Olympic bronze medalist Doo has paired up with Zhu.

And it was sweet revenge for the team as Doo and Zhu came up against India's Prapti Sen and Ayhika Mukherjee, who had eliminated Hong Kong representatives Lee Ho-ching and Minnie Soo Wai-yam in the semi-finals on Saturday.

Doo and Zhu eased past the pair in the first set by 11-2, but Sen and Mukherjee showed no signs of backing down from a comeback in the second set.

However, the Indians' efforts proved insufficient as Doo and Zhu were able to hold them off in a nail-biting second set, scoring 11-7.

The Hong Kong pair went on to slice and smash their way past their opponents, winning 11-8 in the third set without falling behind.

Although they made it through the finals in straight sets, Doo and Zhu's journey to the top of the podium was by no means an entirely comfortable one, as their semi-final matchup against Hana Matelova of the Czech Republic and Barbora Balazova of Slovakia had to go to a tie-breaking fifth set.

The Hong Kong pair showed gumption and overcame Matelova and Balazova 11-5, snatching their place in the finals.

Lee and Soo, who came in third place with Doo in the Tokyo Olympics, ended up with bronze medals after their semi-finals defeat by Sen and Mukherjee as there is no third-place matchup in the feeder series tournament.

The other bronze was won by Wong Chun-ting and Baldwin Chan Ho-wah, who lost to Korean pair Jang Woo Jin and Cho Dae Seong in the semis on Saturday.