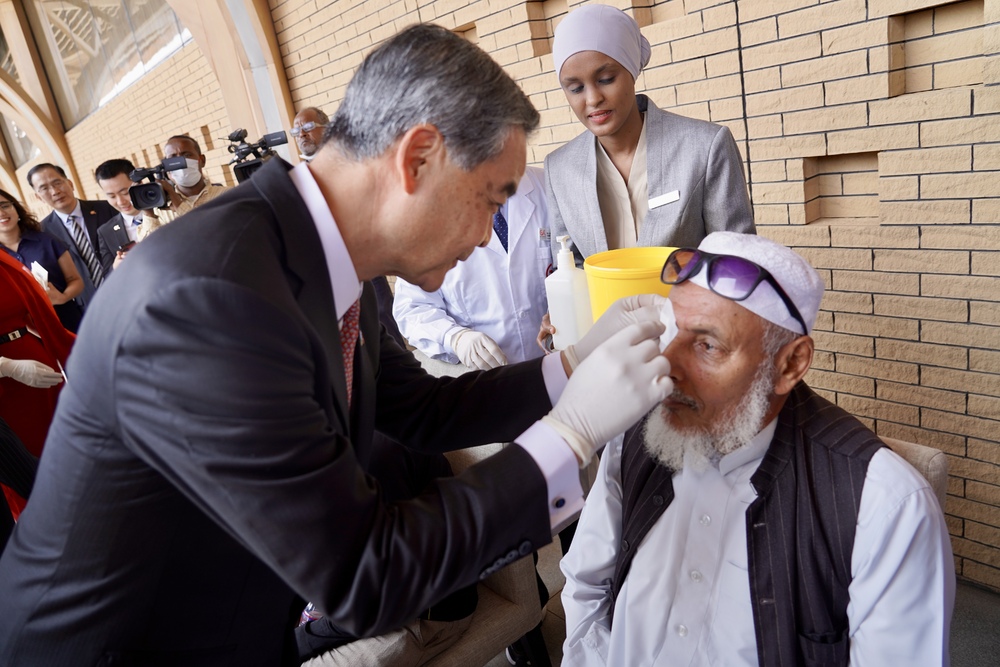 HK Charity to give 6,000 free cataract surgeries in Africa
A Hong Kong-founded charitable organization has launcehd a cataract elimination project in Djibouti, East Africa to join hands with Shanxi Medical Team to perform 6,000 free cataract surgery in the contry's capital.
GX Foundation has launched a ceremony in Djibouti city on Monday, attended by the country's prime minister Abdoulkader Kamil Mohamed and the foundation's chairman Leung Chun-ying, who is also Hong Kong's former Chief Executive and vice chairman of Chinese People's Political Consultative Conference.

GX Foundation was established in response to the call for "people to people" connectivity under the Belt and Road Initiative through commencing humanitarian projects, exhibits the "sharing" aspect of the concept of "extensive consultation, joint contribution and shared benefits" for international cooperation.

In the ceremony, Leung said: "Being one of first non-governmental organizations to launch its overseas projects after the pandemic, the Foundation hopes to demonstrate the contribution of Chinese NGO in international humanitarian assistance and solidify the cultural exchanges between the Chinese and Djiboutian to reach new heights through launching the Cataract Blindness Elimination Project on the World NGO Day 2023."

With long history of providing medical assistance to Djibouti, Shanxi Province has sent the 21st medical teams to Djibouti since 1986.

Their professional skills and selfless dedication have been widely recognized by the local people, and they are a model of non-governmental diplomacy between China and Djibouti.

Liu Jian-ting, leader of the Shanxi medical team supporting the project, said: "The weather and living conditions in Djibouti lead to early-onset cataracts. Many patients are diagnosed with cataract around the age of 40 but there is a lack of well-trained ophthalmologists to carry out cataract surgery in Djibouti. I am very happy that I can help cataract patients in Djibouti to regain their sight."