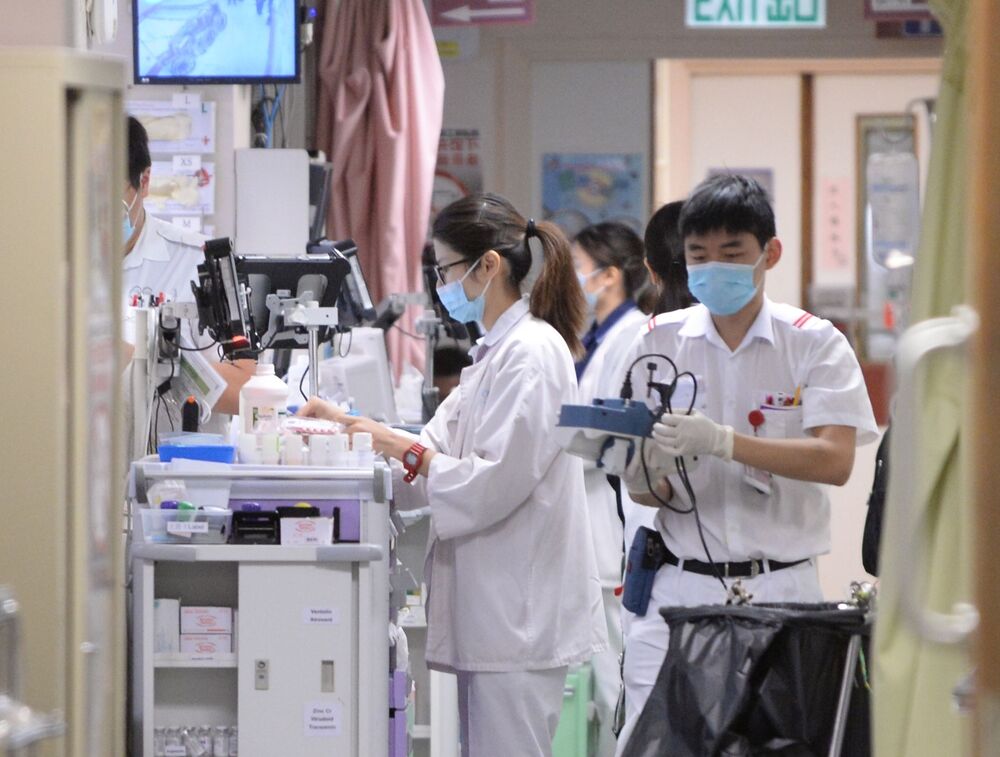 HK$6m home-loans incentive to staunch hospital brain drain
Hospital Authority will offer low-interest loan of up to HK$6 million per head to public hospitals staff to buy flat in an attempt to stop worsening brain drain.
These staff -- nurses, doctors and even cleaners -- are entitle as long as they have worked at the institution for more than three years, amid worsened manpower loss at public hospitals.

Last month, the loss of public doctors rose to 6.2 percent from 4.9 percent in September and nurses to 7.7 percent from 6.7 percent, the authority said on Thursday.

The loan scheme was passed in a general meeting Thursday, together with two other manpower retainment policies including strengthening the promotion ladder and establishing a Hospital Authority Academy.

On the proposal of the "low-interest home loan scheme," employees can borrow a sum worth of 36 to 48 months of employees' salary -- with a cap between HK$5 million and HK$6 million -- at a 1 percent interest, much lower than that in the private market, with a repayment period of up to 20 years.

The scheme opens all employees, including medics and non-medics, who have worked in the authority for over three years and are buying homes to live in, not for speculations.

Speaking to the press after the meeting, the authority's chairman Henry Fan Hung-ling said the authority will introduce a vetting mechanism on applicants and the scheme will take effect in the second half of next year the earliest.

"The scheme offers character loans. No guarantee is needed," he said. "They can apply mortgage for the property separately."

"Experts have estimated the loan will be helpful to a considerable number of colleagues," Fan said, adding details of the scheme such as the exact loan amount and the interest rate are still being worked out, and the authority will consult employees and financial institutions.

But he said the scheme is a long-term policy and there's no quota. It is an enhancement of the authority's existing Home Loan Interest Subsidy Scheme launched in the 1990s, in which employees could apply for interest subsidies after they have purchased homes.

Fan said the scheme was popular in the beginning, with more than 4,000 employees applying for it every year. However, property prices has skyrocketed since 2000 and eventually employees could not even afford down payments, prompting the authority to upgrade this old scheme.

He said the scheme has a current reserve of HK$7.8 billion, and the authority will hand the amount to financial institutions for them to manage, in order to maintain the flow of capital without requiring extra funding from the government.

Fan said the scheme is part of the authority's proposals to "buy time" and "stop the bleeding" before it can import overseas doctors.

The Legislative Council in October passed an amendment bill to allow non-Hong Kong resident specialists to work in local public hospitals, but it will only take effect after several months the soonest. But he admitted that the loan has limited appeal to medics who wish to migrate or switch to private medical institutions.

"If they want to migrate, there's nothing we can do to make them stay," Fan said. "But we hope our colleagues will find one or two of the policies attractive, to boost their sense of belongings."

He said manpower shortage is particular severe in specialist departments including anesthetics and radiology.

The authority's chief executive Tony Ko Pat-sing said in the next three years, 200 doctors who are currently associate consultants will be promoted as consultants. Nurses will see 300 additional headcounts for associate consultants and 40 consultant in the coming two years.

For class one patient service assistant, 60 more headcounts will be added to help with ward duties, while allied health workers will also enjoy better career development and promotion ladder.

On the establishment of the Hospital Authority Academy in the year 2022 to 2023, Ko said it will be a consolidation of the existing Institute of Advanced Nursing Studies, Institute of Advanced Allied Health Studies and Institute of Health Care, to offer accredited professional training programs.

Nurse Chan Chi-chung, Legislative Council candidate for the Medical and Health Services functional constituency, said the authority "has taken the right first step" for passing the low-interest home loan scheme.

Being the only public hospital worker among the five candidates, Chan said he had visited different public and private healthcare services organizations over the past month, during which he noticed that one of the medical workers' demands was improving their employment terms.

Another candidate Chan Wing-kwong also welcomed the measures, as he believed the low-interest home loan scheme can solve doctors and nurses' difficulties of saving their first installments.

But Chan, who is from the Democratic Alliance for the Betterment and Progress of Hong Kong, believed that it is important to improve more talents and lessen medical professionals' burden of administrative work.

Other candidates in the Medical and Health Services sector are Scarlett Pong Oi-lan, David Lam Tzit-yuen and Ho Sung-hon.