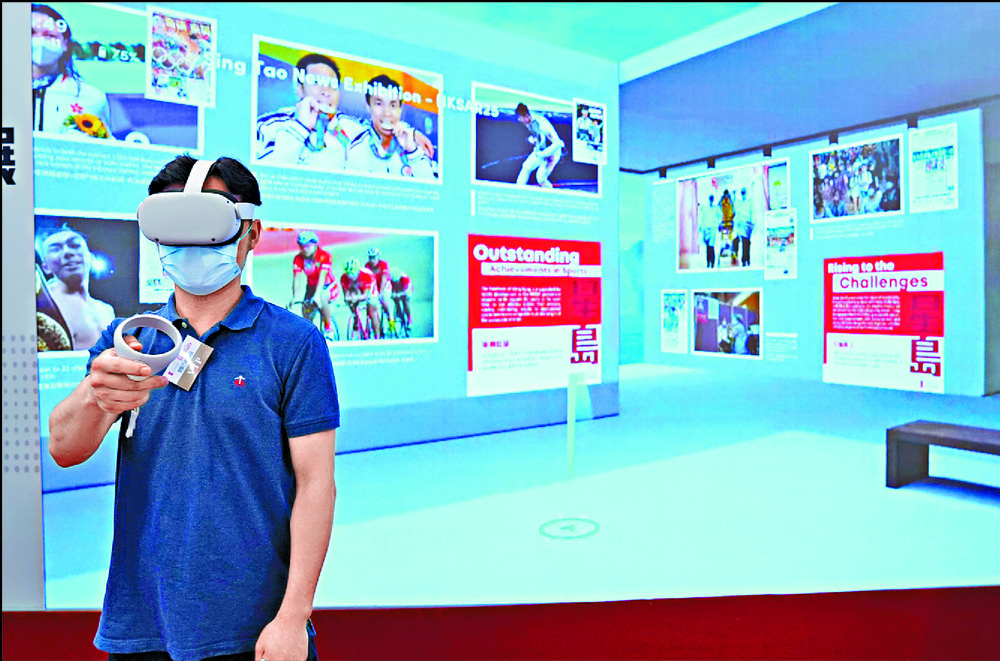 History in the headlines as Sing Tao exhibit hits market
Sing Tao News Corp launched an exhibition at Central Market to celebrate the 25th anniversary of the handover, allowing the public to revisit key moments in the SAR's post-handover history through newspaper archives and virtual reality.
The three-week exhibition features many reprints from the archives of Sing Tao Daily, including those published during previous handover anniversaries.

The exhibition explores four themes: the beginning of the handover, ongoing prosperity, a fresh start as well as integration between Hong Kong and the mainland.

The displays are organized across three zones, with the first two centered around the handover and the SAR's development since then while the third zone revolves around the evolution of the media company.

Visitors will also be invited to try out the virtual reality headsets, which will allow them to peruse pictures and videos charting the parallel transformations of Hong Kong and the company over the past eight decades.

There is also a photography area where visitors are invited to stand in front of a green screen, on which pictures of iconic monuments such as the Lai Chi Kok Amusement Park and the Kowloon Walled City will be keyed in later on.

A printed version of the photo will be available for those who post the picture on Instagram accompanied with the exhibition's hashtag.

Among those in attendance were Undersecretary for Development Liu Chun-san, Urban Renewal Authority's managing director Wai Chi-sing and property director Bruchi Nam Chi-kwong as well as Hong Kong Trade Development Council deputy executive director Patrick Lau Hui-ping.

Sing Tao heavyweights were also in attendance, including vice chairwoman and cochief executive Kwok Hiu-ting, cochief executive Cai Jin, and chief financial officer Zheng Wei.

In his speech, Liu said it is a unique choice for the exhibition to be held at Central Market.

"Central Market has witnessed the development of Hong Kong and reflects the government's promise of heritage conservation," Liu said.

"It is especially significant to host the exhibition here."

In Wai's speech, he praised Sing Tao Daily's coverage of the redevelopment projects in Yau Ma Tei and Mong Kok, adding that they gave readers insights into the often complicated process of redeveloping old districts.

The exhibition launched one day before a charity sales event is set to begin on Jetbuy, an online shopping platform under Sing Tao.

More than 80 celebrities are set to take part in the two-week event, including singers Joey Yung Cho-yee, Gigi Leung Wing-kei and Gigi Yim Ming-hay.

As part of the event, celebrities will list over 200 items on the platform, including wine, handbags and watches. Proceeds from the event will be donated to Affectionate World Charitable Foundation.