Both acknowledged the importance of giving students the 'facts' about history, but neither would discuss the ramifications of three universities' decision to remove statues commemorating the Tiananmen crackdown.
Two prominent Hong Kong historians have said educators should be careful how they handle difficult subjects following an outcry over children being shown footage of the 1937 Nanking massacre, even as they stressed the importance of giving students the facts about dark chapters in history.

However, both declined to comment on the possible ramifications of recent decisions by the University of Hong Kong, Chinese University and Lingnan University to remove campus artworks commemorating the bloody 1989 Tiananmen Square crackdown.

Lawmaker-elect and Lingnan University associate vice-president James Lau Chi-pang and Professor Joseph Ting Sun-pao, the former chief curator of Hong Kong's history museum, responded to the pair of recent controversies after a talk on Sunday about life in the city during the Japanese occupation.

Asked if he was worried that the Tiananmen artworks' removal indicated the crackdown – any mention of which is strictly suppressed in mainland China – could become a taboo subject in local universities, Ting only said he "would insist on telling history based on facts".

While acknowledging the works reflected Hongkongers' reaction to the crackdown, he added he was not in a position to comment further on the universities' decisions.

Lau, who was elected to the Legislative Council earlier this month, said he planned to push national education in the city's schools, particularly Chinese history. Asked if the Tiananmen crackdown should also be taught, he said it could be done in a "fact-based, rational, fair and objective way".

"There are historical facts on what happened … and different views about it," he added.

Both also weighed on a local primary school's decision earlier this month to show graphic footage of Imperial Japanese Army soldiers murdering Chinese civilians and fields littered with dead bodies as part of activities marking the 84th anniversary of the invasion of Nanking – the former name for Nanjing. China estimates that more than 300,000 people perished over six weeks in the ensuing massacre.

The school previously defended its decision, saying it was simply heeding the Education Bureau's call to develop in students "a sense of national identity and a sense of commitment towards the nation".

Some parents and critics suggested that the bureau, which supplied the videos, should have laid down clearer guidelines for using them, but top officials insisted that teachers and schools should exercise better professional judgment rather than relying on official instructions.

After the event on Sunday afternoon, Lau agreed, saying wars were "brutal and sad" and teachers should assess whether their students were old enough to learn about the uglier aspects.

"During these wars, there were many scenes which were unacceptable and horrible for adults. These included the concentration camps in Europe, and [events] in many other conflicts after the Second World War," he said. "As the gatekeepers, teachers must make assessments".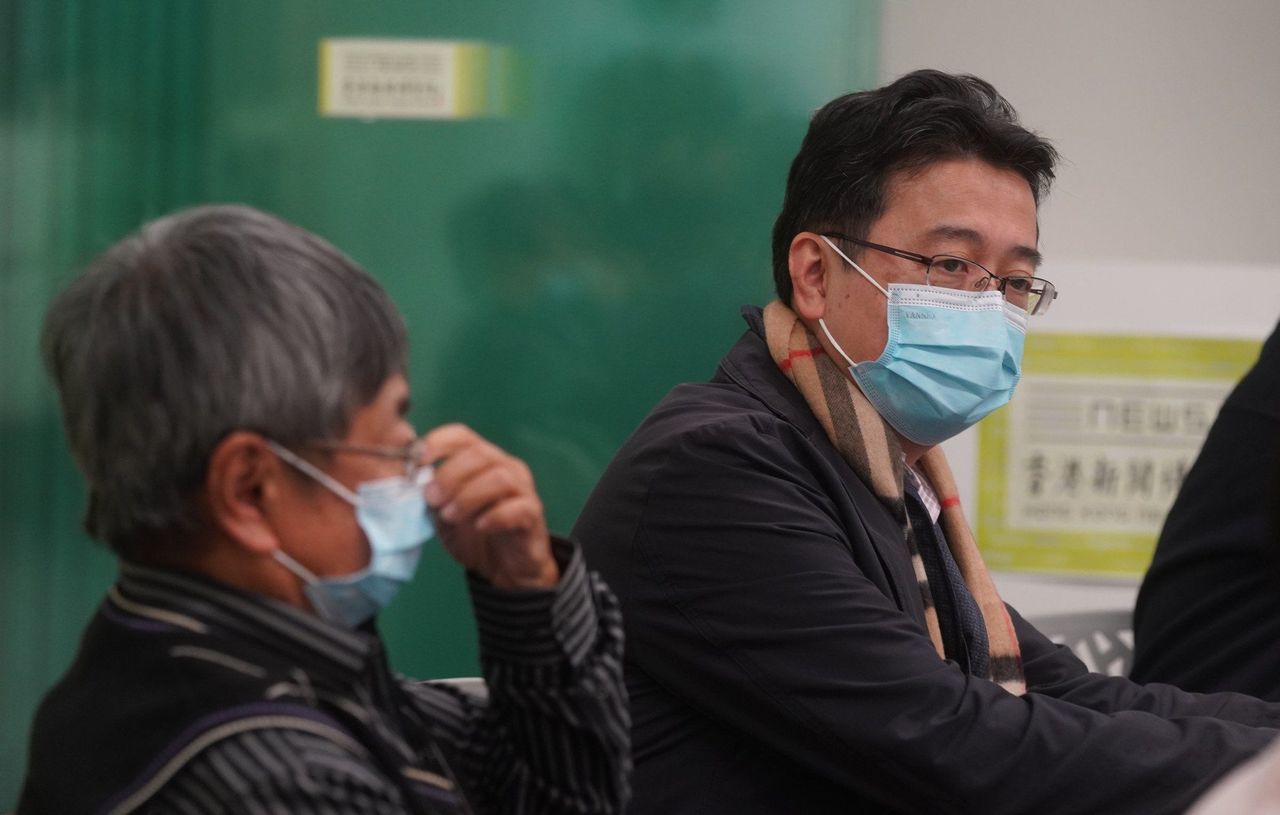 Historians Joseph Ting (left) and James Lau give a talk about life in Hong Kong during the Japanese occupation on Sunday.

Ting also said educators should take greater care with horrific historical events, such as the Nanking massacre and the Holocaust.

"I am worried that if you teach pupils about such shocking facts, it could leave scars on their minds. I think that for incidents like the Nanking massacre, teachers should only teach them to pupils who are at least in senior primary levels," he said.

Ting added that history education should focus on the facts, and not be used for propaganda.

Meanwhile, the Consulate General of Japan has responded to the furore over the videos, saying it was not in a position to comment on teaching materials used in Hong Kong schools, but that Tokyo preferred to look to the future instead of dwelling "excessively" on unfortunate events in the past.

"A country or region's education curriculum is a matter for that particular country or region to decide, and the Consulate-General of Japan in Hong Kong is not in a position to answer questions related to the education curriculum of Hong Kong," it said.

It added that Japan had long expressed deep remorse and made heartfelt apologies for its actions during World War II, and that the country had been devoted to peace and stability in the region ever since, adding: "Japan's position will remain unshakeable into the future."