Deadly fifth wave of Covid-19 infections made life hell for Hongkongers before things got better.
The Covid-19 pandemic took a turn for the worse in Hong Kong through 2022, as a fifth wave of infections struck with deadly force.

The first months of the year were especially bleak, with daily infection numbers shooting into the tens of thousands and Covid-19-related deaths mounting.

Hospitals were overwhelmed, mortuaries overflowed.

Hong Kong dug in as other parts of the world opened up and some of the harshest pandemic restrictions that affected residents and visitors alike.

Everyone arriving in the city faced compulsory hotel quarantine. Thousands of residents found themselves in sudden lockdown, unable to leave their flats. Animal lovers were distressed when pet hamsters were culled, after some infections were linked to them.

It was only in the second half of the year that Hongkongers began to see light at the end of the tunnel as the authorities began to ease the rules gradually and major international events returned for the first time in three years.

The Post recalls some Covid-19 moments in a year like no other.


1. Witman Hung's Partygate
Hongkongers were being told to avoid large gatherings when news broke in early January about a group of senior officials and lawmakers who showed up at a big birthday bash, flouting the rule on the maximum capacity for a venue.
Witman Hung Wai-man, the principal liaison officer for Hong Kong at the Shenzhen Qianhai Authority and a delegate to the National People's Congress threw himself a party at a tapas bar in Wan Chai.
All 170 guests were packed
off to 21 days of quarantine at the government's Penny's Bay facility after at least two people linked to the party tested positive for
Covid
-19.
"Partygate" proved embarrassing for the administration of then city leader Carrie Lam Cheng Yuet-ngor. Among the guests was her secretary for home affairs, Caspar Tsui Ying-wai, who resigned amid a storm of criticism at the end of January. Six guests were fined for breaching
Covid
-19 rules. Birthday boy Hung apologised.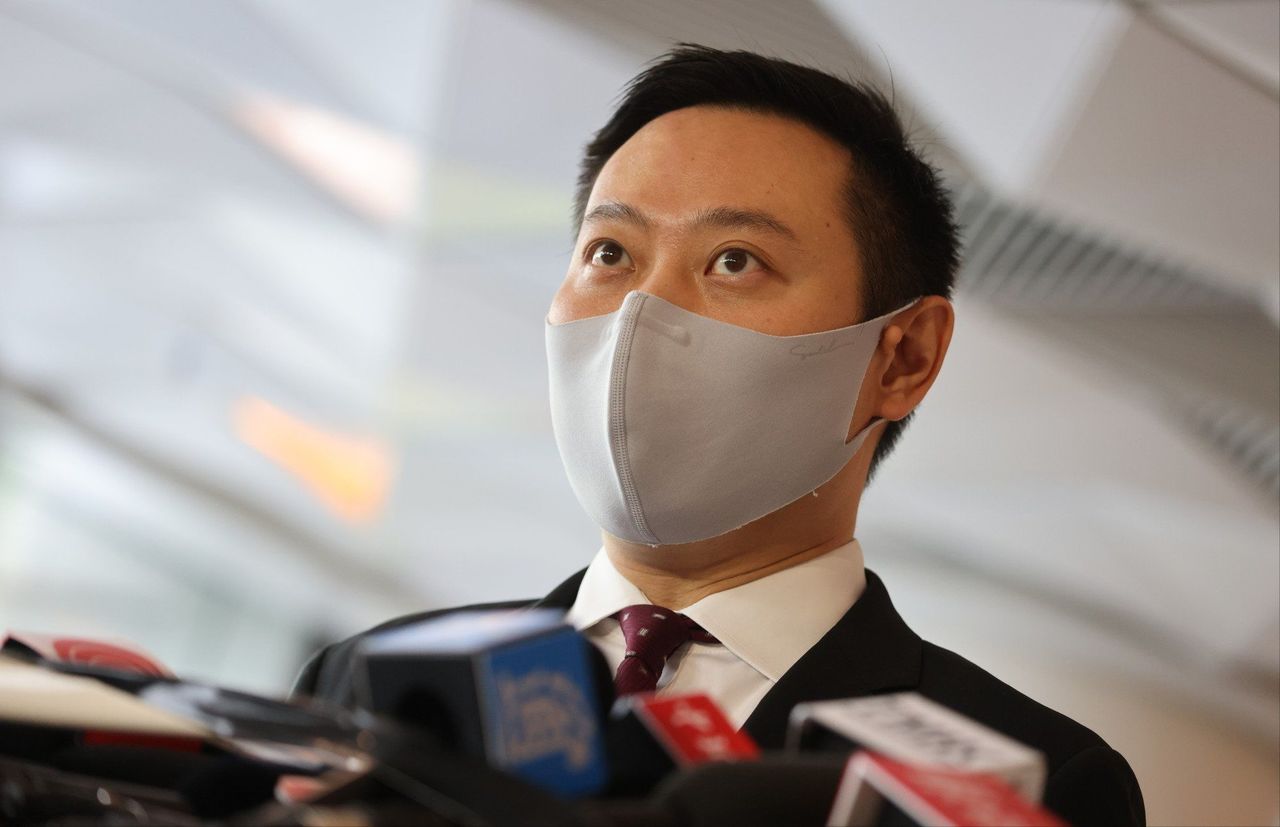 Caspar Tsui, the former home affairs minister.
2. Harshest restrictions in the world?

At the start of the year, everyone arriving in Hong Kong had to spend 21 days in compulsory quarantine at designated hotels. People complained bitterly about the difficulty in booking rooms, the filthy state of some rooms and poor food. Some said their mental health suffered through long days confined to tiny rooms. Those who tested positive were moved to the government's isolation facility at Penny's Bay.

The harsh quarantine rules eased through the year, first to 14 days in February, then seven days, and eventually three days. In September, the "0+3" regime kicked in, which meant no quarantine but three days of medical surveillance including Covid-19 tests. That was finally scrapped in December.

Hong Kong residents faced a string of restrictions in their daily lives too. The number allowed to gather in public went from four to two in February, as the fifth wave of infections worsened. People were later allowed to meet in groups of four and then 12, before the rule was dropped in December.

The government in February banned people from more than two households from meeting. This was dropped in April.


3. Seven-day lockdown at Kwai Chung Estate

There were scenes of chaos, anger and frustration when about 2,700 people living at Yat Kwai House in Kwai Chung Estate were confined to their flats for seven days.

The government imposed an immediate mandatory lockdown in January after more than 20 Covid-19 cases were reported there. At the same time, residents of two other blocks in the estate were slapped with five days of confinement.

Residents complained that they had no time to prepare or stock up on essentials. Rubbish bins overflowed, meals were not delivered as expected, and testing arrangements were a mess. Some residents complained of lost wages and being laid off too.

A total of 396 cases were detected among the 35,000 people living in the estate.

4. Ill and freezing

Early March saw the fifth wave of infections peaking at more than 50,000 cases each day. Public hospitals were overloaded, swarming with Covid-19 patients, especially the old and the young. Patients were forced to wait outside emergency rooms in chilly weather.

To relieve the strain on the healthcare system, makeshift facilities were set up to isolate those with mild or no symptoms. But they were quickly overwhelmed too. Many who were ill ended up stuck at home, complaining of little or slow support from the authorities. They were later told to seek help at designated clinics, where high-risk patients could get antiviral drugs.


5. Bodies pile up

March also saw Covid-19-related deaths peaking at more than 200 a day, mostly elderly people. As mortuaries became overwhelmed, there were dreadful scenes at public hospitals of bodies placed on gurneys left in hallways or on beds in emergency rooms packed with patients.

Hong Kong's funeral parlours could not cope and stocks of coffins began to run out. Refrigerated containers were set up outside mortuaries to store dead bodies. But as the weather warmed, the temperature rose inside the temporary units and bodies began to decompose, much to the distress of family members.

The fifth wave of infections was the deadliest, claiming more than 10,000 lives.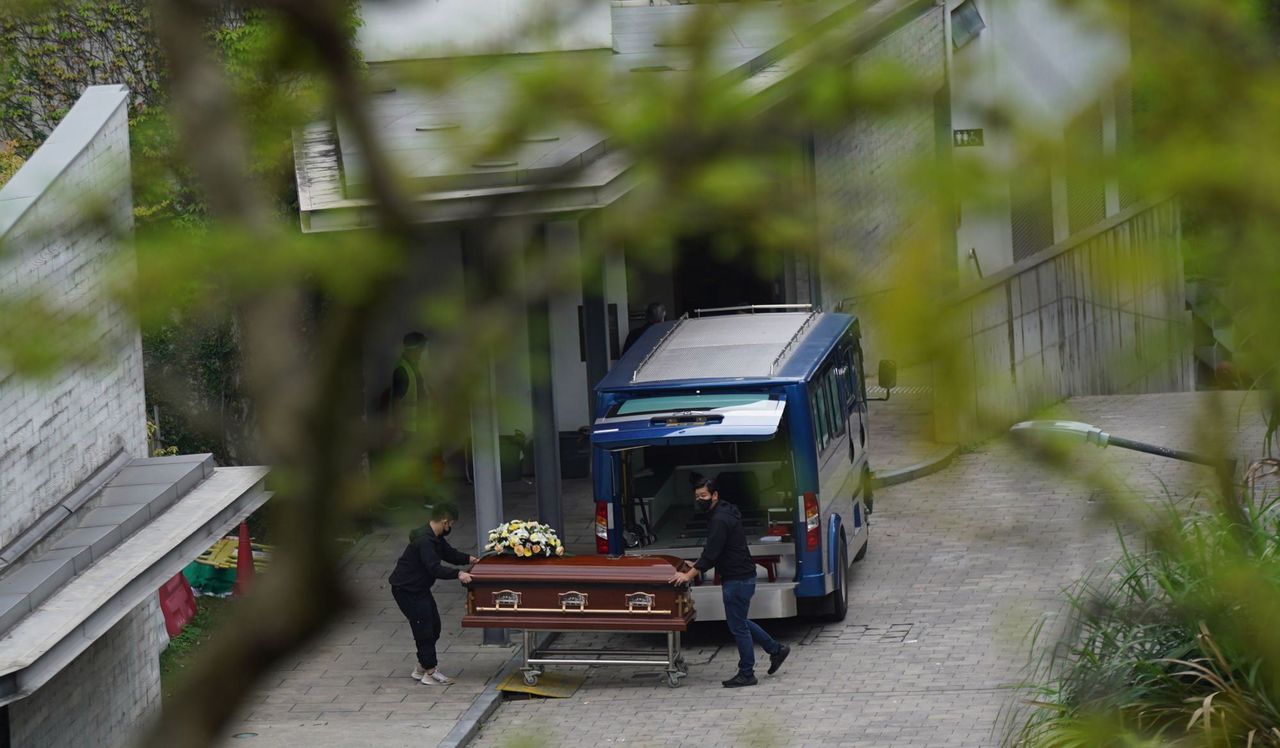 The city's funeral parlours were overwhelmed due a spike in Covid-related deaths during the fifth wave.
6. To move around, get vaccinated

Hong Kong's controversial vaccine pass scheme took effect from February 24. All residents aged 12 and above had to have at least one dose of Covid-19 vaccine to be allowed into restaurants, bars, gyms, and other venues.

The requirement was subsequently tightened, requiring two doses and later, three. Children as young as five years old included. The scheme remained in force for 10 months before it was dropped on December 29.


7. Bogus vaccine exemptions?

In September, police arrested six doctors for allegedly issuing vaccination exemption letters without proper examination of patients, and a seventh doctor was implicated too.

At least 26 patients were arrested, accused of buying the letters exempting them from getting jabs. A seventh doctor is still wanted by police.

The government decided to invalidate more than 20,000 Covid-19 exemption certificates issued by the doctors, who were accused of selling them for between HK$500 and HK$3,000 apiece.

Lawmaker Doreen Kong Yuk-foon questioned whether the authorities had the right to tear up the certificates, and former civil servant and serial litigant Kwok Cheuk-kin challenged the action.

The High Court ruled that the government had no power to invalidate the letters. But the government soon after amended the law soon to empower the health minister to void suspect vaccine exemptions.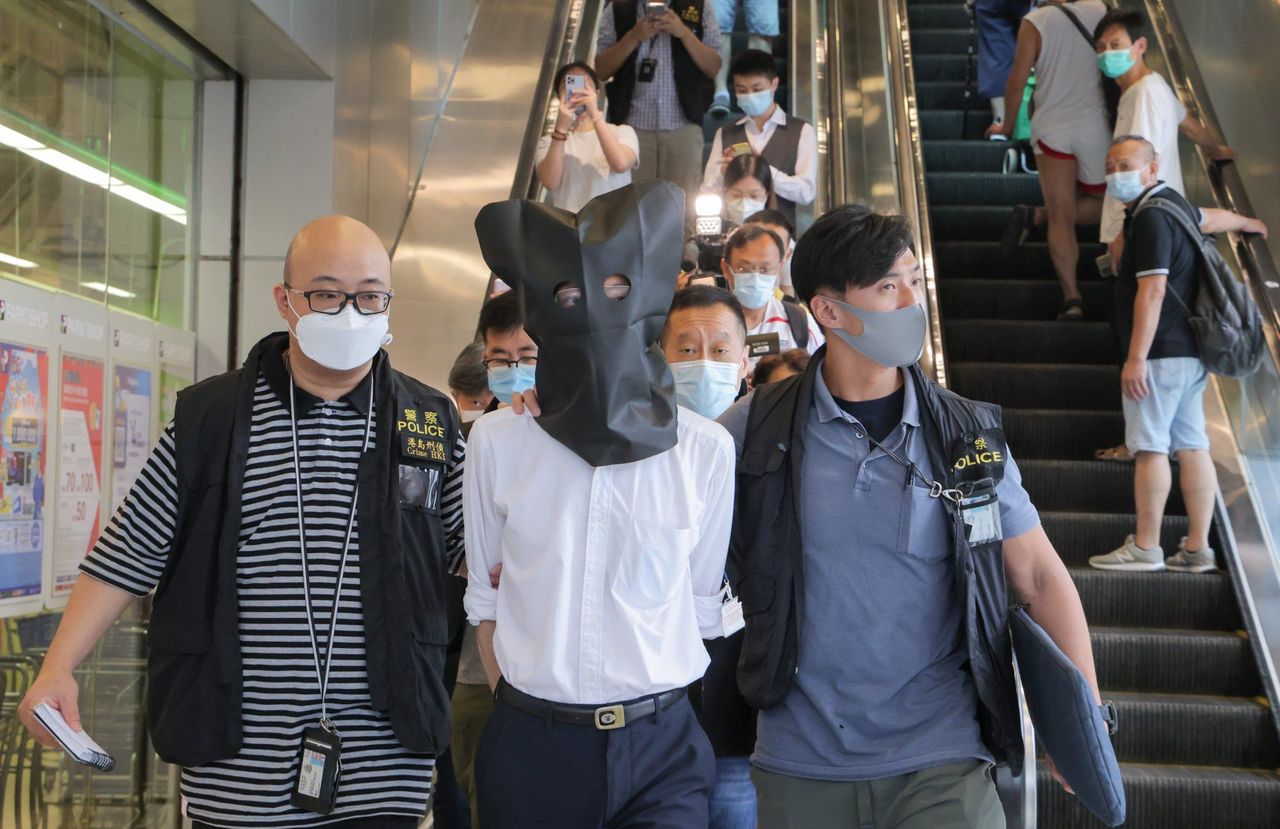 Police escort a suspect linked to the case from a clinic in Chai Wan.
8. Flight attendants jailed for leaving home

Two former flight attendants of Cathay Pacific Airways paid a high price for ignoring the quarantine rules for aircrew. After they returned from the United States in late December 2021, they were supposed to remain at home pending their Covid-19 test results, but both went out.

Wong Yoon-loong and Nilsson Lau Kok-wang visited friends and dined out with family members. But they found out they were infected after test results arrived.

The pair were thought to be responsible for triggering one of the earliest clusters in Hong Kong's fifth wave of infections. The two were sentenced to eight weeks' jail in December 2022.


9. Rules ease, big events return

The fifth wave of infections had receded by the time the city's new leader, John Lee Ka-chiu, took office in July and signalled a gradual shift towards easing pandemic rules. In November, two international events were held – the Hong Kong Rugby Sevens and the Global Financial Leaders' Investment Summit.

International guests of the summit had special exemption from the prevailing "0 plus 3" regime for visitors to monitor themselves for three days during which they could not go to specific public venues.

But a group of South Africans who came for the Sevens made headlines when they were not allowed to attend the matches during their first three days in the city. All ended well when they cleared their Covid-19 tests and had a special invitation to watch the games from the organisers' box at Hong Kong Stadium.

Popular Korean boy band Super Junior performed two sold-out concerts at the AsiaWorld-Expo in November, that attracted thousands of fans delighted by their idols and the return of live performances.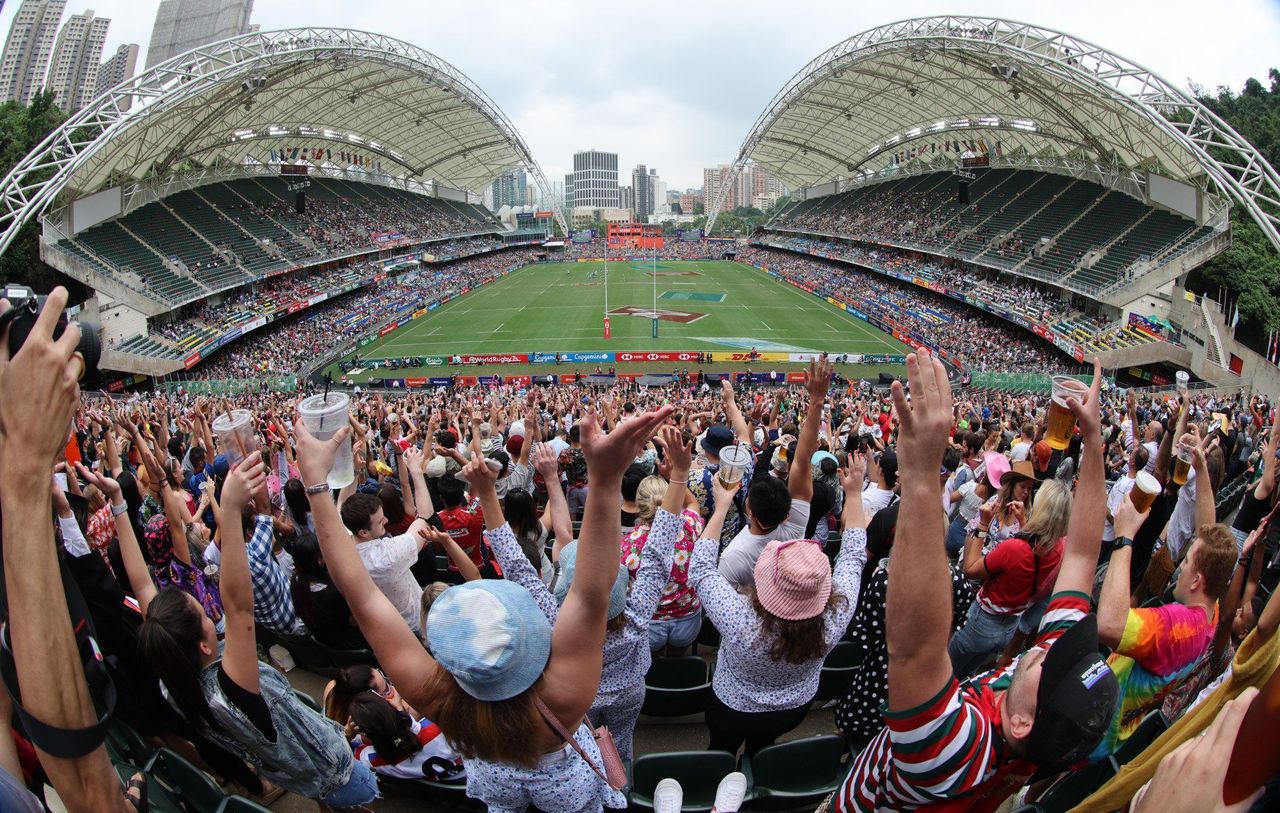 Fans go wild on the last day of the Hong Kong Rugby Seven.
10. Free at last

December saw Hong Kong at last set aside its tough pandemic restrictions, although people were still falling ill with Covid-19.

After mainland China's major shift away from its zero-Covid policy, the city announced it was doing away with all remaining restrictions. People only had to continue wearing masks in public and on public transport.

Travellers arriving in the city no longer had to do PCR tests from December 29 and all social-distancing measures were dropped from the same date.

That meant no more restrictions on the number of people who could meet in public or get together for a meal in a restaurant or drinks in a bar.