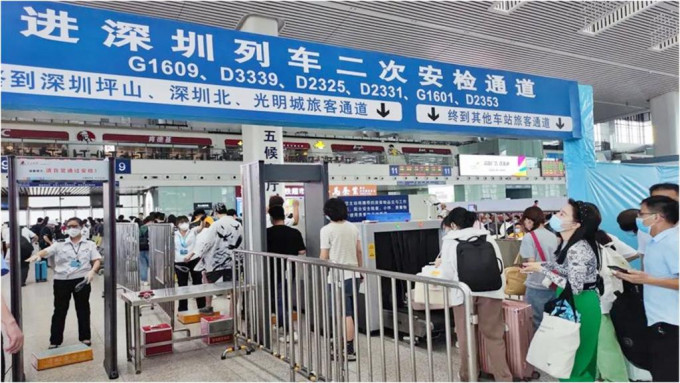 High-speed rail passengers to Shenzhen face double security checks as Xi may head south
Passengers traveling to Shenzhen via high-speed rail have to undergo security checks twice as Chinese President Xi Jinping may pass through Shenzhen to attend the activities of the 25th anniversary of Hong Kong's handover.
Xi was preliminarily scheduled to attend the celebration in Hong Kong on June 30 and July 1, according to The Standard's sister newspaper Sing Tao Daily. However, Xi may return to Shenzhen on the same day and will not stay overnight in Hong Kong.

Shenzhen has recently raised the security level to prepare for Xi's visit. Fuzhou Railway Station in Fujian announced on Sunday that from June 26 to July 2, passengers traveling to Shenzhen from Fuzhou Station and Fuzhou South Station would be subject to double security checks.

Before entering the waiting hall of the train station, passengers and their luggage must first go through a security scan inspection. After that, they will be redirected to a designated security area to be checked with different security equipment and manual inspection.

Xiamen Railway Station announced that from 8am on June 26 to 8pm on July 2, Xiamen Station and Xiamen North Station will conduct two security checks for passengers heading to Shenzhen.

As the additional security check will take some time, passengers are advised to arrive at the station in advance to avoid any delay.

Separately, Hong Kong West Kowloon Station Green Plaza saw some 100 police officers on Monday morning, while many video cameras were seen installed on the tactical buses. There were also tents set up for stand guard.

It was understood that officials of the SAR government would gradually check into quarantine hotels starting on Monday.

The government also planned to host a dinner at Government House on Thursday to welcome Xi, which both current and incoming officials will attend.

Science Park in Sha Tin saw crowd control barriers being set up on Monday. Some restaurants said they have received notice to suspend operations on Thursday for unknown reasons. "We will close on June 30, but nothing specific on July 1, and we were told to operate as usual on that day," a restaurant operator said.