Previous estimate had been 300 days, but vaccination rates have dropped 35 per cent after vaccine packaging defects, and fears over potentially deadly side effects of both Sinovac and BioNTech jabs.
The double whammy of packaging defects and more adverse reports on the possible side effects of Covid-19 vaccines in Hong Kong have caused a 35 per cent drop in overall inoculations in the city, and health experts warned it might take more than a year, instead of 300 days as expected, to reach herd immunity.

Experts hoped the resumption of bookings for the BioNTech vaccination on Saturday might lead to the public regaining confidence in the scheme.

Hong Kong temporarily stopped using the German-made vaccine after concerns were raised about defects in a batch of vials, and the experts said health authorities needed to provide more data for the public to prove that both it and mainland-produced Sinovac were safe.

In a Facebook post on Friday, Chief Executive Carrie Lam Cheng Yuet-ngor said the government would soon announce further incentives for people to get inoculated, and pointed out that workers in the catering industry were already permitted to avoid mandatory testing every 14 days if they had been given the jabs.

"We will announce other similar measures later to encourage the public," she said. "The public should get vaccinated as soon as possible, rather than taking a wait-and-see approach."

Lam said it would take someone between 35 and 42 days to get two doses and be fully vaccinated, and, as an example of the benefits of doing so, noted people who did not take the shots would be unable to travel as soon as those who did.

Available data showed that during the 10 days from March 24 to April 2, during which vaccination was suspended for the BioNTech jabs, the injection rate for people receiving the first dose of Sinovac dropped by 35 per cent compared to the nine days before the suspension.

Only about 67,200 residents, or an average of around 6,700 people a day, received their first dose of Sinovac during that period. In contrast, more than 103,500 residents took the jab in the 10 days before.

"Definitely there is a ripple effect – not only were BioNTech jabs suspended, the media has also reported more deaths [of inoculated people] despite no link being established between the fatalities and the two jabs. Residents would be worried about the overall safety of the vaccines," government pandemic adviser Professor David Hui Shu-cheong said.

So far, 11 chronically ill residents have died after receiving the Sinovac vaccine and another two people, also with underlying conditions, died after taking the BioNTech shot, leading to mounting public concerns over potential side effects.

At the same time, distribution of the BioNTech vaccines was abruptly halted after frontline staff reported more than 50 instances of defective vials, including cracks, leaks and stains on their exterior. The Hong Kong government concluded on Thursday that problems in the process of sealing vial caps might have caused the defects.

"Such a slow vaccination rate will definitely pose delays for the city to reach herd immunity, and may also slow down the process for the government to relax social-distancing measures," Hui said.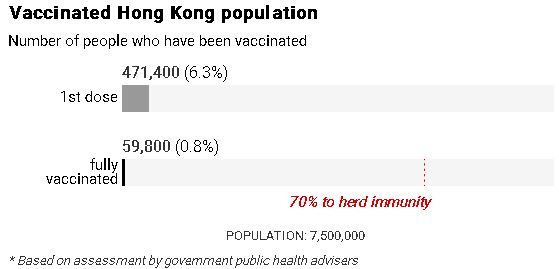 But Hui said he believed that as soon as the city began using BioNTech again, and if the World Health Organization approved the Sinovac jabs by the end of April, people would be more eager to get the shots.

He also suggested that health authorities offer more information surrounding the deaths, and the underlying illnesses that caused them, to prove there had not been a surge in fatalities after Hong Kong's mass vaccination programme began.

Officials announced on Thursday that vaccinations for BioNTech would resume next Monday after a 12-day suspension, while those whose bookings were scheduled during the temporary halt would be allocated new time slots that could be changed when the booking system reopened at 9am on Saturday.

Respiratory medicine specialist Dr Leung Chi-chiu said under the current rate of vaccination, it might take longer than a year for 70 per cent of the population – the expected threshold for herd immunity – to get vaccinated. Leung earlier estimated it would take about another 300 days for the city to reach the goal.

"There is only an average of 5,000 to 6,000 people taking the Sinovac jab each day, and together with the resumption of BioNTech vaccination, I estimate the overall rate could reach around 20,000 each day, but that might only last for one or two weeks," he said.

"Those who have refused to get the shots are still very concerned and might continue to take a wait-and-see attitude."

Leung said the government had not been able to erase the public's doubts surrounding the safety of the jabs, and as a result vulnerable residents, including elderly people, might not be willing to "take the risk".

According to government statistics, of the more than 470,000 people who have had their first jab, one-fourth were aged between 60 and 69 years old, while only around 12 per cent were over 70.


"These elderly are very vulnerable and may get serious symptoms easily if they are infected, and the city might find it hard to become infection-free if they are not willing to get vaccinated, especially once the borders are reopened," Leung said.

As of Friday, just 6.3 per cent of Hong Kong's 7.5 million population, or 471,400 people, had received their first dose of vaccine. Around 320,100 took the Sinovac version, while about 151,300 chose the BioNTech jab.

About 0.8 per cent of the population, or 59,800 people, have already received their second dose of the Sinovac vaccine and are now fully vaccinated.