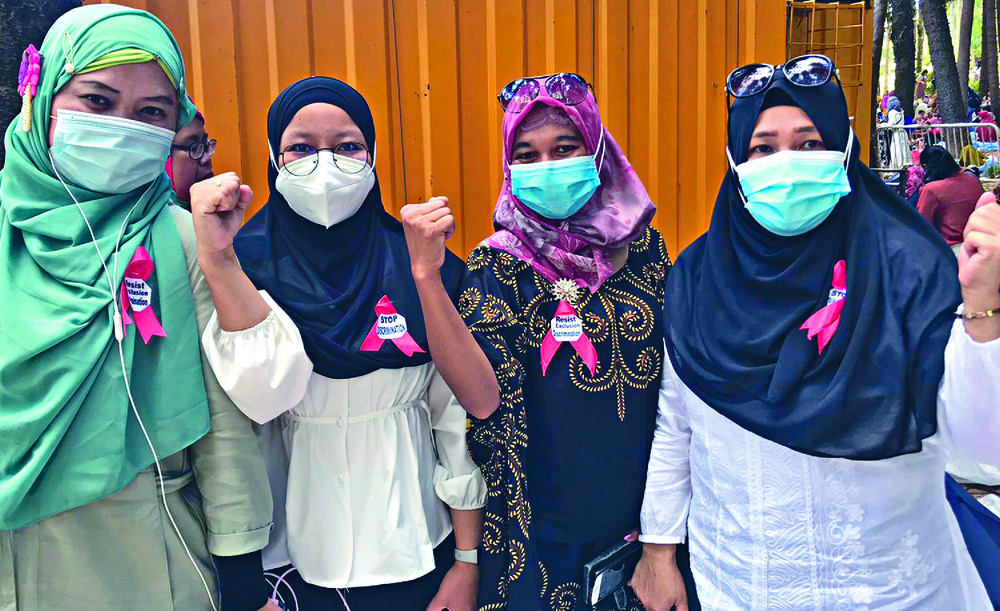 Helpers still see red even as lines shorten
Shorter queues appeared across Hong Kong for the second round of mandatory testing of domestic helpers as authorities boosted testing capacity and lengthened the testing period.
The government last week ordered helpers to undergo a second round of testing over a longer period of 16 days.

In the first round, 340,000 helpers completed the tests within the first nine days of May, with three confirmed Covid-19 infections involving the N501Y mutant strain.

More booking and testing capacity has been provided for the second round, with over 600,000 testing slots up for grabs between May 15 and 30.

About 50 domestic workers were spotted queuing up at the mobile specimen collection station at Chater Garden in Central yesterday morning. In Victoria Park, more than 100 people queued before the testing points opened at 10am.

One helper began queuing at 4am after being stuck in a line for more than nine hours in the first round. She said the testing facility was better this time as tents were set up.

Betty Yung Ma Shan-yee, chairwoman of the Hong Kong Employers of Overseas Domestic Helpers' Association, praised the improved arrangements.

"The government's aim for foreign domestic workers to undergo testing again is to ensure that they are healthy," she said.

"It is not discriminating against or targeting them. I hope foreign domestic helper groups can support [the compulsory testing]."

International Migrants' Alliance chairwoman Eni Lestari, who was at Victoria Park yesterday, observed some electric fans were added to the mobile testing points for the second round, but said there were "not many."

She slammed the government's mandatory move for singling out domestic workers instead of all relevant sectors and described the second round of testing as discriminatory, saying the government's move is "stigmatizing domestic helpers as Covid-19 spreaders."

Lestari, along with about 500 Indonesian helpers, wore red ribbons to express their disappointment in the government for failing to protect domestic helpers during Covid-19, saying red stands for "resist exclusion and discrimination."

"The government only take employers into consideration," Lestari said. "We are being blame of Covid-19 as if [only] we carry the virus."