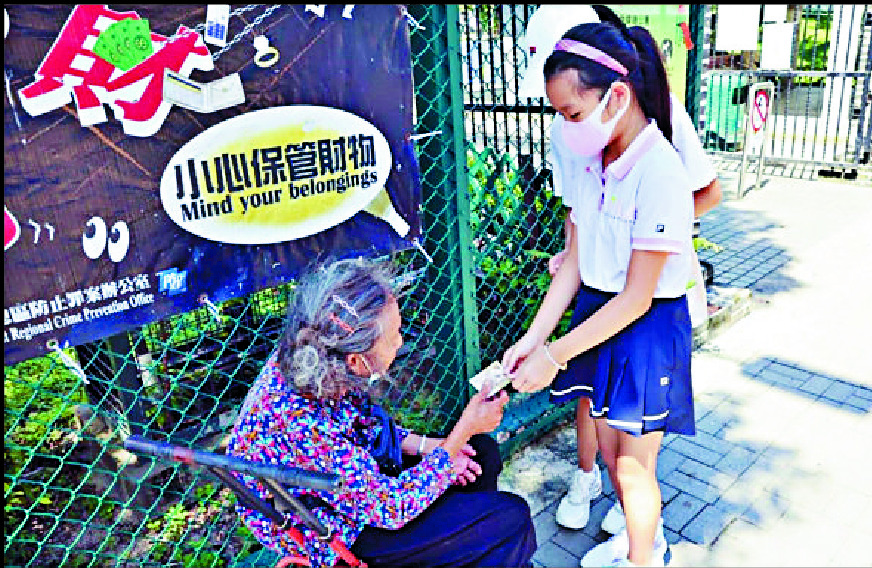 Heartless theft spurs outpouring
Donations poured in for a homeless elderly woman who was robbed in Kowloon City yesterday, after two cold-blooded men stole her phone and HK$16,000 her son gave her.
Tsui, 74, broke into tears as she recalled her nightmare. She said she was robbed at about 3am yesterday while picking up cardboards opposite Kowloon City Plaza on Carpenter Road, when two men rode by on bicycles.

They struck up a conversation with her but that amiability vanished soon after when one of them clamped her mouth and the other snatched Tsui's fanny pack.

"The thieves must have seen my son giving me the HK$16,000," she said.

No one has been arrested as of last night, and the district's criminal investigation unit is looking for two men aged around 30.

The duo were wearing dark shirts and fled in the direction of Lion Rock Road.

Though not injured, Tsui was agitated and asked the staff at a convenience store for help. They called in the police at 2.55am.

The fanny pack contained a key, a purse, her mobile phone and the HK$16,000 cash - living expenses given to her by her son the day before the robbery, Tsui said.

People went to Kowloon City yesterday, hoping to provide some help to Tsui.

Among them were two sisters in primary school. Their parents drove them so they could give HK$500 in cash to Tsui.

Tsui refused and told the girls to "use the money to buy books." After they insisted, she accepted their kind offering and wished upon them "health and progress in their studies."

A man gave Tsui a new fanny pack.

Tsui said her son works in construction and has an unstable income.

Tsui left her home in Tung Tau Estate in Wong Tai Sin more than 20 years ago and has lived on the streets since due to a bad relationship with family members.

In the past 20 years, some social workers and Tsui's three children have asked her to return home or to live in an elderly home.

But Tsui declined, saying "living on the streets is freer and more comfortable, elderly homes are too noisy."

Tsui makes do through the old-age allowance and by picking up cardboard boxes.

She sometimes sleeps in a nearby wet market, which has a bathroom and air-conditioner.

"I am not worried about being robbed now, since I have no money now," Tsui said.

Deep Ng Siu-hong, a program manager of ImpactHK, a charity helping the homeless, said elderly people often move out from homes due to family issues and live on the street "since accommodation space is limited in Hong Kong," which leaves them vulnerable.

He added that some women may choose to live in the streets once their kids grow up and have their own families, since "mothers are the ones who make sacrifices in Chinese society."