Respiratory medicine expert Dr Leung Chi-chiu says daily rapid testing at schools can be axed by next month's end as city will have sufficient herd immunity levels.
Health experts in Hong Kong have called for authorities to lift a daily Covid-19 rapid test requirement for school students at the end of January, arguing the government's decision to scrap most anti-epidemic curbs would render the measure ineffective.

Parents, students and school principals have expressed divided opinions on the subject after the Education Bureau on Wednesday announced the screening requirement would be subject to a review after January 31.

Respiratory medicine expert Dr Leung Chi-chiu on Thursday said the government could axe the policy by the end of next month as Hong Kong would have reached a sufficient level of herd immunity by that point.

"The reason why we cannot cancel [rapid antigen tests] right now is that we have not allowed the virus to further spread widely in the community," he said.

"When we relax everything, in one or two months, the herd immunity will become more uniform and cover the previously unexposed segment of the population. When it is achieved, the RAT and half-day classes will not be necessary."

Under the current rules, school students of all ages must obtain a negative RAT result each day before coming to campus.

The daily tests would be ineffective in preventing infections as students were likely to be exposed to the virus outside campuses as the city lifted most of its anti-epidemic curbs, Leung said.

The respiratory medicine expert urged parents to inoculate their children against Covid-19 as soon as possible to protect them from severe or fatal symptoms amid the prospective rise in cases.

The decision to review the testing rule is part of a wider rollback of the city's coronavirus restrictions that took effect on Thursday, including the axing of the government's vaccine pass, testing rules for inbound travellers and all social-distancing rules.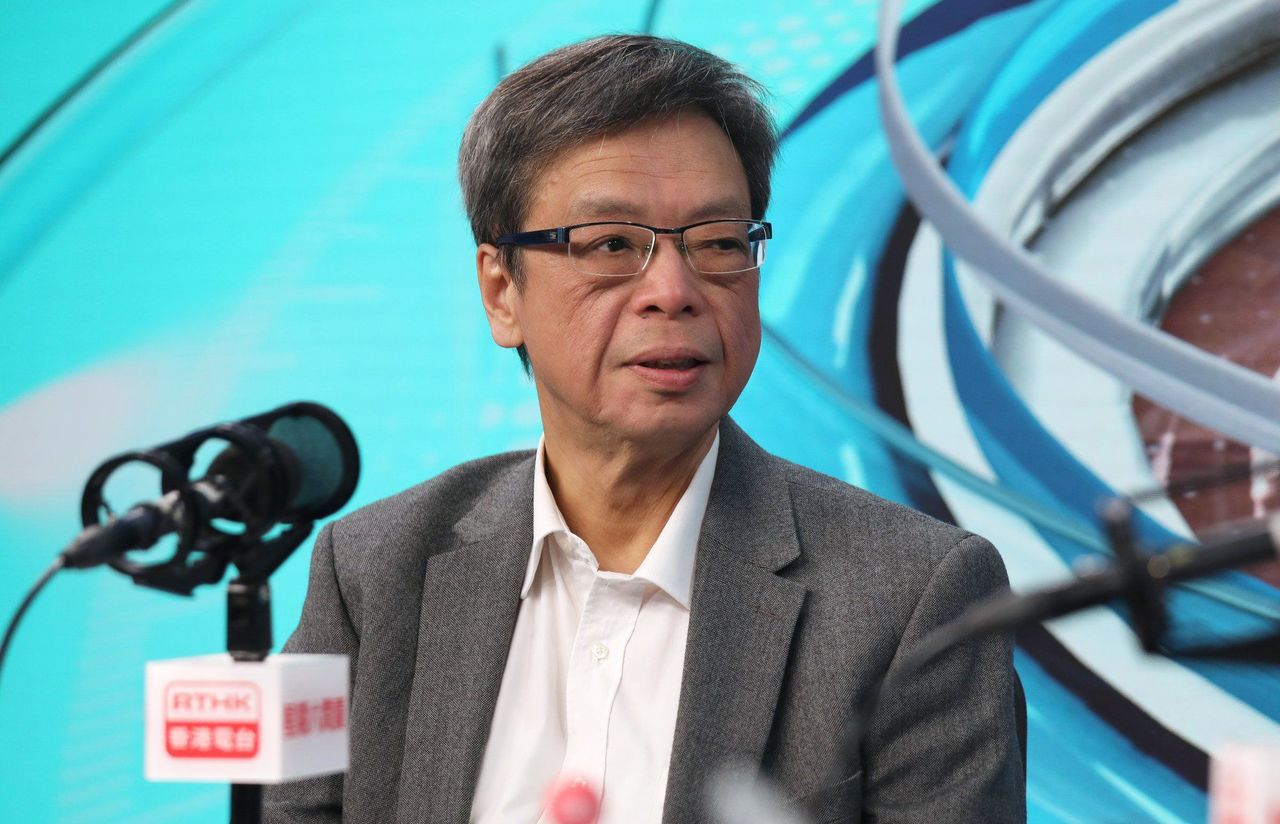 Respiratory medicine expert Dr Leung Chi-chiu.
The city's mask mandate, which requires everyone to wear facial coverings in most public places, is still in effect.
As part of the wider policy change, all secondary schools from February 1 will resume full-day, in-person classes regardless of their respective inoculation rate, with primary schools and kindergartens to follow suit from February 15.
Dr Siddharth Sridhar, a virologist at the University of Hong Kong (HKU), also said it did "not make sense" to keep testing for
Covid
-19 when mainland Chinese authorities planned to reclassify it as a simple respiratory infection.
Professor Ivan Hung Fan-ngai, a government pandemic adviser, said that while daily tests could be scrapped for primary and secondary school students, they should remain in place at kindergartens as the vaccination rate for young children remained low.
According to government figures, around 78 per cent of children aged between three and 11 have received at least two
vaccine
doses, while 30 per cent were triple jabbed.
Meanwhile, Cheung Yung-pong, honorary chairman of the Aided Primary School Heads Association, argued a sufficient measure would be for any students showing
Covid
-19 symptoms to stay home.
"While people were beginning to get used to it, daily testing was still undeniably a burden for parents and schools. When the overall policy points to loosening up, the government should review the RAT requirement at the end of January," Cheung said.
Some parents have expressed frustration regarding the daily testing requirement, arguing it had done little to mitigate the risk of infection for their children.
Ma Yuk-ping, a mother to an 11-year-old boy in Primary Six, said the resumption of on-campus lunches would cancel out any reassurances that came from the daily tests.
"Once they have lunch at school, the virus would spread among them. Kids won't take precautions," the 52-year-old homemaker said.
Elson Tan, 17, who studies at the Hong Kong Adventist Academy and has been taking full-day classes since November, said the tests should be cancelled.
"Over half of high school students have been triple-vaccinated and
Covid
-19 is not as severe a threat as it was in 2020," he said.
But some parents, headmasters and students did not want testing to stop.
Parent Ronnie Cheung said the daily tests were both a hassle and the last line of protection for her three-year-old son in his first year of kindergarten.
"The school's spot checks would mandate the RAT, but if the whole thing is lifted, then those children who are positive without symptoms can go to school too, then I feel my son will be unprotected," Cheung said.
Nancy Lam Chui-ling, principal of Tsuen Wan Trade Association Chu Cheong Kindergarten, said RATs and the mask mandate were the "last frontier" to ensure students' safety on campus.
"[The RAT] is the quickest way to detect infection while there is no other way to do so. I hope the requirement will stay until at least Easter, depending on the situation once the border reopens," Lam said.
Anson Ng, an 11-year-old student from Holy Angels Canossian School, said she felt "a bit unsafe" if the RAT requirement was dropped.
"I am a bit worried about getting
Covid
-19 or other health concerns during lunch breaks because the classrooms are not spacious enough to keep a safe distance among students," she said.
The Education Bureau had also said the
vaccine
pass scheme would also be dropped from December 29, meaning all school staff or other personnel can enter campuses without showing their vaccination status. All students can also conduct after-school activities.
Currently, primary schools with more than 70 per cent of students, who have been double-vaccinated for more than 14 days, are allowed to resume full-day in-person classes. Secondary schools are also allowed to do so if they have more than 90 per cent of such students. Such criteria will be axed in February.