Professor Leonard Cheng, an economist who holds American citizenship, gives no reason for decision but calls time at Lingnan University a privilege and honour.
Lingnan University has revealed that its president, Professor Leonard Cheng Kwok-hon, will step down when his term ends next year, becoming the fourth head of a Hong Kong tertiary institution to leave at the end of their contract.

Cheng, 69, would retire on August 31 next year, and a committee had been established to lead a global search for his replacement, the public institution in Tuen Mun announced on Monday. He was university president during the rocky months of the anti-government movement of 2019, when campuses became protest zones.

In July that year, Cheng attended a march in Yuen Long as an "observer" for about 30 minutes, two hours before police officers fired tear gas at protesters. He said he was worried about the dangers facing students and staff.

Cheng on Monday said the university stood proudly as a global leader in quality education and high impact research and was well positioned to further its excellence in the next six years by implementing a new strategic plan.

"It is my privilege and honour to work with like-minded colleagues to realise the university's vision to excel as a leading liberal arts university in Asia and beyond," he said.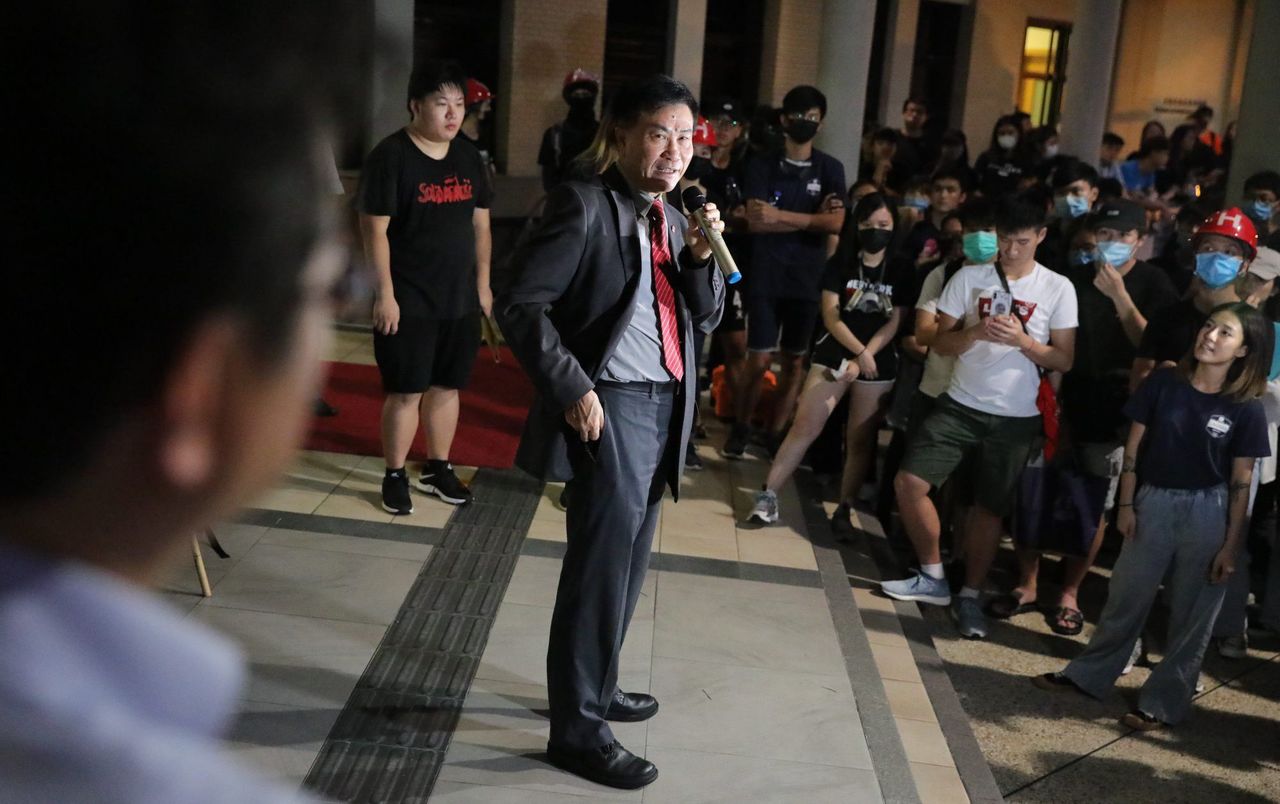 Lingnan University president Leonard Cheng meets students about class boycotts in September 2019.

Council chairman Andrew Yao Cho-fai expressed gratitude towards Cheng for his significant contributions.

"Since he took up the presidency in September 2013, Professor Cheng has demonstrated his remarkable leadership and foresight in steering the university to scale new heights on various fronts, such as achieving teaching excellence, building a strong research culture, enhancing students' learning experience as well as gaining notable international recognitions, making the university a world-leading liberal arts university," Yao said.

Cheng, an economist who holds American citizenship, is the latest university head to bow out when their contract ends. The president of Education University of Hong Kong, Professor Stephen Cheung Yan-leung, said early this month it would not seek his reappointment when his contract finished next year following his nine year of service.

City University said in November its president, Professor Way Kuo, would not renew his contract when it expired next year. Just days earlier, the Hong Kong University of Science and Technology (HKUST) announced its president, Professor Wei Shyy, would step down before his term ended.

Prior to joining Lingnan University in 2013, Cheng served as dean of the School of Business and Management at HKUST. Cheng was reappointed in 2018 with another five-year term amid disapproval among some students. He was a campaign adviser to former Hong Kong chief executive Leung Chun-ying, who was elected in 2012.

Cheng graduated in economics from Chinese University in 1975, and was awarded a doctorate in economics by the University of California in Berkeley in 1980. His research interests include applied game theory, market structure, currency crises, international trade and investment, technological innovation and imitation, and China's inward and outward foreign direct investment.