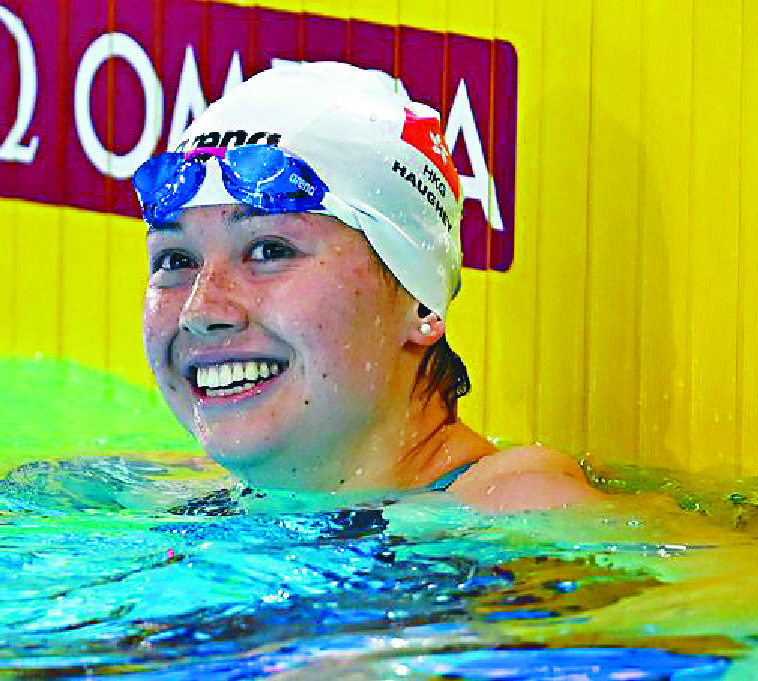 Haughey makes it count when gold is at stake
Hong Kong's "flying fish" Siobhan Haughey defended her title in the women's 200m freestyle final in a time of one minute and 51.65 seconds to round out the FINA short course World Championships in Melbourne with one gold and one silver.
Haughey took gold yesterday after qualifying in second place in the heats, touching the wall in 1:53.39, behind the Netherlands' Marrit Steenbergen who qualified with a time of 1:52.83.

The 25-year-old then went on to defend her title in the 200-meter freestyle. She got off to a slow start yesterday as the fourth finalist to swim one 25-meter length of the pool, but gradually caught up to her competitors after another lap.

Haughey then sustained the lead for the remaining 150 meters to edge out Canadian Rebecca Smith, who finished second in 1:52.24, by 0.59 seconds and Steenbergen in 1:52.28.

Haughey accepted the win with a smile, despite her admission it was a pity she was not able to beat her personal record in her "favorite event," as her winning time was just over a second short of her world record of 1:50.31 set in Abu Dhabi last year.

"But a win is a win," she said.

Secretary for Culture, Sports and Tourism Kevin Yeung Yun-hung congratulated Haughey on her win. "Haughey won two medals in a row at the same tournament, setting a brilliant record. I am so proud of her."

The win came after Haughey finished second in the 100-meter freestyle on Thursday to reigning Olympic champion Emma McKeon of Australia - the fastest qualifier for the final. McKeon clocked a winning time of 50.77 - just 0.1 seconds faster.

Last month, Haughey claimed two "Triple Crown" titles by completing two clean sweeps in the 100m and 200m freestyle events in all three legs of the tournament at the 2022 FINA World Cup, with a 51-second winning time in Indianapolis that broke the US Open record.

Hong Kong's male swimmers also had their own achievements, with Ian Ho Yentou finishing ninth in the 50m freestyle semifinals in 20.99 seconds, while Hayden Kwan Pang, Adam Chillingworth, and Wesley Ng Cheuk-yin all broke Hong Kong records for the 200m backstroke, 200m breaststroke and 100m backstroke.