Many of those waiting to ring in new year hope for end to pandemic and return to normality in the coming 12 months.
Tens of thousands of revellers gathered on both sides of Hong Kong's famed Victoria Harbour to ring in the new year, with many hoping for an end to the coronavirus pandemic and a return to normality in 2022.

A new Covid-19 scare involving two community infections carrying the highly transmissive Omicron variant did not dampen the mood, with residents eager to join large-scale year-end celebrations in West Kowloon and Central after two years of cancellations.

Despite health minister Sophia Chan Siu-chee urging the public to avoid crowded places hours before the countdown, Hongkongers who flocked outdoors to celebrate the new year said they were not too worried, with many arriving in the early evening.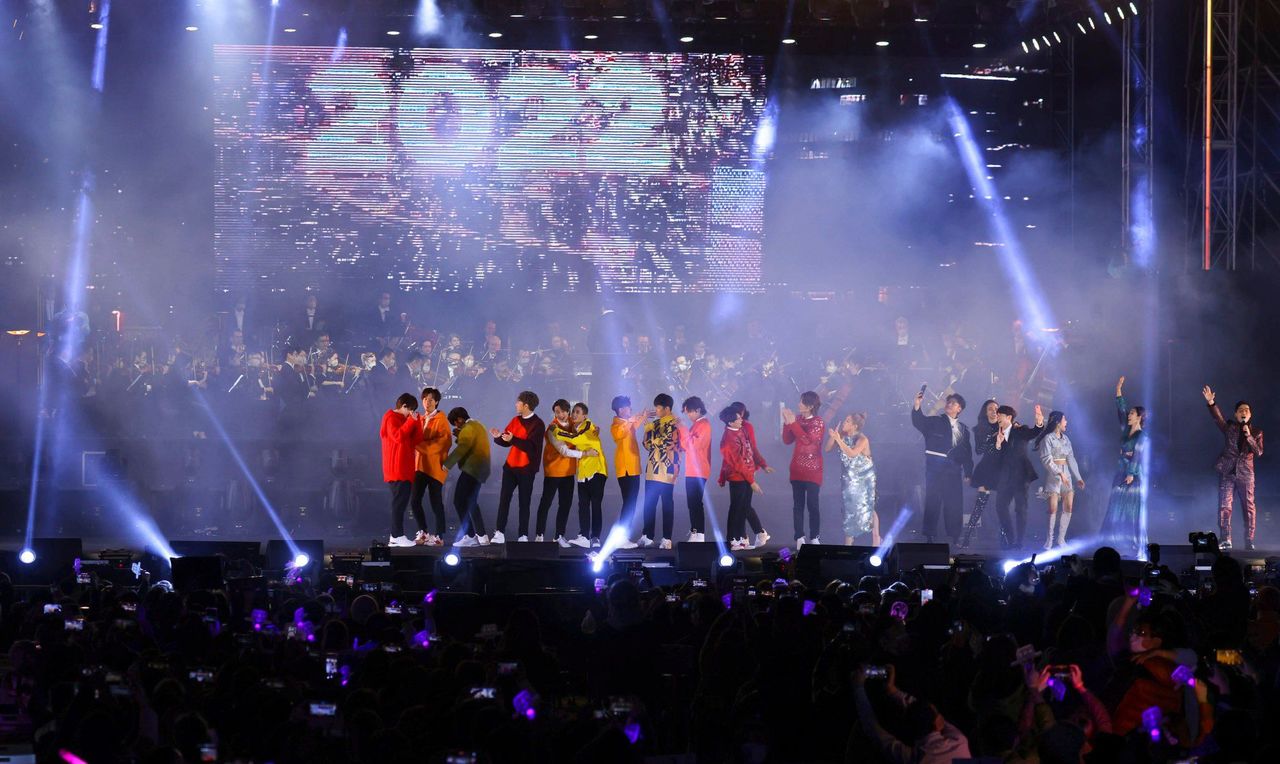 Performers at the countdown concert welcome the new year.

One major countdown event gave about 3,000 lucky residents free tickets to a concert in the West Kowloon Cultural District's Art Park.

The Tourism Board event, headlined by Canto-pop sensation Mirror, started at 10pm. The boy band was joined by singer-songwriter AGA, Malaysian-Chinese artist Gin Lee and the Hong Kong Philharmonic Orchestra.

Although she did not have a ticket, cosmetics industry worker Peach, who is in her 30s, said she still went early to try to get a glimpse of her idols.

"I've come to West Kowloon to see Mirror … because I want to experience the live concert atmosphere and get close to my idols," she said.

Mirror fans Sue and Ming Law, both 40, were ecstatic when they received a text message to say they had won tickets to the concert.

"I thought it was a scam," Sue said. "I hope winning the tickets is an indication of my level of luck next year."

The couple said their new year wish was to be able to travel again. "We love Japan, so we hope the pandemic will be over next year so we can fly abroad."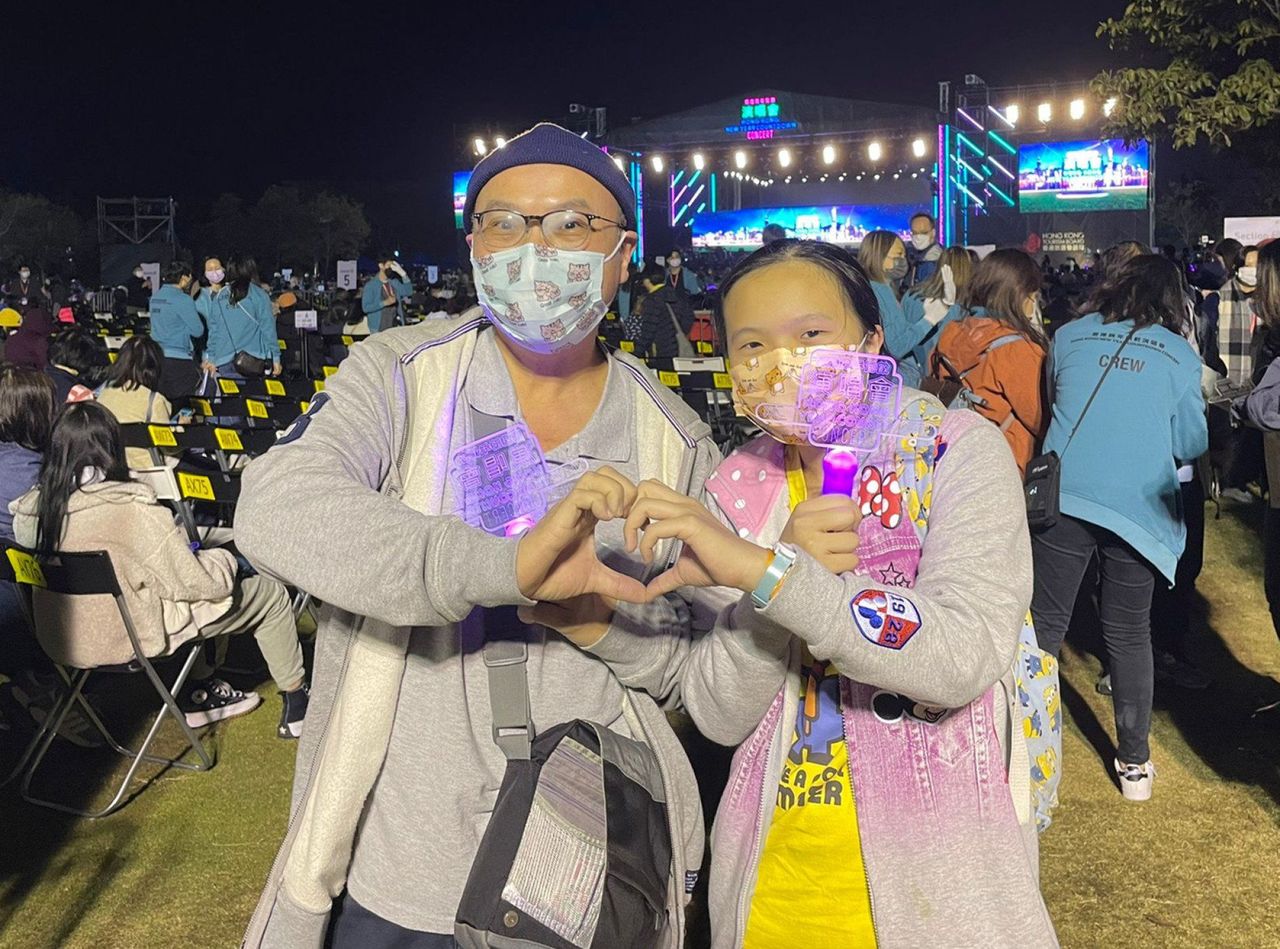 Dickson and Melody Mui attend the countdown concert together.

Dickson Mui, 53, who attended the concert with his daughter Melody, 15, said he started listening to Mirror songs after winning tickets and quickly became a fan.

"My wish for next year is that everyone will be healthy, and for the economy to pick up again," he said.

Outside the venue, hundreds gathered by the harbourfront to watch the concert from afar. Some brought chairs, blankets and tents to get comfortable under the night sky.

Secondary school student Tony Ng, 18, and his friends set up a tent at the West Kowloon Promenade to ring in the new year with the crowd.

"Although there are no fireworks, I still want to absorb the atmosphere and enjoy the view of the skyline," he said, adding his new year wish was to do well in his university entrance exams.

The crowd cheered as they counted down the seconds to midnight displayed on the facade of the new M+ museum.

Meanwhile, a NEW TV-hosted event was held at the Central Harbourfront.

The extravaganza featured a fireworks display and a 13-minute show of 520 drones soaring above Victoria Harbour to form a countdown clock and images including an iconic junk boat in the sky.

It also had live performances by artists popular in the 1990s, including Aaron Kwok Fu-shing, Vivian Chow Wai-man and Grasshopper for the 16,000-strong crowd.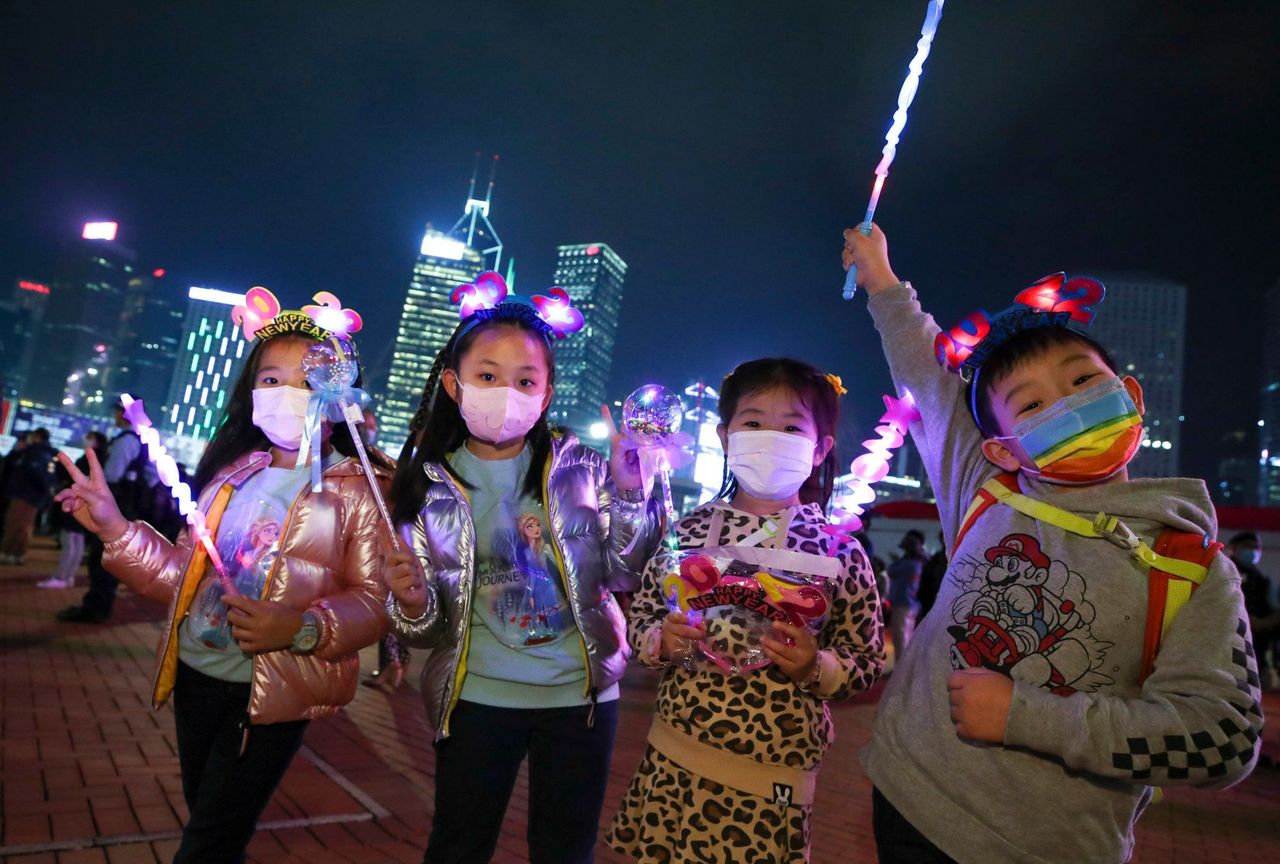 Children gather at the Central Waterfront Promenade on New Year's Eve.

Housewife Emily Hui, 40, and her two daughters arrived early at 6.30pm in the hope of beating the crowd.

"This is my first opportunity to see Aaron Kwok up close, I am quite excited. Although Mirror are my daughters' idols, we didn't manage to get tickets to that concert," she said.

"Everyone hopes the pandemic will be over soon. We used to travel during the Christmas and New Year holidays but this year we have no plans at all. I hope life can return to normal soon so we can do whatever we want."

Another concertgoer, IT support worker Eric Ko, 35, brought his four-year-old daughter along and said it had been a long time since they went to a place with so many people. "I think it will be happier for us to countdown here with the crowd."

The NEW TV countdown will include a HK$490,000 (US$62,829) lucky draw for concertgoers, with top prizes including a Tesla Model 3 car and Apple iPhones.

Both events were subject to social-distancing measures, with the West Kowloon show requiring all visitors to be fully vaccinated against Covid-19.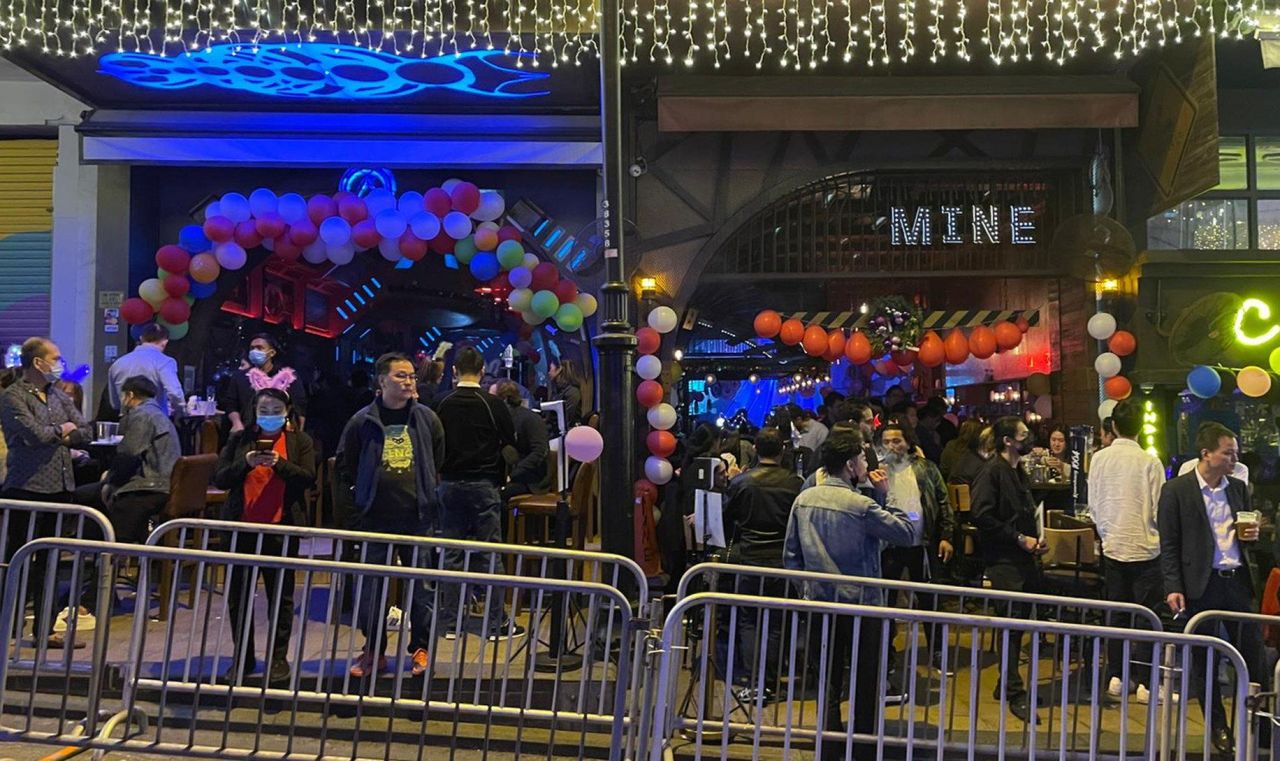 Lan Kwai Fong prepares for the countdown.

The two countdown concerts marked the first large-scale year-end celebrations to welcome physical participants since 2018, with festivities over the past two years being cancelled or held virtually, due to the social unrest in 2019 and again last year because of the Covid-19 pandemic.

Thousands had also gathered in Central nightlife hub Lan Kwai Fong, with police keeping the flow of people moving. Officers warned revellers to observe social-distancing rules, reminding people to immediately wear their masks after taking photos.

University of Hong Kong journalism student Stanley Li, 24, from Chengdu in mainland China, said he hoped quarantine-free cross-border travel would resume as soon as possible so he could visit his family and friends.

"To be honest, I'm not afraid of Covid-19 or Omicron any more. I am tired and used to it. I am trying to live with the virus," he said.

Earlier in the night, finance worker Johnson Hok, 40, brought his 10-year-old son Jojo to Lan Kwai Fong for the first time to look at the decorations and experience the atmosphere.

"I hope for world peace and I want to earn a lot of money," said Jojo, who was dressed as Spider-Man.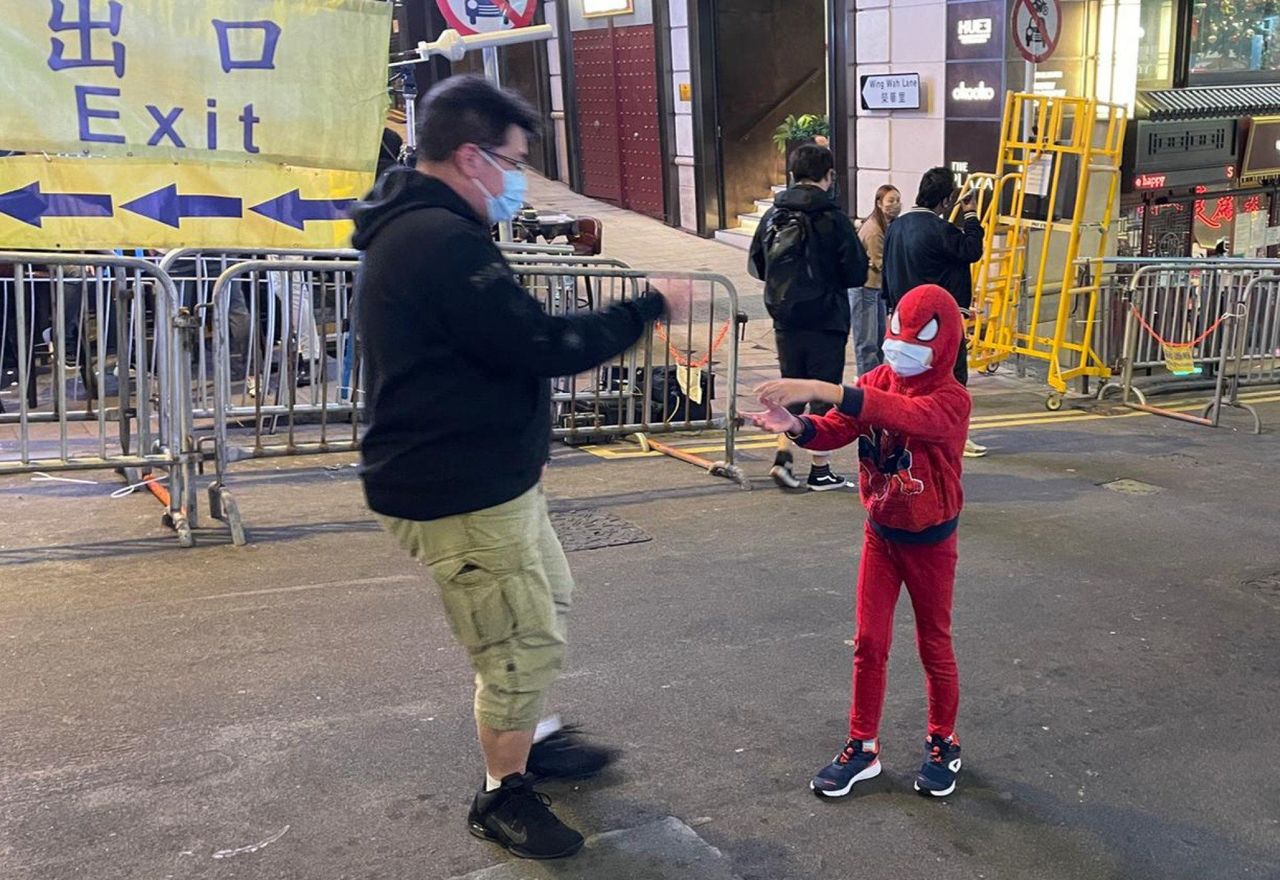 Spider-Man Jojo Hok plays with his father in Lan Kwai Fong.

His father, meanwhile, wished for the pandemic to end as soon as possible. "The most important thing is for everyone to stay healthy."

Police started to clear the crowds in Lan Kwai Fong soon after midnight while revellers at the other events left in an orderly manner after they ended.

Hong Kong leader Carrie Lam Cheng Yuet-ngor, meanwhile, joined about 500 people, including political figures and top officials of Beijing's liaison office, to usher in the New Year at Po Lin Monastery on Lantau Island. She and Abbot Sik Jin-yin rang a bell next to the Big Buddha to bless Hong Kong.

"I wish all Hong Kong citizens good health and happiness in 2022. I hope society works together to overcome the virus," Lam said.