The most striking feature of the latest Hong Kong budget is the simplicity of the challenges our economy faces and our good fortune in being unburdened by almost any of the budgetary challenges facing so many economies worldwide.
If there is a single striking feature of Finance Secretary Paul Chan Mo-po's budget released this week, it is not hand-wringing over the merits of consumption vouchers, whether stamp duty changes will make it easier to buy a house or even whether the budget will create a "Happy Hong Kong".

Rather, it is the extraordinary simplicity of the challenges our economy faces and our good fortune in being unburdened by almost any of the extraordinary budgetary challenges facing so many economies worldwide.

I do not intend to make light of the hardship created by the Covid-19 pandemic, though I really wish Chan would be more transparent in disaggregating the extraordinary costs linked with our quarantine infrastructure, vaccines and testing regimes.

I also do not wish to downplay the catastrophic collapse of tourism, conventions, exhibitions and the hospitality industry resulting from the hermetic sealing off of our economy from the rest of the world.

Neither do I make light of the time it is likely to take to rebuild businesses, recover livelihoods and return to the levels of economic activity we took for granted back in 2018.

There is some hand-wringing about the unusual pain of a HK$139.8 billion (US$17.8 billion) budget deficit for 2022-23 and of a fall in the city's fiscal reserves to HK$817.3 billion, but this burden is light and likely to be transitory on a five-year time frame compared with almost any other economy in the world.

We have virtually no government debt and therefore none of the debt service costs that are weighing on so many governments worldwide. Note that Japan's debt amounts to 263 per cent of GDP, the United States to 120 per cent and France to 113 per cent.

This has perhaps been tolerable during the past decade of quantitative easing and zero interest rates, but the interest- rate increases of the past year have the potential to create massive budgetary crises for many governments. US debt service cost on its US$31 trillion national debt rose in the final quarter of last year to US$213 billion – an annualised cost to the economy of around US$850 billion.

Inflation in Hong Kong is a tolerable 1.7 per cent. That is light years from the nearly double-digit levels in many Western countries that are generating household hardship and a wave of trade union demands for wage increases.

There is pressure on Chan to strengthen healthcare in our rapidly ageing society, in particular community-based primary healthcare. However, this is hardly comparable with the systemic health service crises haunting countries such as the UK.

At present, Chan seems sublimely aloof from the likely global costs of tackling climate change and getting to "net zero" carbon emissions, despite the fact the recent UN climate change conference in Egypt and others have suggested this will cost around US$125 trillion between now and 2050. It seems a few electric taxis and hydrogen-fuelled buses are the extent of our concern so far.

Neither have we suffered any of the debates over providing subsidies for household oil and gas supplies to insulate British or German households from shivering through the European winter.

Perhaps most fortunately, we are wholly unburdened by any defence spending budget. This is instead borne on our behalf by Beijing, where national spending on defence amounted to around US$230 billion in 2022 and took up around 5 per cent of government spending.

But the true scale of the defence spending challenge is being felt by the US and its European Nato allies – and of course Russia – as the war in Ukraine enters its second year. The likelihood of steeply rising demands for more military spending is likely sending shivers down the spine of finance ministers across Europe and the US, where the government running up against its budget spending ceiling.

If a team from the Stockholm International Peace Research Institute is right, it seems the defence industrial base in the US is laying the ground for "momentous hikes in military spending", with Canada, the US, Australia and the 29 European Union members pledging US$209 billion new defence funding since the Russian invasion of Ukraine last February. Josep Borrell, the EU's top foreign policy official, has acknowledged that "investments will be needed to replenish the depleted stock of military equipment [in Europe]."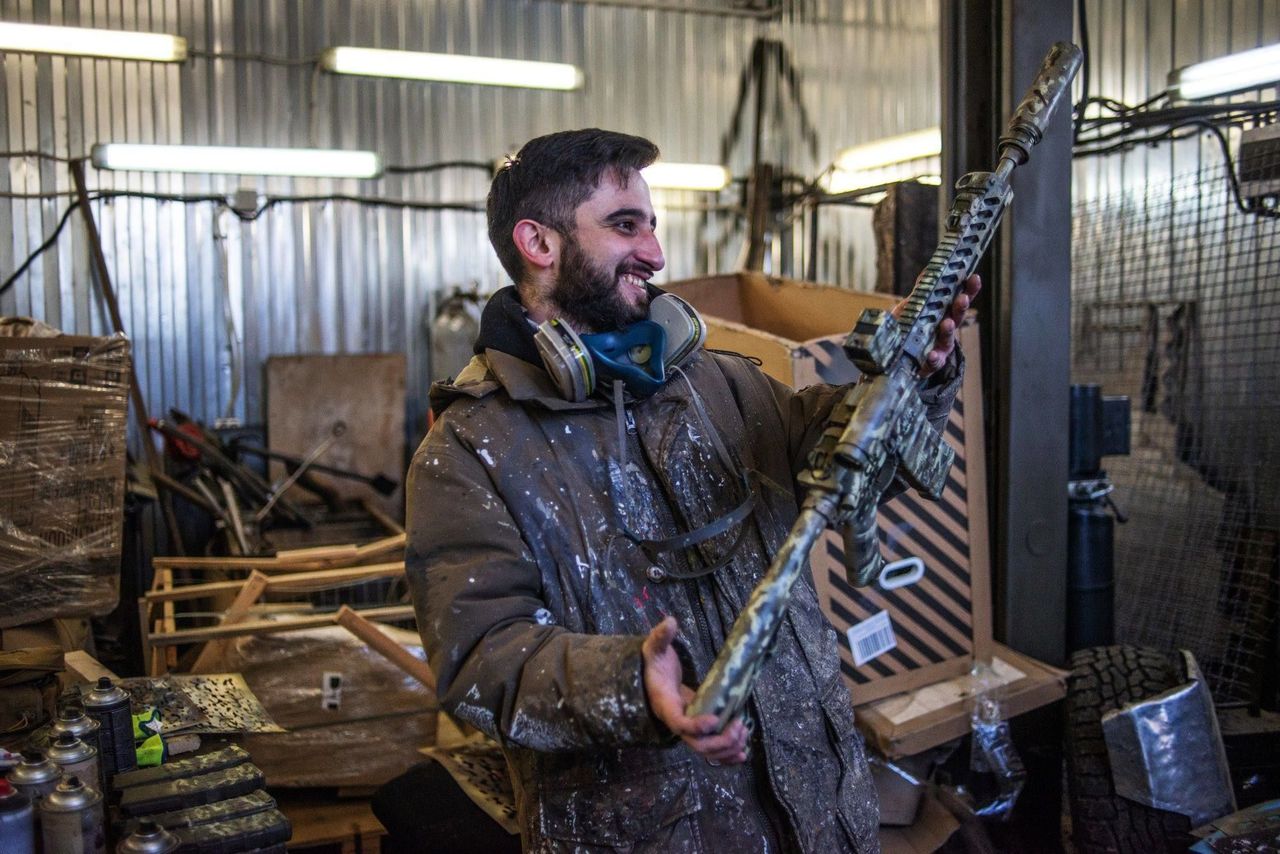 Artist Sabir Mamedov holds a recently finished rifle at the workshop of the Civil Resistance and Assistance Foundation, an organisation that paints camouflage on vehicles, weapons and equipment for the Ukrainian Armed Forces, on the outskirts of Kyiv on February 10.

US defence industry lobbyists have in recent months gone into overdrive as supplies of US munitions have made their way to Kyiv. They have used what is seen as a Chinese threat to invade Taiwan to call for "healthy, resilient, diverse and secure supply chains" to ensure sustained military capabilities in the Pacific.

Given the massive lobbying power of the defence industrial base in the US, significant additional spending will be demanded, putting a squeeze on all of US President Joe Biden's other budget priorities. What this will mean for those calling for more spending to staunch climate change or to bolster global pandemic preparedness can only be guessed, but it cannot be good.

Set against these grave global challenges being addressed by many other finance ministers across the world, Chan's "Happy Hong Kong" budget seems somewhat disengaged. As our economy re-engages with the outside world and begins the recovery process from the pandemic trauma, perhaps we are lucky in the menu of challenges we face.