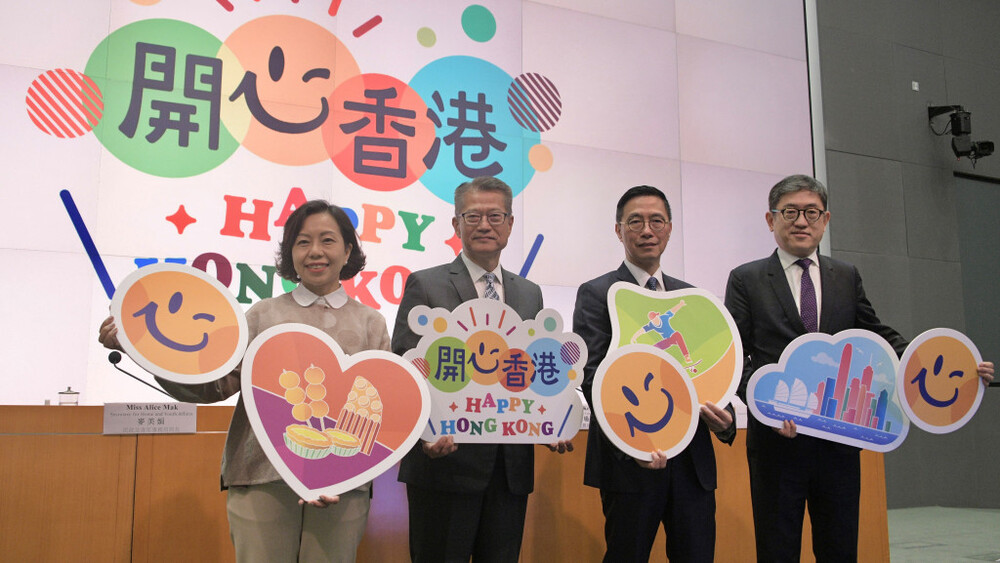 'Happy Hong Kong' kicks off with HK$30 cinema day this Saturday
The government's new "Happy Hong Kong" campaign to bolster public morale and boost consumption will kick off this Saturday with a "Cinema Day", in which audiences can enjoy films in cinemas at a fixed price of HK$30 per ticket.
The "Happy Hong Kong" campaign was announced as part of this year's budget, with HK$20 million earmarked to lift the mood of city residents, stimulate consumption and boost the economy. It will also focus on activities related to gourmet experiences with the aim of bringing "more joy to the community", as well as benefits for business.

Unveiling details of the plan on Monday, government officials said 12 major events will be held throughout the whole campaign, with the first event being "Cinema Day 2023."

Moviegoers will be able to enjoy films at all commercial cinemas in the city for a fixed price of HK$30 per ticket that day.

Meanwhile, three Gourmet Marketplaces will be held across the city between April and June, with the earliest one held on April 29 and 30 at the Hong Kong Convention and Exhibition Centre with the theme of international delicacies.

The second one will be held on May 6 and 7 at Sha Tin Town Hall Plaza and Sha Tin Park with the theme of Chinese cuisines and local delicacies, while the third one will be held on June 3 and 4 at VESSEL in Kwun Tong with the theme of Asian cuisines and Wine and Dine.

The marketplaces will also include youth elements, various performances, and children's games to promote a joyful atmosphere, according to the officials.

Home affairs chief Alice Mak Mei-kuen said the marketplaces are free of charge but the Wan Chai event would require tickets to enter, with some 100,000 tickets to be distributed at the home affairs center of the 18 districts, as well as at the venue on the day of the event.

Speaking at the press event, finance chief Chan Mo-po said the campaign includes events suitable for all age groups and people of all trades, while the events come with different themes such as pop culture, sports, and music.

As part of the campaign, he said the Manchester United Academy U-16 youth team will be invited to Hong Kong in August for a week-long cultural and football exchange program and play two friendly matches on August 9 and 12 against local elite youth players.

The guest players will also participate in community services with direct interaction with local youth, said Chan.

The finance chief added that places like the West Kowloon Cultural District, Cyberport, Disney, Ocean Park, will all host a variety of events throughout the campaign.