Study by Lingnan University interviewed 106 food delivery workers, with 89 per cent of respondents from ethnic minority groups.
Around half of food delivery couriers from ethnic minority groups have said they experienced discrimination while working in Hong Kong, a poll has found, with one respondent telling the survey he was described as "dirty" and a cause of diseases.

The study, which was released by Lingnan University on Friday, interviewed 106 food delivery workers. Some 89 per cent of respondents were from ethnic minority groups, with 50 per cent saying they had encountered discrimination. Most were of Pakistani or Indian origins.

The interviewees also told researchers they had been subject to "racially aggressive acts", which ranged from body language to swearing, as well as belittling and humiliating them.

Peter*, a survey respondent who asked to stay anonymous, said the racial discrimination had escalated during the coronavirus pandemic, citing instances of pedestrians refusing to stand next to him or using Cantonese to call him "dirty" and a source of viruses.

"I was delivering this order to one building, and there is a family – wife, husband, and two kids. As soon as they saw me, he shouted to the children 'Get away, get away. The disease is coming and it's dirty'," said Peter, who has worked for a food delivery platform for about a year.

"I actually felt very sad. I don't even know how to describe that feeling. It's like I am not the one who has a disease or whatsoever

"Even though I have a mask and everything, they are so scared. So is it really the disease or is it because I am from an ethnic minority?"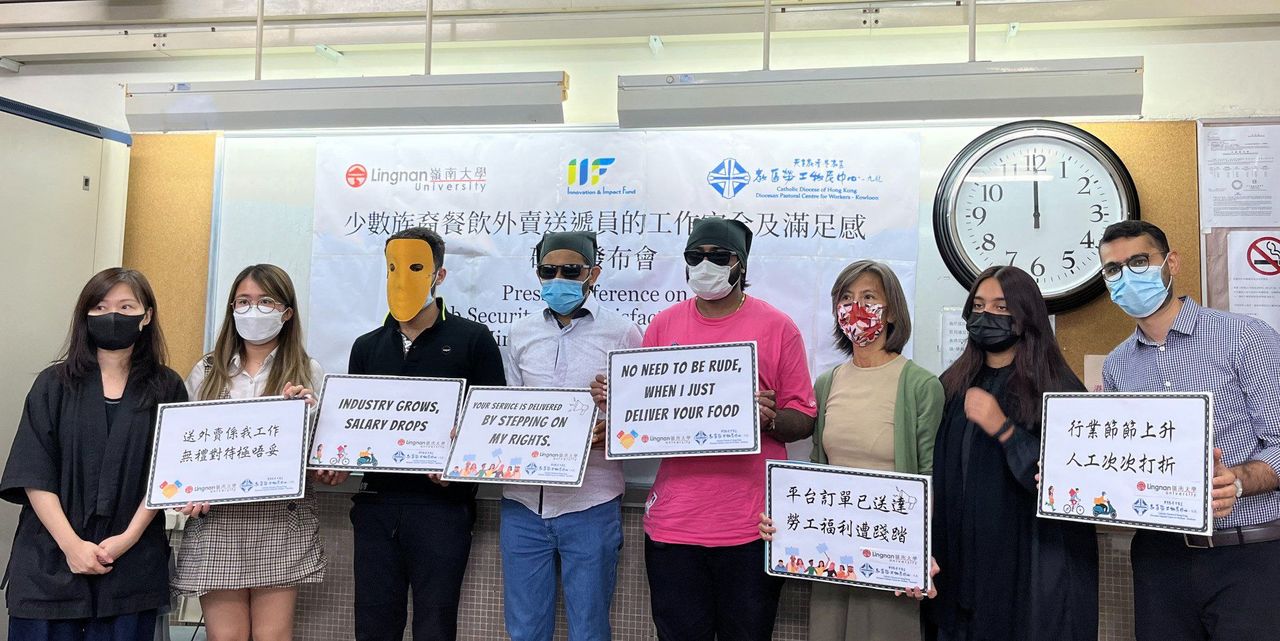 Professor Lisa Leung (third from the right) has urged the government to monitor the food delivery sector for instances of racial discrimination.

On other occasions, people had immediately got out of lifts once he walked in, the delivery worker said. Peter described such behaviour as very disrespectful, explaining that racial discrimination had increased the pressure he felt while working.

Professor Lisa Leung Yuk-ming, the survey's principal researcher and a cultural studies scholar at the university, said the study also showed food delivery e-platforms were not user-friendly for workers from ethnic minority groups.

Leung said some applications did not have a translation function, although addresses and customer comments were sometimes written in Chinese.

"If [non-Chinese food delivery workers] are stuck when finding the address, sometimes they will ask their peers. Many of the Chinese food runners are able to help. They just have to resort to their translation app to try to find the address," she said.

"There are of course times that they went to the wrong place, and then have to suffer the penalty from that."

Almost a third of respondents from ethnic minority groups also told researchers they were not aware of which type of employment contract they had, while 44.7 per cent of those interviewed from such backgrounds said they did not have insurance or were not aware of any coverage.

Leung said the figures indicated the issue of "false self-employment" was rampant among ethnic minority food couriers. She added that the current insurance payment system had also discouraged them from bargaining for better coverage.

"Even if they know there is insurance, they sometimes just do not bother about it because at the end of the day, if they are really involved in an accident, according to their experience, it takes them two or even three years until they are refunded," she said.

"I think this kind of wisdom was shared among their colleagues so that they have to pay the medical cost from their own pocket."

Last November, hundreds of food couriers working for Foodpanda launched a two-day strike to protest against changes in how they are paid.

While the riders did not secure a per-delivery guarantee, they came away from the marathon 14-hour negotiating session satisfied with the company's pledges to improve pay and deal with frustrating issues concerning the platform that dictates their workday.

But Leung urged the Labour and Welfare Bureau to ramp up oversight of the self-employment system which "encourages abuse by companies" and consider regulating the food delivery industry to ensure clearer salary calculation methods and work safety by setting up contracts and traffic insurance for couriers.

The Equal Opportunities Commission should also investigate the possible trend of discrimination across the sector, while authorities needed to increase racial sensitivity among the public through education, she said.

*Name has been changed at interviewee's request