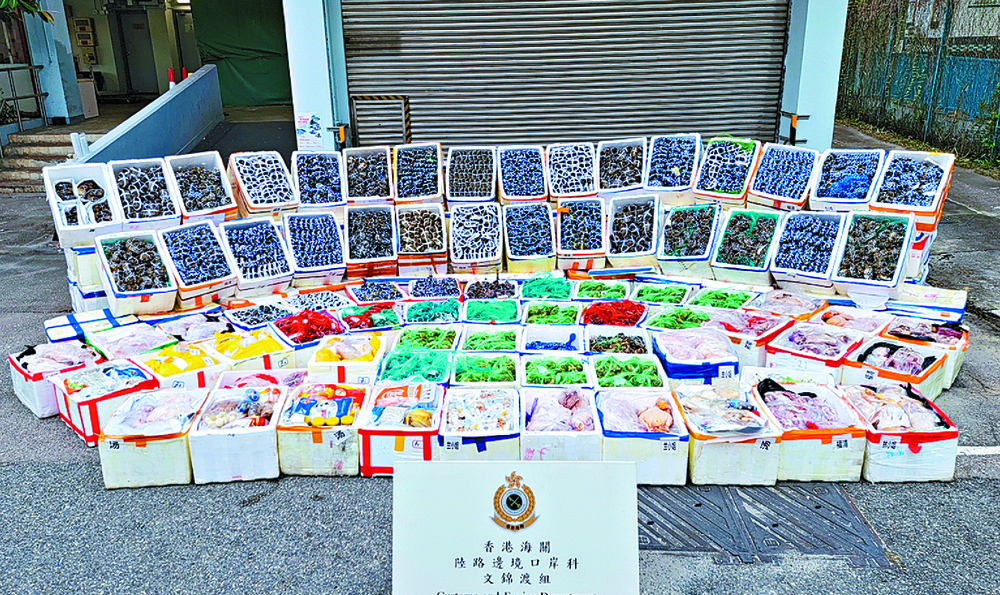 Hairy crabs, frozen meat in HK$1.6m smuggling haul
Food items suspected to be smuggled in - including 17,000 hairy crabs and frozen meat - worth about HK$1.59 million were seized by authorities during an operation at Man Kam To Control Point last Friday.
The items included about 17,000 hairy crabs estimated to be worth about HK$1.53 million and 1.1 tonnes of frozen food including meat and poultry worth about HK$60,000. They were seized in a joint operation by customs officers and the Food and Environmental Hygiene Department.

Officers intercepted an incoming goods vehicle at the control point, and the suspected smuggled food was found mixed with other properly declared goods.

The crabs did not come with health certificates for their exportation and failed to comply with the requirements of the Shell Fish (Hairy Crab) Permit. The frozen meat and poultry also came without health certificates.

A 47-year-old truck driver was arrested and the investigation is ongoing.

Customs warned that those convicted of smuggling are liable to a maximum of seven years in jail and a fine of up to HK$2 million.

According to the imported game, meat, poultry and eggs regulations, import of such products without a health certificate at the place of origin or prior permission from Hong Kong authorities is an offense with a maximum penalty of six months in jail and a HK$50,000 fine.

Selling food not fit for human consumption and without registration is also punishable with six months in jail and a HK$50,000 fine.

Separately, police have confiscated four speedboats in their latest operation targeting cross-border smuggling. The four speedboats with an estimated worth of HK$4 million were found near Nim Wan Path, Lung Kwu Tan, Tuen Mun.

The police assistant commander for the Castle Peak division Kam Hok-chun said the boats were painted black and had no lighting systems, making them difficult to notice when sailing at night.

"The boats were made of steel and are strong enough to make other boats flip over. They pose a threat to law enforcement boats and others," he said.

He said officers were inspecting beaches around Nim Wan in early morning last Thursday, when they found the area hiding the speedboats.

He added that six container boxes were intentionally placed near the coastal line to block hide the speedboats from plain view.