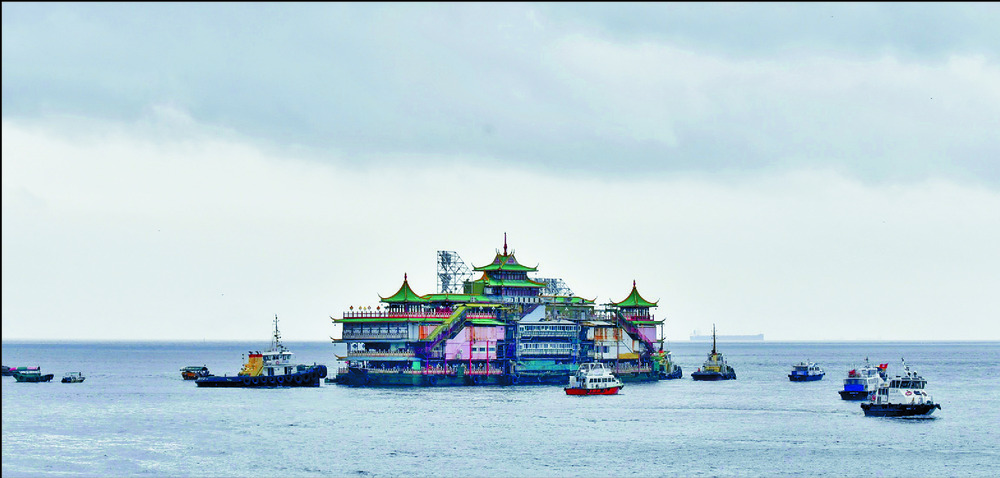 Hainan probe begins as speculation over capsizing of Jumbo continues unabated
Mainland maritime authorities are looking into the Jumbo Floating Restaurant incident, the vessel's parent company said last night, as it stressed it will not receive any insurance payout for the loss.
The Sansha Maritime Safety Administration "is now following up on the incident," it said in a statement last night, but it didn't say why Sansha - a city on Hainan - is involved.

The mysterious loss of the vessel sparked speculation after Aberdeen Enterprises said last Monday the 76-meter vessel, towed away from the Aberdeen typhoon shelter on June 14, capsized on June 19 when passing Xisha Islands in the South China Sea after being hit by a thunderstorm and water entered its hull.

Aberdeen Restaurant Enterprises said Jumbo is covered by a "protection and indemnity cover for third parties liability" in accordance with maritime regulations. The insurance covers only third-party losses and not losses to the company.

It also said it had made significant efforts to keep Jumbo's legacy alive and incurred cumulative losses of over HK$100 million since 2013 and tried to donate or transfer the vessel, at no cost, to any company or organization interested in taking over for the past two years.

It hired professional engineers to inspect the hull and hoardings, and had obtained approval before Jumbo's departure to Cambodia for maintenance.

It said the tug company that towed Jumbo vessel was hired by a licensed third-party broker. The towing method was in compliance with international maritime regulations and customary practices.

The company has said the waters where Jumbo capsized were 1,000 meters deep and would pose difficulties to a salvage operation.

"Despite the efforts of the tugboat responsible to rescue the vessel, it capsized. This is consistent with our report to the Marine Department on Thursday, which stated that the vessel capsized due to adverse conditions," the company said last night.

The department said Thursday both Jumbo and the tugboat, Jaewon 9, were still off Xisha Islands.

But local media said Friday a director of the Korean tugboat company revealed that Jumbo did not sink because six of the eight buoyancy tanks were still operating but had capsized.

The director also said it's impossible to save the vessel from the sea due to the insurance issue, while the vessel owner and insurance company were planning to find divers who can destroy the other six buoyancy tanks so the vessel can sink.