The island's transformation into global trade hub is far from assured, not least because of its chequered past as a base for exiles and smugglers. It is not known for efficiency or being business friendly. Nor for its nightlife, writes Wang Xiangwei.
To counter US-led efforts to contain the rise of China, Beijing has made further opening up to foreign investment the cornerstone of its policy, betting that the lure of its massive domestic market is difficult to resist and decouple from.

Turning Hainan Island, China's most southerly province known as the "Hawaii of China", into the world's largest free-trade port is a crucial piece of the puzzle. With a land mass of about 33,900 sq km, the size of the island is similar to Belgium and slightly smaller than Taiwan.

This month last year, Beijing released a three-phase master plan for the island, home to 9 million people. The first phase aims for the entire island to impose zero tariffs on imported goods and for one part of the province, Yangpu, to become a free-trade hub by 2025. The second phase, to be realised by 2035, would introduce low income tax and relaxed visa requirements for foreign businessmen and extend the free-trade status to the entire province. The third phase envisages Hainan becoming a global free-trade port by 2050.

To lure foreign businesses and their supply chains to the island, it will grant duty-free status on imported goods to be sold to the rest of China as long as 30 per cent of their value is added on the island and the "Hainan Origin Certificate" is obtained.

Chinese analysts now say Hainan's ultimate aim is to catch up with Hong Kong, Singapore and Dubai and give them a run for their money.

Understandably, Hainan's ambitions have caused angst particularly for many people in Hong Kong who see another sign that their city risks losing its competitive edge as a global hub at a time when its economy has suffered dearly from both the coronavirus pandemic and the political unrest of 2019.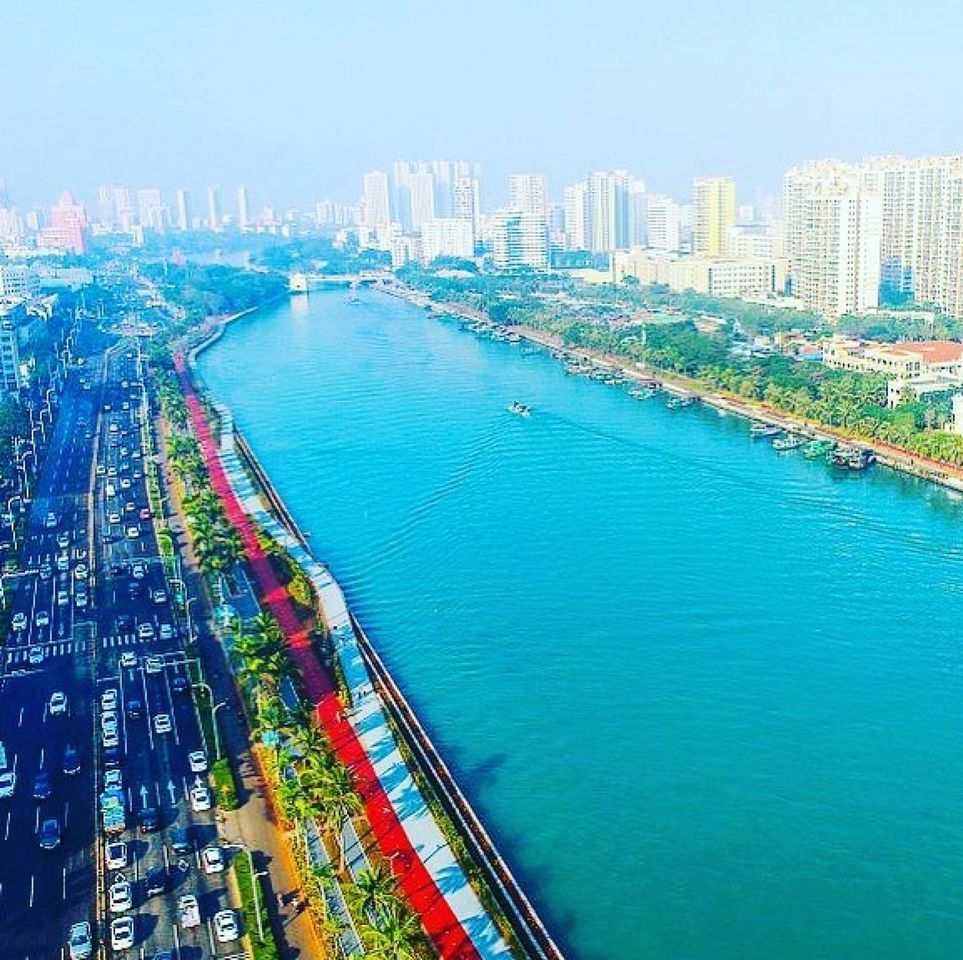 Haikou Bay, Hainan.

Hainan may be on a roll, particularly as the Chinese media have hyped up its master development plan, which is being personally directed and arranged by President Xi Jinping, the country's most powerful leader since Mao Zedong.

This month, the standing committee of the National People's Congress, the country's parliament, passed a national law specifically on governing the island's transformation into a global hub and empowering the local authorities.

Despite the hype, Hainan's transformation is far from assured not least because of its chequered history.

The tropical island may be known for its pristine sandy beaches, coconut trees and azure waters but historically it was always on the fringe and since the Song dynasty (960 to 1279), it has been notorious as a place of exile for disgraced officials and criminals.

In the first 40 years after the People's Republic was founded in 1949, it mainly served as a military outpost because of its strategic location in the South China Sea. The Chinese government only started to invest in the early 1980s when it pushed for reform and opening up. Only in 1988 did Beijing upgrade the island, which was part of Guangdong, into a province designated as a special economic zone on a par with Shenzhen.

But unlike Shenzhen, which benefited immensely from neighbouring Hong Kong in terms of investment and management know-how, Hainan has since the very start never been sure about its economic priorities and prospects. Throughout the 1980s, the island was a paradise for smugglers of foreign goods, from electronics to cars, often aided by the navy ships of the People's Liberation Army.

In the early 1990s, billions of yuan poured into real estate development but the bubble burst in late 1993, leaving hundreds of unfinished office and residential buildings littered throughout the island.

Hainan only managed to get on the right track in 1996 when the provincial government decided to focus on developing the island into a major tourist
destination, taking advantage of its natural resources. Now, the island's beaches are lined with major international hotels and are popular with holiday makers from the Chinese mainland.

Due to the suspension of international travel because of the pandemic, the island has turned into a duty-free shopping mecca for the Chinese, particularly after the government increased the annual duty-free shopping quota from 30,000 yuan (US$4,690) to 100,000 yuan and widened the tax-free goods categories to include electronics and wine in July last year.

But the island faces an uphill battle to transform into a global business hub.

For one thing, unlike Hong Kong or Singapore, Hainan is not known for efficient and clean governance or for being a business-friendly environment.

In June last year, a businesswoman who was also a political adviser to the government of Haikou, the capital of Hainan, made headlines by complaining publicly to the provincial and city leaders about how she had run into bureaucratic brick walls and had her business propositions ignored by local officials for months. By way of contrast, she said officials in Shenzhen had responded to her requests within days.

On Tuesday, the Hainan Communist Party chief Shen Xiaoming publicly scolded the bureaucrats for their failure to improve the investment climate, saying it was common for newly appointed officials to refuse to honour or obfuscate the commitments made by their predecessors, leaving businesses in the lurch.

Meanwhile, the island also faces a tough time in attracting domestic and international talent despite its plans to offer low income tax rates comparable to those of Hong Kong or Singapore, not least because the province lacks the cultural attractions or nightlife of either of those two cities.

For years, local officials have been secretly lobbying the central government to allow the island to build casinos to enhance its lure but to no avail.

As the Chinese leadership strengthens ideological controls over society, it seems almost impossible that Hainan's wish will ever be granted.

The provincial government is also believed to be lobbying aggressively for horse racing to be allowed on the island. So far, that idea remains on the drawing board.