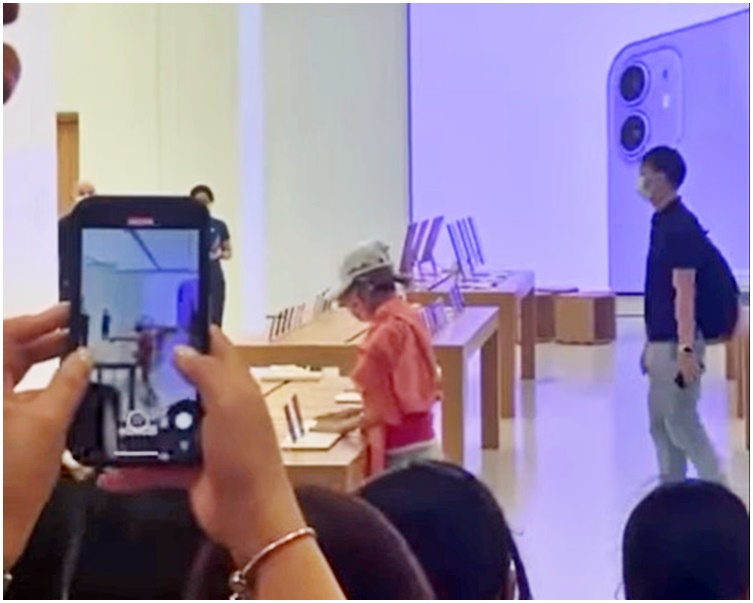 Guilty plea for woman who wreaks havoc at Apple Store
A 51-year-old woman on Friday pleaded guilty to criminal damage and common assault for knocking an Apple Store staffer's head with an iPhone over "bad attitude" and sweeping other display products off the shelves in June last year.
Bonnie Chau Shuk-yi, who claimed to be a merchant, appeared in Kwun tong Magistrates' Courts on Friday morning. She pleaded guilty to both charges and the case was adjourned to July 22 for sentencing, awaiting other background and psychiatrist reports.

The charges accused Chau of damaging 16 display products worth HK$148,584 and assaulting the female staffer at the Apple Store in shopping mall APM in Kwun Tong on June 17, 2021.

The products included three iPhone 12 Mini (64GB), one iPhone 12 Pro Max (128GB), one iPhone 12 (64GB), two MacBook Pro 16" (512GB), four MacBook Pro 13" (256GB), two MacBook Air 13" (256GB), two iPad 11 Pro (128GB) and an iPad 12 Pro (128GB).

According to the summary of facts, Chau visited that store about 8pm that night and asked the staffer to help her install the LeaveHomeSafe app onto her iPhone.

Yet, Chau was not happy about the staffer's attitude and became furious and slammed the staffer for failing to help her. Chau then swept the display products off the shelves as other staffers intervened but failed to calm her down.

Chau also picked up an iPhone 12 Mini and knocked it on the female staffer's head twice. The staffer was admitted to hospital and discharged the same day after treatment.

The incident was filmed by other shoppers and soon went viral online. Click here to watch the video.

Chau was later arrested and she admitted under police caution that she committed the crimes out of anger.