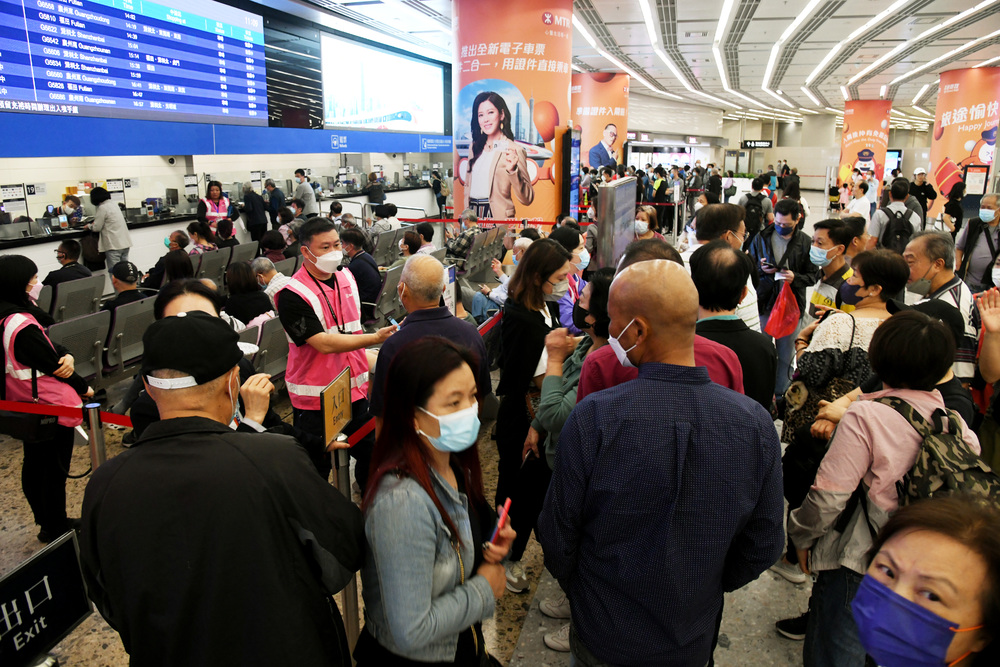 Grumbles as high-speed rail ticket tokens snapped up
Over 100 grumpy citizens clamored for high-speed rail tickets at the West Kowloon Station yesterday after all 1,500 tokens to purchase same-day tickets for the cross-province trains to Beijing and Shanghai were snapped up at counters by 10am.
Long-haul high-speed rail services will fully resume on April 1, allowing citizens to travel to the mainland by train during the upcoming Easter Holiday and Ching Ming Festival.

Many people who did not know how to buy tickets online went to the station counters for offline purchases, with some queuing at the station overnight. They had to secure one of the 1,500 same-day tokens before they could buy train tickets at the counters.

However, all 1,500 tokens were snapped up within three hours after the distribution began at 6am.

A citizen said she arrived at the station at 6am to collect a token, but there were already more than 500 people ahead of her: "I had no idea that some people would queue up overnight at the station. I will return to the mainland by air if I really can't secure a train ticket."

However, citizens still had to wait for many hours to buy the train tickets after collecting the token. They criticized the MTR Corporation for chaotic arrangements.

One citizen complained: "It's a mess. All of us are just waiting endlessly."

Another said: "It's not certain if we can get the train tickets [even after securing a token] because it depends on whether people queuing in front of us want to go to the same place. If people are all aiming for the same destination, then no seats will be available."

A disappointed queuer who wanted to visit her friends in Shanghai during the Easter holiday said she arrived at the station at 6am but could not secure a ticket after waiting for three hours.

"The MTRC only distributes 1,500 same-day tokens a day and only the first 100 people have finished buying the train tickets in the morning," a woman said. "I arrived at around 6am and I have to wait until around 6pm to buy tickets because there are more than 1,000 people in front of me."

A citizen who planned to visit Changsha for sightseeing switched to the self-service ticketing machines after being told he would have to wait for up to seven hours at the counters. He successfully bought a ticket.

Starting April 1, the frequency of high-speed rail trains will be increased from 102 trips to 164 trips to and from the West Kowloon Station daily, including 22 long-haul cross-province trains, reaching 66 destinations across the mainland.

Lawmaker Gary Zhang Xinyu said the authorities should review the public demand for long-haul high-speed trains and find out whether the high demand will last for a long time. He also urged the government to further increase the frequency of trains.

Zhang encouraged citizens to buy train tickets online to avoid queuing up for hours at the West Kowloon Station, adding that the MTRC should frequently update the number of tickets remaining.

The MTRC said it deployed more than 60 staff members at the station yesterday to assist customers.

"The operation at the West Kowloon Station was generally smooth and orderly today," it said.

It added that the routes from Hong Kong to Fuzhou, Chaoshan and Zhaoqing from April 1 to April 5 were the most popular.